When it comes to your Easter Menu, options are key, whether it be a main dish, side dish, bread, dessert and more we have so many options to create that perfect meal.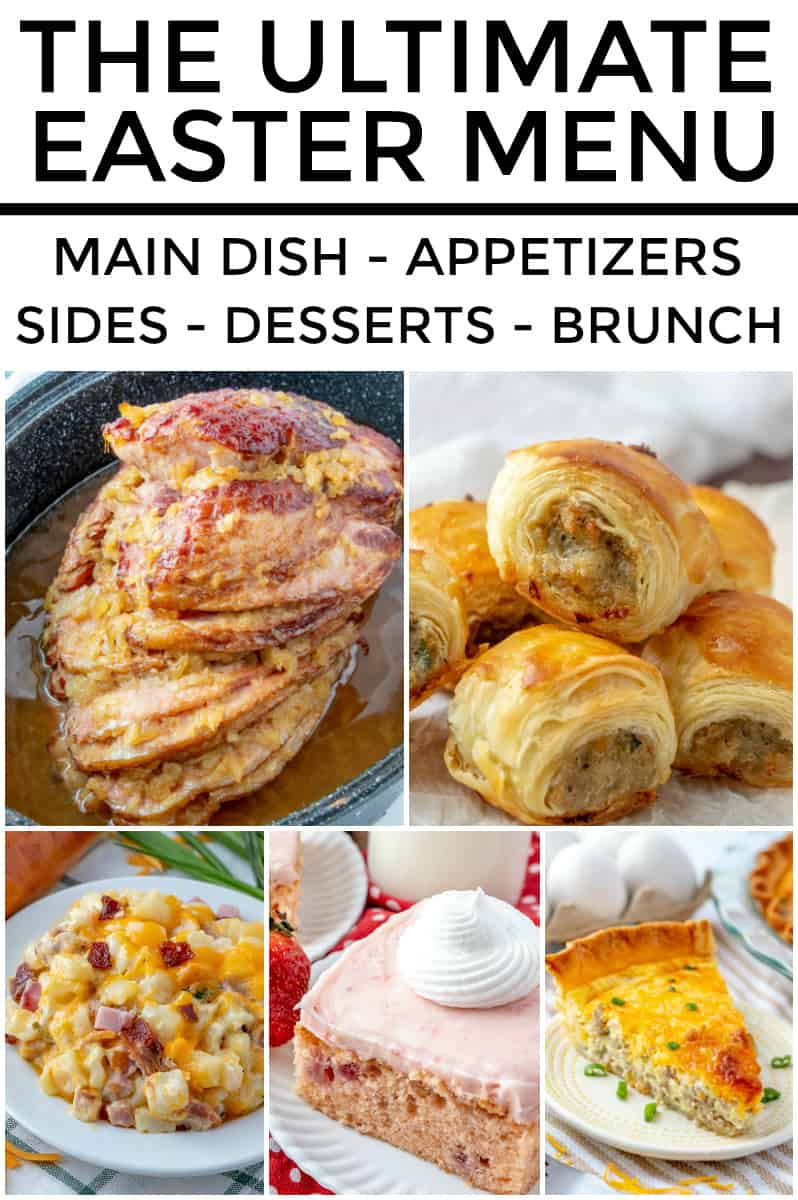 Easter is one of those holidays that just has one of the best menus. Mainly I think because it's a mash-up between comfort food and spring/summer flavors which I personally love.
Wel like to go all-out with our Easter Menu and we usually have a lot of people to serve so there are always a lot of different options that we provide our guests because there are so many different pallets to please.
Also when it comes to Easter a lot of people celebrate at different times of day. Some do brunch and some do dinner, so I figured that I would include different options for both!
MAIN DISH:
So this will only have one main recipe, and that has to be Ham. Whenever I think of Easter it always brings me to ham and I don't think that we have really ever strayed away from that. So this Brown Sugar Pineapple Baked Ham is the solution for that!
APPETIZERS:
Now I'm a fan of appetizers and we always, always, always serve appetizers at any family gathering, whether it be part of the meal or before the meal, there is a good spread of appetizers to choose from.
We like a mix of hand-held, bread and dips so you can have a little bit of variety to satisfy everyone!
BREADS:
Pass me the bread basket because that is where my heart lies. I'm a carb-lover at heart and I adore any and all things bread related so having a good bread as a pallet cleanser is really something that I adore.
SIDE DISHES:
So sides are pretty much king when it comes to any Easter Menu. This is where we like a variety. Usually we have salads, vegetables and starches and that really creates the perfect options of different side dishes.
I mean in all honesty, can you really have enough side dishes? I 100% think that you can never go wrong with a larger selection, I'm the person that will take a little bit of each so I don't miss out on anything.
DESSERTS:
Now we've gotten to my favorite part of the meal, probably the part where I can help you out most because desserts are kinda met thing if you didn't know already.
So I don't know if you do special desserts for Easter or not. Like people do Pies for Thanksgiving and Cookies for Christmas, do you have one special type of dessert you like for your Easter Menu?
Well I'll provide you with many different options! Honestly I don't overwhelm you with desserts, so if you want more options than my suggestions just check out my 25 pages of DESSERT recipes I have!
BRUNCH:
Now like I said, there are some people who eat more late morning so I wanted to include some Brunch options that will give you a little breakfast feel into your Easter Menu, these are some of my favorites and I really hope you like them too!
When it comes to your Easter Menu you want to be prepared, I hopefully have given you some delicious options that you can use and whip up to make your Easter meal not only delicious but memorable!