Moist and flavorful this Gingerbread Bread Pudding with Vanilla Sauce has all the delicious flavors of your traditional gingerbread with a sweet and creamy glaze.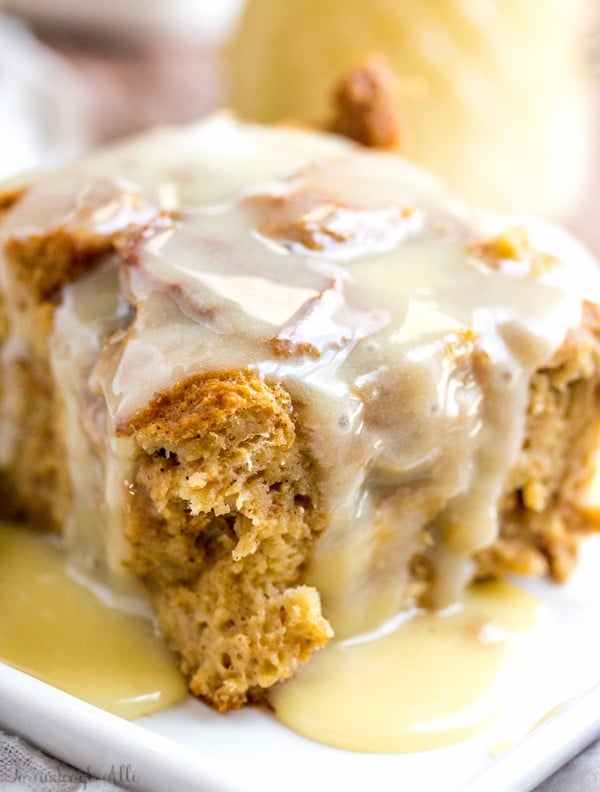 So we have to admit it, Christmas is coming fast. I figured I COULD start whipping out Christmas recipes and people might not complain. But I'm sure some people will be taken aback at the reality that time is literally flying and we are only a short few months away! How can that be?!?!
In all honesty, I love the flavor of gingerbread all year long. The molasses and the ginger and spices just bring this sense of comfort and they are literally a party in my mouth, so I'm not going to complain. It's more of a Fall flavor to me than just a Christmas flavor. I mean who decided that there are certain seasons for specific foods? I mean really?
Anyways, I have learned to really really love bread pudding. I've made these tasty Coconut Cream Bread Pudding and Bacon Caramel Roll Bread Pudding in the past and I just can't get enough. So why not combine one of my favorite flavors with one of my favorite desserts? Or is it breakfast? I think that one is highly debatable!
This Gingerbread Bread Pudding with Vanilla sauce has a hint of the gingerbread flavor and a creamy and sweet vanilla sauce that covers the top. The two flavors play really well together. You can taste the gingerbread flavor without it being overwhelming but still taste it through the sauce.
If you've never made bread pudding before, do not fear. It is simpler than you probably imagine. Usually using day old bread is recommended but I never do that. What I do do though is toast my bread in the oven for about 10 minutes to make it just the slightest bit crispy which helps the liquid from the milk and eggs absorb and give it the custardy texture.
Then you throw it in a baking pan and cook for about 45 minutes to an hour and that's it. See literally THAT IS IT. I really like making bread pudding because all the flavors that you can play around with are so versatile. Egg nog? Sure! Pumpkin? I like the sound of that. Caramel….oh yes please. Possibilities are endless.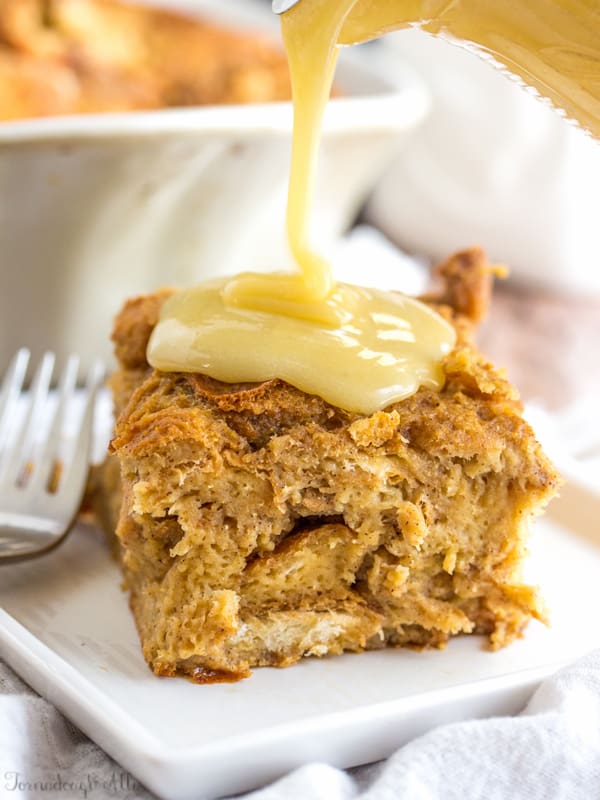 These simple dishes are also great for get togethers. I actually had my first bread pudding when we were at a buffet in Las Vegas and I was instantly hooked! I have to admit that it was literally amazing. I wish I could recreate that exact one, but I don't remember what it was 🙁 How sad is that?!?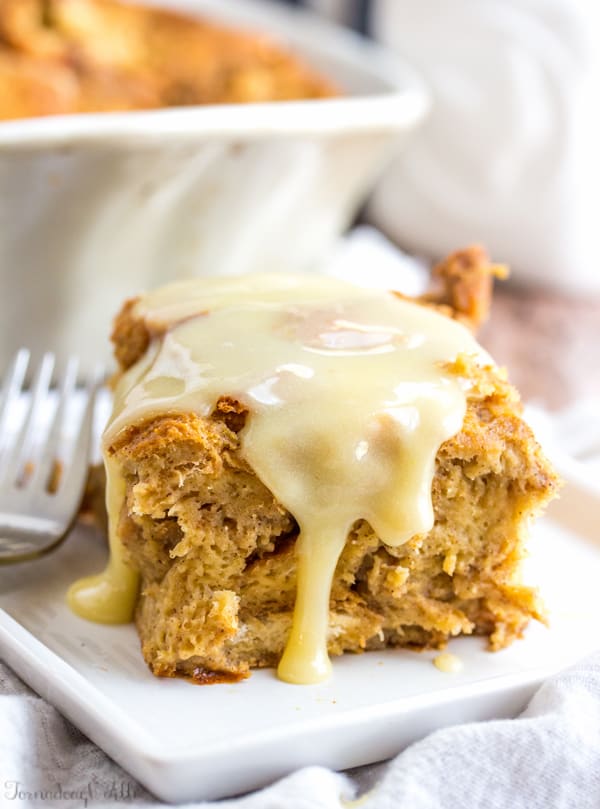 But since then I've been making bread pudding and bringing the to family gatherings because my family has been huge lovers of the stuff since I was little, unfortunately I wasn't as adventurous of an eater back then as I am now so it had waited too many years before I really appreciated the awesomeness that is bread pudding.
So if you're looking for a great option for your next brunch or holiday gathering this Gingerbread Bread Pudding with Vanilla Sauce would make a great choice for something comforting yet different enough to stand out!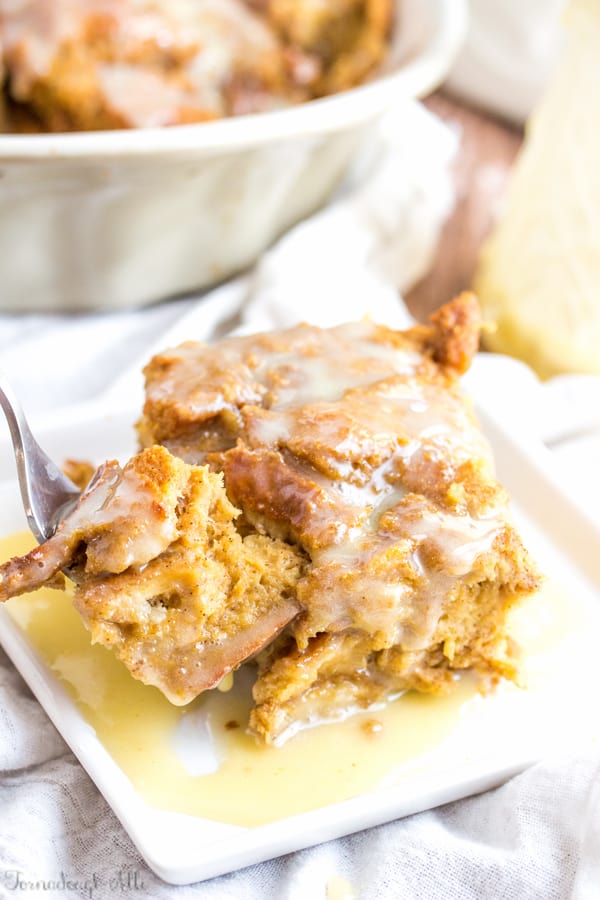 Gingerbread Bread Pudding with Vanilla Sauce
2016-10-25 10:17:34
Bread pudding is spiced with delicious gingerbread flavors and baked until golden and glazed with a delicious vanilla sauce
Ingredients
1 loaf Texas Toast, cut into 1" cubes
2 1/2 cups milk
5 eggs
2/3 cup brown sugar
1/4 cup molasses
1 tsp ginger
1 1/2 tsp cinnamon
1/2 tsp nutmeg
1/2 tsp all-spice
1 tsp vanilla
Vanilla Sauce
1 1/2 cup sugar
1 1/2 stick unsalted butter, slightly melted
1 (14 oz) can sweetened condensed milk
1 egg yolk
2 tsp vanilla
Instructions
Preheat oven to 350.
Place bread on to baking sheet and place in oven for about 10 minutes turning stirring halfway through to crisp the bread up.
Remove from oven and place into large bowl.
In another bowl combine your milk, eggs, sugar, molasses, spices and vanilla and whisk until combined.
Pour oven your bread and stir until absorbed, let sit for about 10-15 minutes.
Meanwhile spray a 2qt baking pan with non-stick cooking spray.
Spoon your bread mixture into pan and place in oven and bake for about 45-60 minutes or until center is set and no longer jiggly.
Remove from oven to cool slightly.
To make your sauce in sauce pan add your sugar, butter and sweetended condensed milk and stir until combined.
Cook over medium-high heat until melted and creamy.
In large bowl beat your egg, add a little bit of your sauce at a time to temper the egg so it doesn't scramble, and whisk together.
Stir in your vanilla.
Pour over your bread pudding and serve.
Notes
You may have extra sauce, use to pour over individual slices if desired.
Feel free to also use your fave vanilla sauce!
Adapted from Vanilla Sauce from Duck Commander Cookbook
Adapted from Vanilla Sauce from Duck Commander Cookbook
Tornadough Alli https://tornadoughalli.com/