Creamy and delicious this Cheddar Biscuit Topped Harvest Chicken Pot Pie is full of hearty veggies and herbs and topped with soft and fluffy cheddar drop biscuits.
So Minnesota has been a little confused lately on what Fall is supposed to be. I am not going to complain at all, but I mean quit teasing me! I'm a warm weather girl at heart, regardless of growing up here so when this time of year comes it's all about the warm hearty comfort food!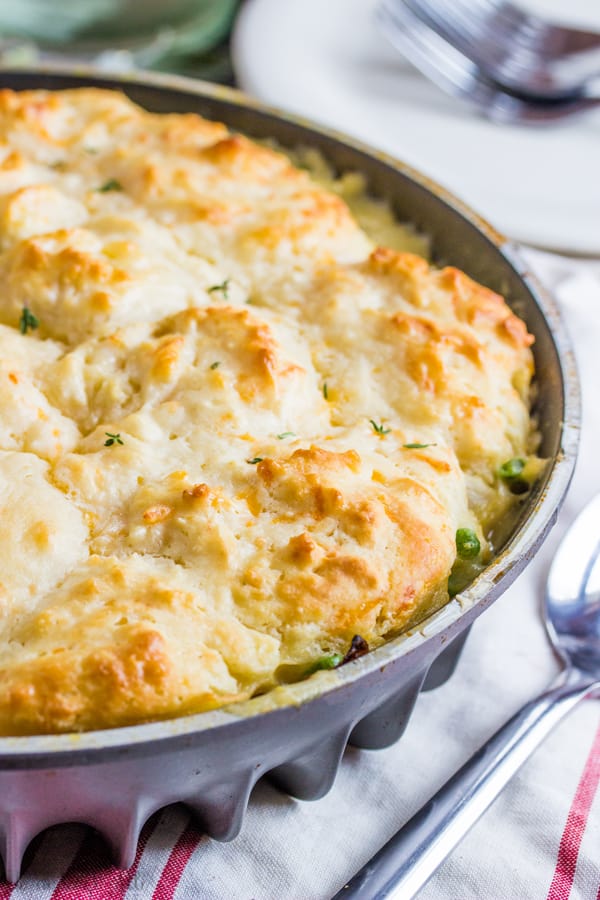 My husband and kids are major fans of pot pies. I've been on the fence with them for many many years. But this Cheddar Biscuit Topped Harvest Chicken Pot Pie is by far my absolute fave ever! I think it has something major to do with it being topped with biscuits and not pie crust. I don't have the best track record with pie crusts so they haven't been my go to thing.
We have a neighbor down the street who grows this MASSIVE garden each year. We are just so lucky that he likes to drop off random produce throughout the Summer and Fall. Anything from watermelons, corn, beans, cucumbers, tomatoes. I'd call ourselves very blessed to have him as our neighbor because lets face it, this girl does not have a green thumb.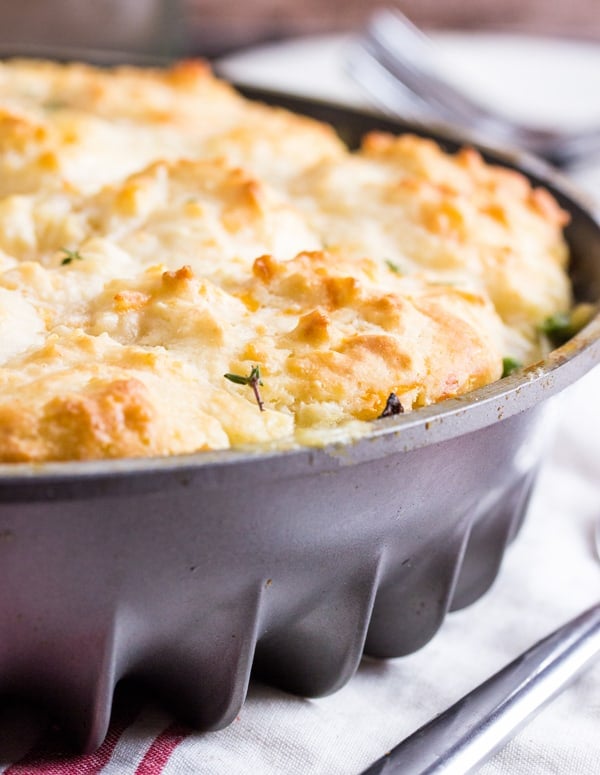 Don't get me wrong, we do grow a garden each year, but that's my husbands baby. You won't catch me in there unless I need something to cook with. Maybe one day I'll get the itch, but I don't have the best ability to keep plants alive! I do however have a cactus and aloe that I do tend to, but thank goodness they are very low maintenance and have managed to stay alive!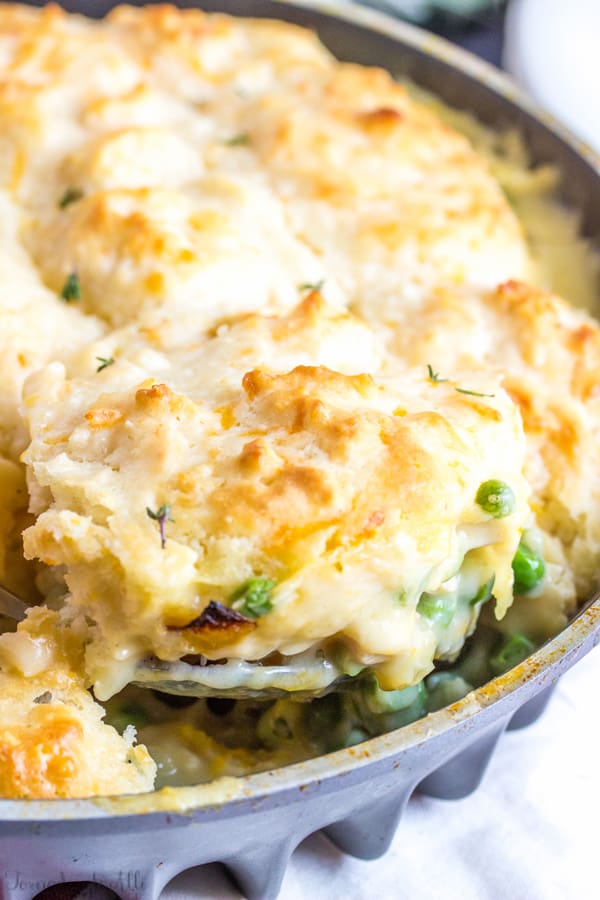 Anyways, so our neighbor dropped us off some butternut and acorn squash the other day and I just knew I had to make something fallish. Well this Cheddar Biscuit Topped Harvest Chicken Pot Pie was screaming my name! So it came to be.
Loaded with butternut squash, mushrooms, onions, peas, sage, thyme and chicken this is such a flavorful dish. Perfect to eat on those chilly Fall nights. The cheddar biscuits really set this apart from the normal pot pies and this is how I prefer to make them. They bake up so nicely in the oven and the addition of the cheese give a nice contrast to the veggies.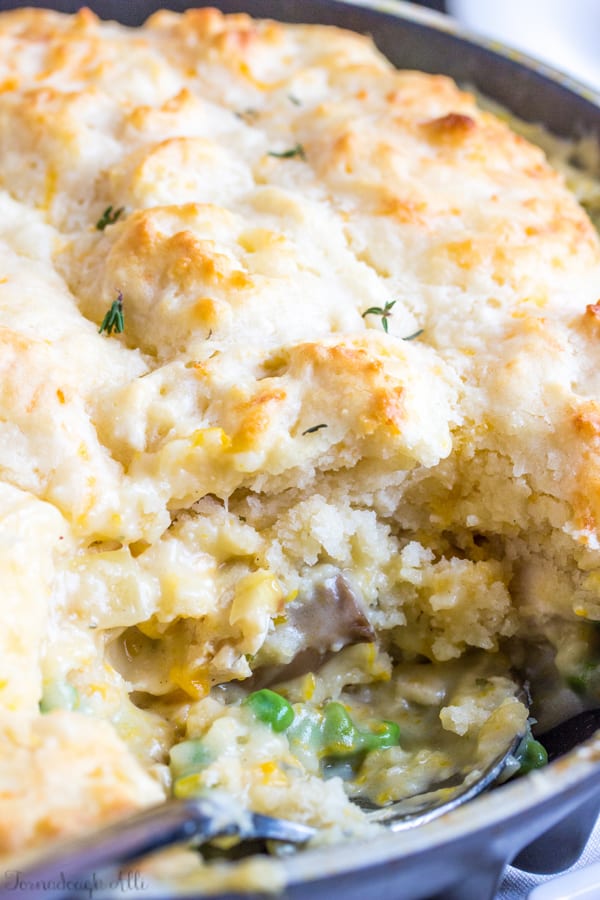 Can you believe that this recipe is pretty much all made in 1 pan?! I kid you not! I used my new Flare Saute Pan from Nordic Ware! If you're unfamiliar with Nordic Ware they are a Kitchenware Company that has been owned and operated since 1946 and have their main office in Minneapolis, MN. They offer a variety of items such as kitchenware, bakeware, microwave, kitchen gadgets and accessories. They are an internationally distributed brand who are now celebrating their 70th year!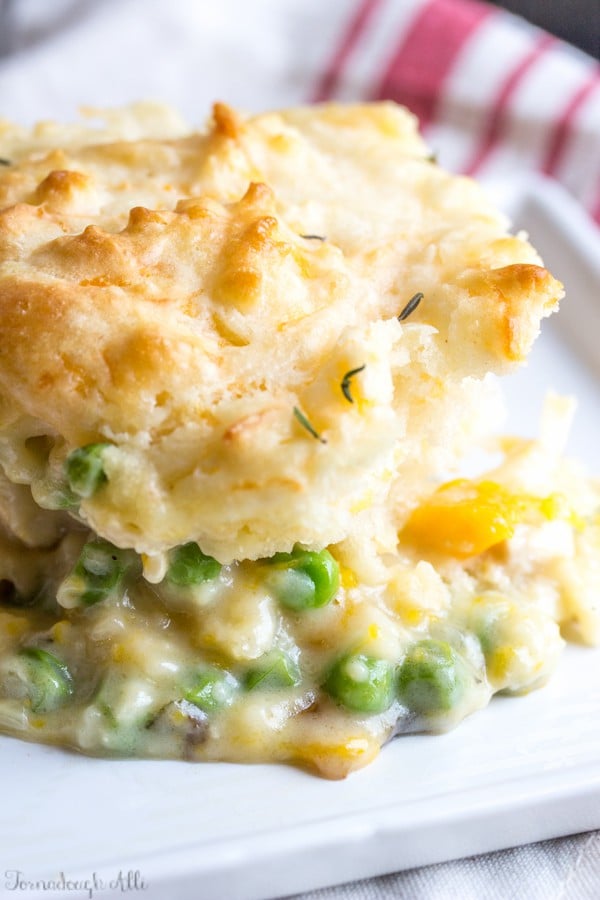 This Nordic Ware is amazing! It has a unique fin design that helps capture and absorb heat energy that would otherwise escape up the sides of the pan. Which as a result helps the pan heat up faster and cook more evenly. The pan itself is made of cast aluminum with a handle made of stainless steel which makes it oven safe up to 400 degrees!
So needless to say this was the perfect pan to be able to use for this Cheddar Biscuit Topped Harvest Chicken Pot Pie! You simply saute all your veggies in the pan, add your flour and liquids to make your center and top with your drop biscuits and heat in the oven for about 20 minutes and you have yourself one heck of a meal.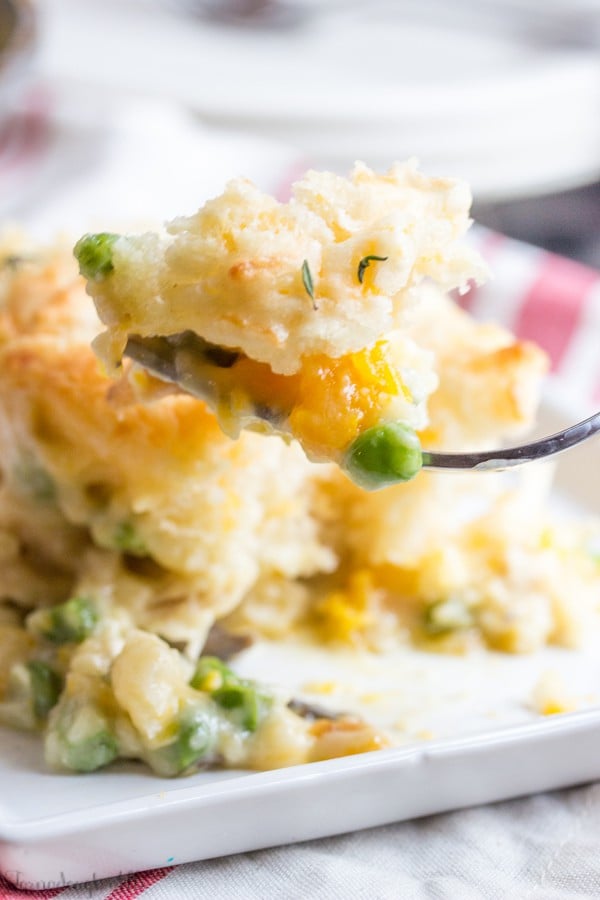 *This post was sponsored by Nordic Ware, all opinions expressed are mine alone*
Cheddar Biscuit Topped Harvest Chicken Pot Pie
2016-10-23 15:10:39
Hearty veggies are loaded into this delicious pot pie that is topped with cheddar biscuits.
Ingredients
2 Tbs olive oil
1 small onion, diced
1 heaping cup butternut squash
2 cups white button mushrooms, sliced
1 clove garlic, minced
6 fresh sage leaves, chopped
1/2 Tbs fresh thyme leaves
5 Tbs butter
1/3 cup flour
1 3/4 cups chicken stock
1/2 cup milk
1 cup frozen peas
1 lb chopped cooked chicken
Salt and pepper
Cheddar Biscuits
2 cups all-purpose flour
6 Tbs unsalted cold butter, cut into small pieces
1 Tbs baking powder
1 tsp baking soda
1/2 tsp salt
1/2 Tbs sugar
1 1/4 buttermilk
1 cup cheddar cheese
Instructions
Preheat oven to 400.
In saute pan add about 2 Tbs olive oil and add your onions and heat on medium-high for a few minutes until they begin to get tender.
Add your butternut squash and mushrooms and reduce heat to medium and heat for about 8-10 minutes or until squash becomes tender, stir in your garlic and heat for another minute.
Stir in your sage and thyme until combined.
Add your butter and heat until melted, stir in your flour.
Slowly add your chicken stock and milk and sprinkle with desired amount of salt and pepper.
Continue to heat until thickened.
Stir in your chicken and peas, set aside.
To make biscuits, in large bowl stir together your flour, baking powder, baking soda, salt and sugar and whisk to combine.
Using a pastry blender or forks add in your butter and mix until you get small bits.
Stir in your buttermilk until just combined and fold in your cheese.
Drop by 1/4 cupfulls onto top of your pot pie mixture.
Bake for about 20 minutes or until golden.
Adapted from Filling Vegetbles from Half Baked Harvest
Tornadough Alli https://tornadoughalli.com/