Deliciously hearty this Cincinnati Chili is a unique chili recipe served over spaghetti and topped with cheese, onions or beans or a combination of the 5!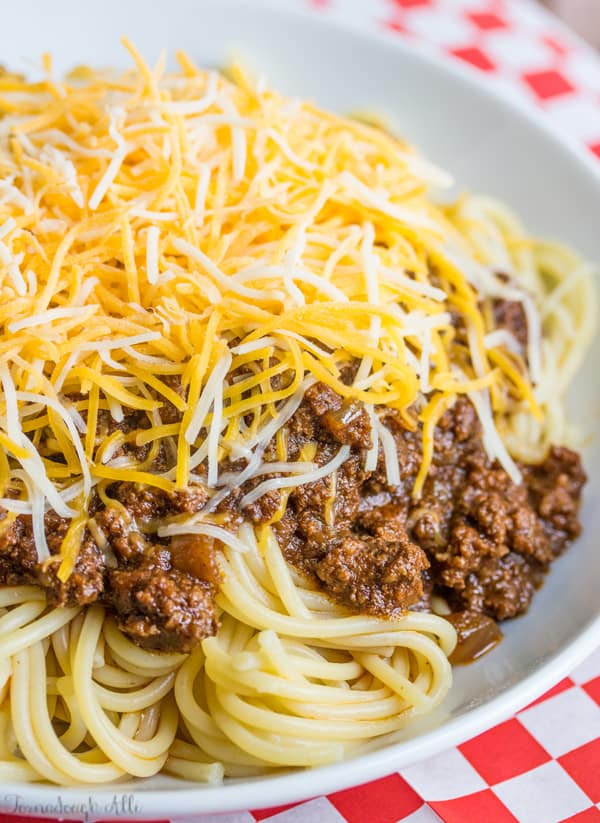 So lot's of people have their preference on chili. I for one love my Sweet Heat Chili. I love the mixture of the heat and the sweetness and how it pays together and so does my husband. This is our number one go to chili whenever the weather gets brisk and we need our comfort food.
BUT I also love Cincinnati Chili. But…the difference is, this is more of a topping chili, at least it is for us anyways. I've never eaten it on it's own. I've always either had it over spaghetti or served it over hot dogs (my kids fave way). Do people actually eat it as chili? I'm sure there are many many ways that people can enjoy this delectable dinner.
So you can have this Cincinnati Chili 5 different ways. You can have it chili…, chili with spaghetti, chili with spaghetti and cheddar, chili with spaghetti, cheddar and beans and chili with spaghetti, cheddar, beans and onions. WOW…did I lose you there? I actually like it all ways, I'm a big chili with beans fan so usually I add the beans to mine regardless.
Now onion is a hit of miss with me. Usually I'm not a raw onion person and prefer it sautéed but it really works in here. The flavors play nicely together and it gives it a good crunch to set off all the textures and flavors. And a little crunch is something that I can handle, especially in this chili.
Did I mention that this is a SUPER easy recipe? It may seem like it's hard because it has a boat load of ingredients but seriously, easy. All you do is put everything in the pan and let it simmer for a few hours and your set. I mean who can't handle that? Besides the smell alone is worth all those ingredients.
This recipe goes a long way too! It saves well in the refrigerator or freezer as well so if you don't think that you can consume it all in one sitting, then you have the option of saving it for a later day. We love to do this because I'm a big lover of chili cheese dogs and chili burgers and like I said this is fantastic for it!
So wait no longer, if you haven't tried it before try it now. This Cincinnati Chili recipe has one of a kind flavor and has multiple options, quick, easy and lasts forever!
Cincinnati Chili
2016-11-22 09:34:11
Ground beef and spices are simmered together to make this unique chili that is great on spaghetti or hot dogs.
Ingredients
2lbs ground beef
4 cups water
1 large onion, diced small
1 (15 oz) can tomato sauce
1 1/2 tsp minced garlic
1 tsp all-spice
1 tsp cumin
3 Tbs chili powder
1 tsp cinnamon
1 Tbs cocoa powder
2 bay leaves
2 tbs apple cider vinegar
1 tsp cayenne pepper
Instructions
In large pot add your ground beef and water, bring to boil and stir your beef until it separates into little pieces, reduce heat a simmer for about 30 minutes.
Once beef is cooked, add remaining ingredients and stir to combine
Bring to boil and reduce heat and simmer uncovered for about 2 1/2 hours or until thickened.
Serve over spaghetti or hot dogs.
Notes
The last hour or so you can add a lid to let chili thicken more if desired.
Adapted from Old Chuch Cookbook
Adapted from Old Chuch Cookbook
Tornadough Alli https://tornadoughalli.com/