A little spicy and a little sweet this Sweet Heat Chili has a blend of flavors that will satisfy both your needs. A pure comfort food at it's best!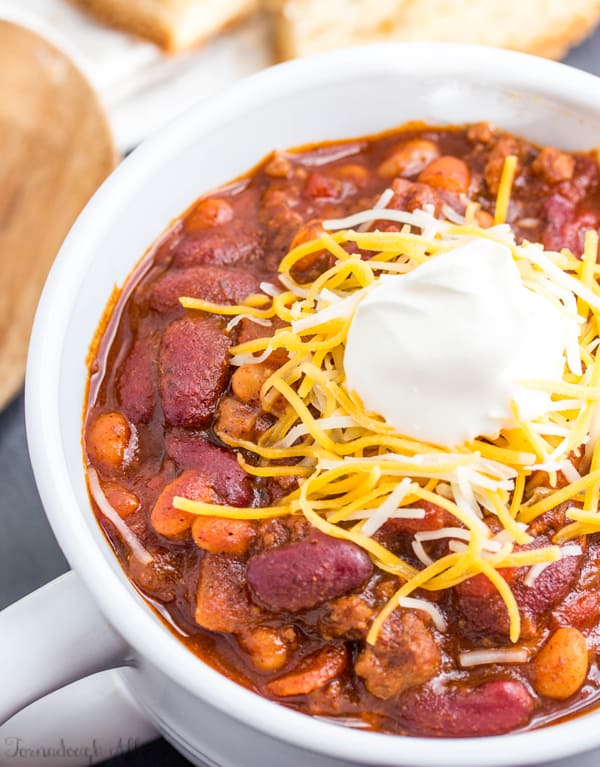 It's Friday! I'm so ready for this weekend! I can't believe school will be starting soon and the temperature you can tell is already starting to change. Like literally in one went from it being 90 to it being 50, not cool Mother Nature. But I also live in Minnesota and our weather here is seriously crazy. It can be snowing one day to the next day you need to wear a t-shirt, for real.
Anyways, since it has been unseasonable weather, I decided to make up a big pot of chili the other day. I love this stuff, it's my husband's absolute favorite as well. He's likes the sweet taste of this because it is not as tomatoey as the normal chilis one makes. So this one is being requested more and more these days, and I have to admit, I like it better too! Makes it easier for my kids to eat since it's not chalked full of spiciness!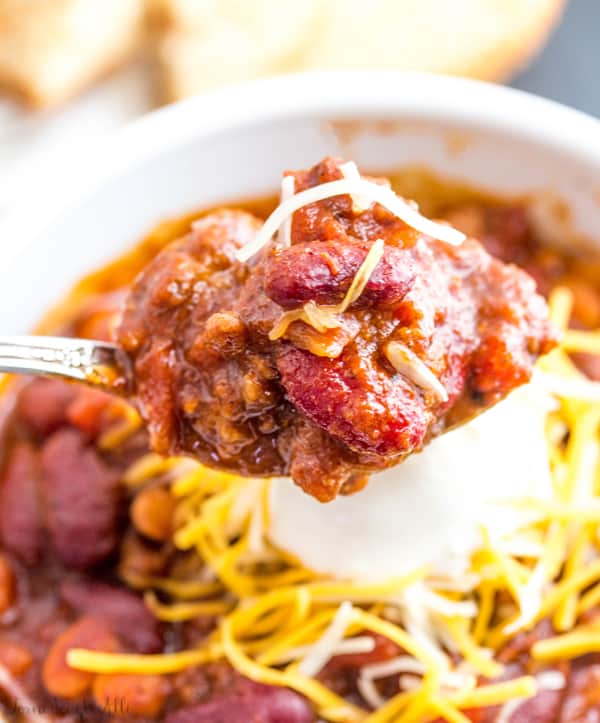 I love sour cream on my chili, and load that bowl down with cheese and I'm set to go. Top it with some chopped green onions and I have myself a bowl of heaven. But that's just me. So many people have so many ways of how they love to top their chili, be creative my friends!
Sweet Heat Chili
2017-01-06 02:08:14
A mix of spicy and sweet this chili is a pure comfort favorite.
Ingredients
1 lb ground beef
1 onion chopped
1 tsp minced garlic
1 (15 oz) can tomato sauce
1 (15 oz) can petite diced tomatoes
1 (15 oz) can pork and beans
1 (15 oz) can kidney beans, drained
2-3 Tbs chili powder
1 tsp paprika
1 tsp garlic powder
1/2 tsp cayenne peppers
1/4 cup brown sugar
Salt and pepper
Instructions
In large pot brown your ground beef with your onions and garlic.
Once browned add the rest of your ingredients and stir until combined.
Bring to a boil then cover and simmer for about 30 minutes until thickened.
Serve with your favorite toppings and enjoy!
Tornadough Alli https://tornadoughalli.com/