This Scotch Egg Recipe is a fun easy pub snack that is full of flavor, easy to make and is the perfect fun appetizer to serve at gatherings.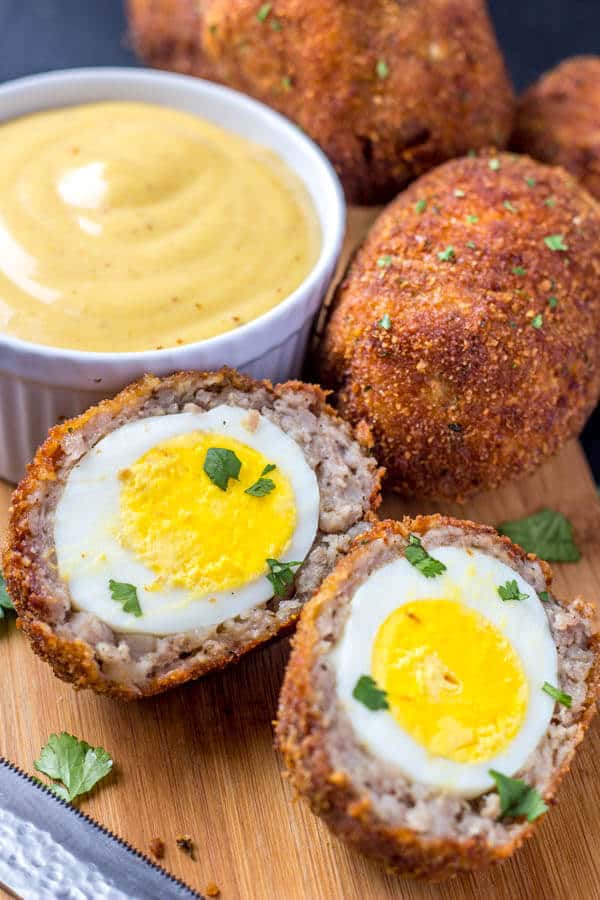 When you think of appetizers you don't really think of Scotch Eggs. Well friends, let me change your mind because this Scotch Egg Recipe is fun, appetizing and flavorful and it is the one treat that you'll want to have on your menu the next time you have guests over!
HOW DO YOU MAKE SCOTCH EGGS?
Scotch Eggs are an easy appetizer that you can make at home. You first start out with some hard boiled eggs. Then you wrap them in some pork sausage which is then breaded in a mixture of flour, egg and breadcrumbs. You can deep fry them or bake them, but we love to deep fry our version of this recipe.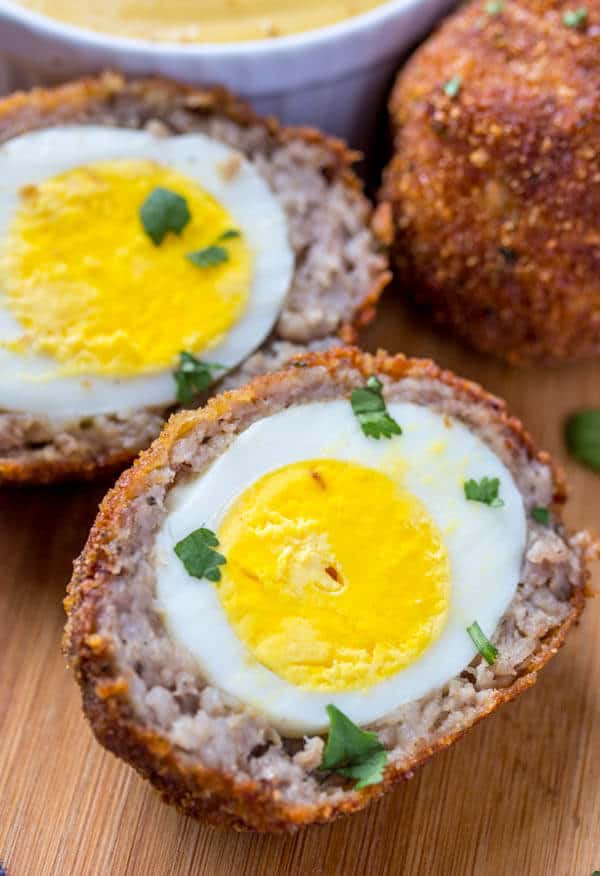 WHAT SAUCE DO YOU SERVE WITH SCOTCH EGGS?
Now this is a question that is highly debatable and everyone's preference are completely different. We served ours with a side of honey mustard. Yes, you heard that right honey mustard! We love the sweet and tangy flavor that it gives with the salty flavor from the sausage.
Traditionally you would serve some sort of mustard sauce with this, a German mustard would be good, a creamy mustard mixed with mayo and lemon juice is also a good option. But the possibilities are endless and I say play around with different dipping sauce to find which one you like the best.
DO YOU EAT SCOTCH EGGS HOT OR COLD?
This is entirely up to you, in the UK they serve then cold. We had them right out of the deep fryer and prefer them warm, but we also at them after they cooled off for a bit and they were equally tasty.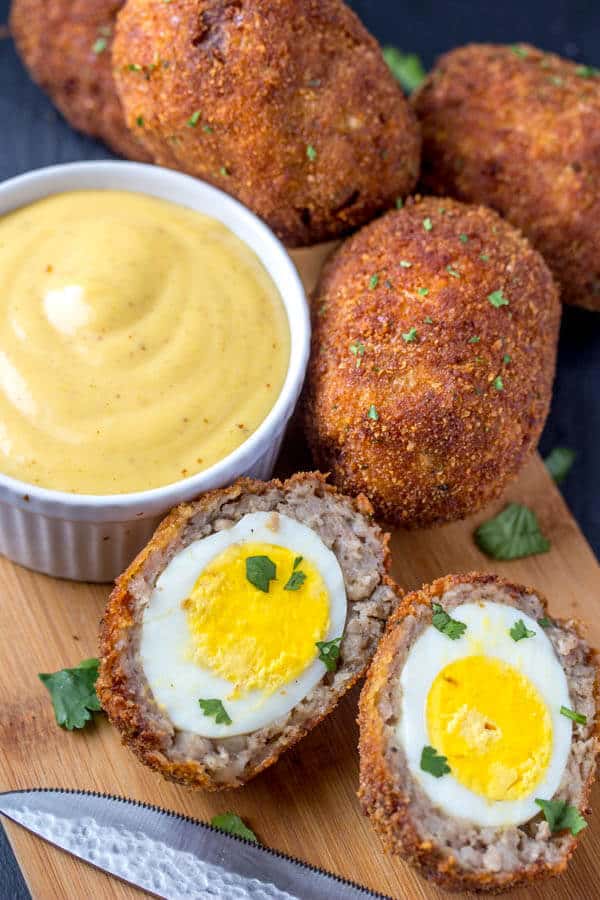 CAN YOU COOK SCOTCH EGGS IN THE OVEN?
If you prefer to not deep fry your scotch eggs, no worries, this Scotch Egg Recipe can be baked as well. Just preheat your oven to 400 and place on a non-stick baking sheet and bake for about 35 minutes.
This is a fun recipe that we like to serve to switch up our normal appetizer routine and we highly recommend you give it a try. There is mixed reviews on peoples opinions of this Scotch Egg recipe but we are in love and will always be on the pro Scotch Egg bandwagon.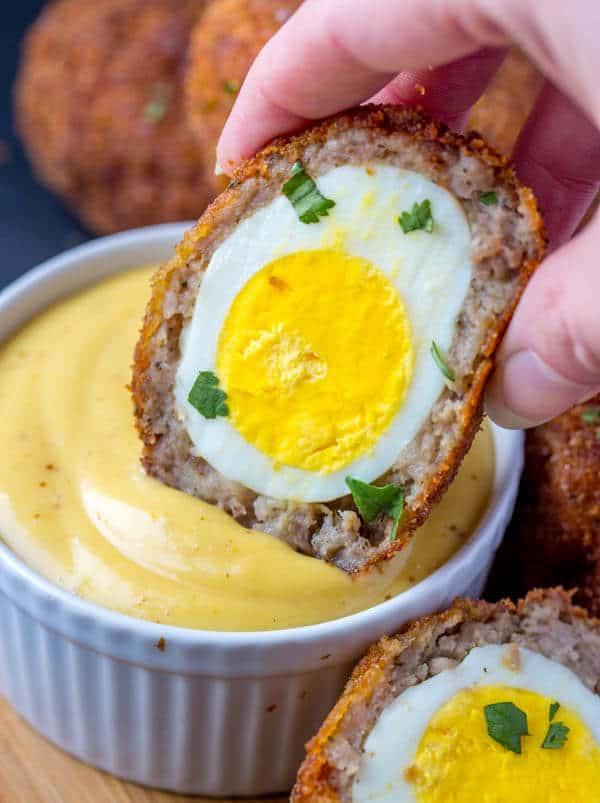 You might love these other easy appetizer recipes, Asian Crockpot Meatballs, Taco Wonton Cups and Copycat Texas Roadhouse Rattlesnake Bites.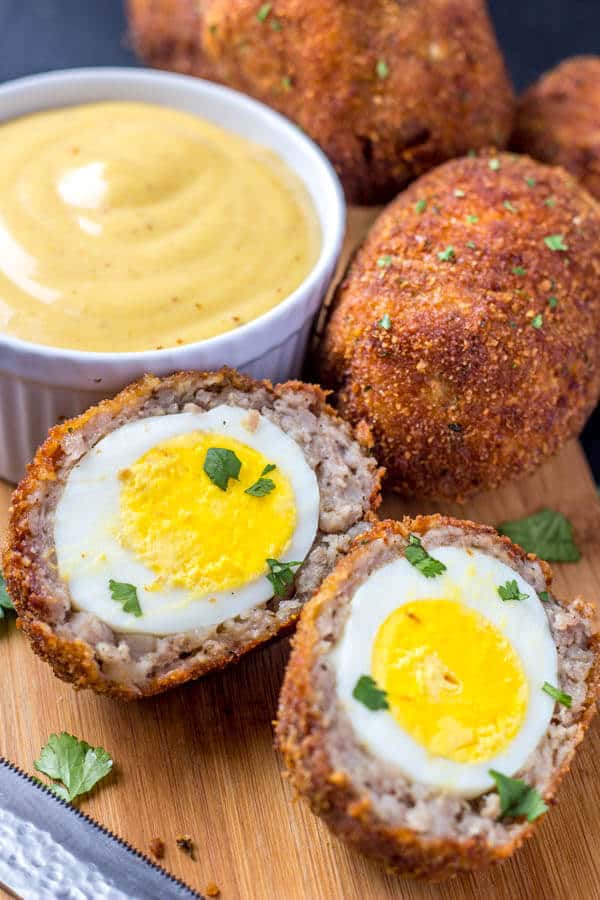 Scotch Eggs
This Scotch Egg Recipe is a fun easy pub snack that is full of flavor, easy to make and is the perfect fun appetizer to serve at gatherings.
Ingredients
6

hard boiled eggs

peeled

1

lb

pork sausage

2

eggs

beaten

1/2

cup

flour

1-1 1/2

cup

Italian herbed bread crumbs
Instructions
Preheat your deep fryer to 350.

Meanwhile wrap your hard boiled eggs in your pork sausage.

In 3 separate shallow bowls add your eggs, flour and bread crumbs,

Dredge your wrapped eggs first into the flour, then eggs then bread crumbs.

Fry 2 at a time in deep fryer for about 5-6 minutes or until internal temperature is 160.

Remove to a paper towel lined plate and repeat with remaining eggs.

Serve with honey mustard or your favorite dipping sauce.