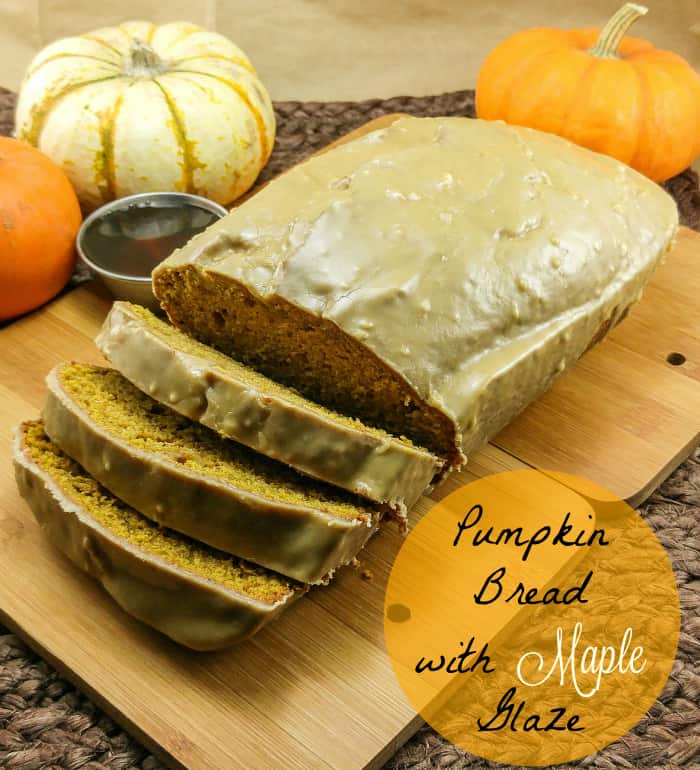 So I have finally came to the conclusion that I am not ready for winter. I've said it once and I've said it before, I am not a cold weather gal. Yes, I was born and raised in Minnesota but in no way, shape or form am I ever prepared for winter. None, zero, doesn't happen. Last year for Christmas my husband bought me an electric car starter so I didn't have to get into a subzero car when I needed to go anywhere. That my friends is still in the box and has yet to be installed. There are a few day's where I really could have used it. Now that it's getting colder out I doubt it will be installed this year at all. Sad face.
Luckily it is still fall and I can sort of still keep warm. Especially when I get to taste all the fall flavors. Like this Pumpkin Bread with Maple Glaze. Pumpkin and maple are an awesome combination and I highly recommend people give it a try. Heck maple on its own is awesome. But I'm one who pretty much thinks anything sweet that I can ingest is pretty awesome. I don't discriminate. Well….I do draw the line at black licorice. Now that stuff…yuck. Sorry to all you black licorice lovers out there! Nothing of that caliber will be coming out of this kitchen, if it is I will gladly pack it up and send it to you to devour.
This bread is easy peasy. Mix all ingredients in one bowl, bake, glaze and seriously devour. I could eat that glaze with a spoon by the bowl full. My teeth would hate me for it, but I would feel oddly satisfied. If you're looking for a great treat to bring along to Thanksgiving (yes we are almost there) or a fall holiday get together, whip this guy up and watch your friends swoon in delight <—-there are my describing words again, I think I'm getting quite good at them. Lol. Now onto this recipe shall we!
Pumpkin Bread with Mape Glaze
2015-10-25 13:29:39
A moist pumpkin bread topped with a sweet layer of maple icing.
Ingredients
1/2 cup butter, softened
1 cup brown sugar
1 cup canned pumpkin
2 eggs
1 1/2 tsp ground cinnamon
1/2 tsp ground ginger
1/2 tsp ground nutmeg
1 tsp baking powder
1 tsp baking soda
1 tsp salt
1 1/2 cups all-purpose flour
Maple Glaze
3 Tbs butter, melted
1-1 1/2 cup powdered sugar
1 tsp vanilla extract
1 tsp maple extract
Instructions
Preheat oven to 350.
Sray a 9x5" loaf pan with cooking spray.
In bowl, combine all the ingredients for bread.
With had mixer, mix on medium speed for 2 minutes until everything is combined.
Spread into greased pan and bake for about 50 minutes or until toothpick comes out clean.
Remove from oven to cool.
Glaze
Mix all glaze ingredients into bowl.
Add the extra 1/2 cup of powdered sugar if too runny.
Once bread it cooled pour your glaze over the top and down the sides of the bread.
Let sit for the glaze to harden up a bit.
Cut and serve!
Tornadough Alli https://tornadoughalli.com/
To see where I'm linked at visit my Link Parties page and join the fun! Don't forget to link up with me every Tuesday and Thursday nights at 6pm CST for Wonderful Wednesday's and Throwback Thursday's!