A deliciously fun appetizer for your game day, holiday or party needs, these Italian Pinwheels are tasty, fast and a fun addition to your meal!
Who loves pinwheels?! I do, I do! I can't believe that it is already Wednesday! This week is flying. I think it's because Monday was Presidents Day and the kids didn't have school so it felt like a weekend day. But I'm not going to complain, closer to the weekend and closer to me having a new pair of glasses.
It's been literally 5 years since I've gotten a new pair of glasses!!! Why did I wait so long one may wonder…well I was convinced that my insurance plan didn't cover it. Well lo and behold it does, woohoo. So unfortunately we found out my 7-year-old is blind as a bat (not technically, just can't see far like me) and needed to be seen by an eye doctor so that is how we found out we have it covered.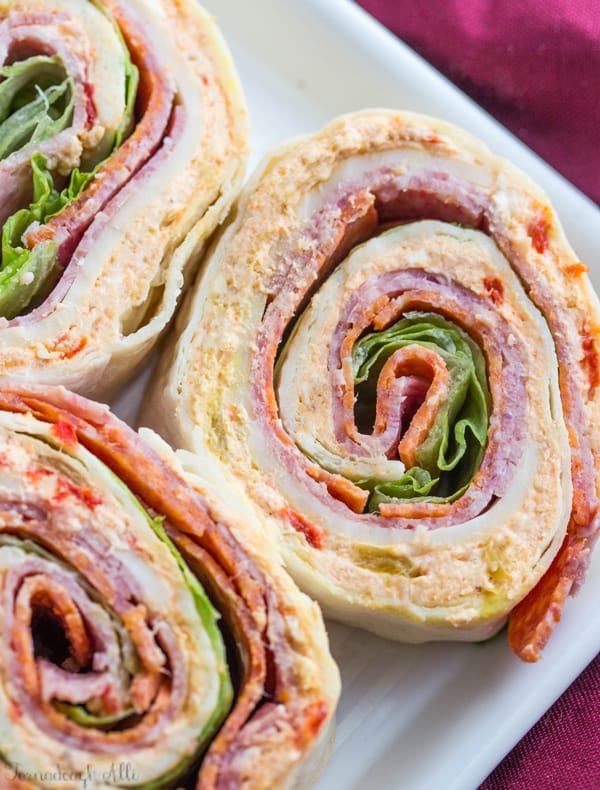 Oh happy day. What else makes this a happy day? These Italian Pinwheels. Oh yes, nothing beats a good old pinwheel recipe. Especially when its an easy treat that you can enjoy with little effort. Those are the best types of foods in my mine. Quick easy and tasty!
We love the Walmart Deli, and frequent it any time we are there (clearance deli products anyone!!) I have always been a big fan of their Marketplace Italian Pinwheels, so I set out to make my own. Now obviously it says right on the package what was in them so I got a pretty good head start on them, but gave them some creativity and flair of my own!
These would be great to bring to a get together, Or to have as a quick easy snack for lunch! I know that these Pinwheels will be my go to wrapped snack for sure. We loved these, they taste so fresh and crisp. The spicy of the pepperoni and cream cheese spread is offset by the cheese and lettuce.
A perfect almost summery combo that will make you feel a little less cold this time of year! I know that is surely something that I've been dreaming of. Getting cabin fever here in the tundra of Minnesota. These a remeniscent of summer time, but are good all year long.
Italian Pinwheels
2016-02-17 07:01:11
A delicious and refreshing Italian wrap with pepperoni, ham, cheese and peppers.
Ingredients
3 flour tortillas
1 (8 oz) pkg genoa salami
30 small Pepperoni slices
9 slices Provolone cheese
Romaine lettuce
Pepper Spread
1 (8 oz) pkg cream cheese, softened
1/4 cup Italian bread crumbs
1/4 cup parmesan cheese
2/3 cup roasted or sweet red peppers (we used jarred), chopped small
2/3 cup banana peppers (we used jarred), chopped small
Instructions
Mix all your pepper spread ingredients in bowl until well comined.
Spread 1/3 of the mix onto tortilla.
In center of tortilla place 3 slices of cheese next to one another.
Next layer enough salami tocover tortilla.
After that layer pepperoni covering the salami.
Then lastly add your romaine lettuce on top of that.
Roll up tightly and refrigerate until cool, about 1 hour.
Slice into pinwheels and enjoy!
Notes
We used a mini food chopper to chop our peppers, you can use that as well.
There is no science as to how I layered my wraps, just make sure everything is covered and you're good!
Tornadough Alli https://tornadoughalli.com/