Moist, flavorful and irresistible this Italian Cream Cake is piled high and feeds a crowd. A classic cake that everyone will enjoy!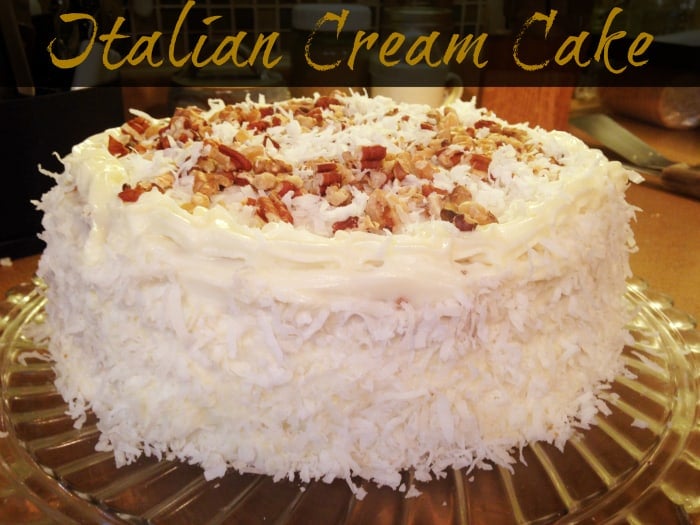 So do you guys remember when I tell you about how I make something and I get so upset because it's not pretty or my pictures didn't turn out the way I wanted them to so I end up not posting it on the blog? Well I couldn't pass up the opportunity on this one.
Now this was one of my not so pretty creations but it tasted so good that I couldn't not post it, so I'm going to share it with you, ugly pictures and all. Poor thing, I'm demeaning it, but it is pretty on the inside and that's what counts!

I love cake. Cake has to by my all time favorite type of dessert out there. Carrot and red velvet are at the top of my list. Although I love cakes, I HATE making layered cakes. Unless you are a master baker you have to be honest with yourself, all those pretty cakes that turn out perfect in the magazines do not come out of a normal kitchen! You have to have so much practice to master that, and I do not. I am a good baker, but not a good decorator!
As you can see….this cake is very light and fluffy so if you do not prepare your pan like perfectly, it will like to stick to that sucker and not want to come out. I recommend using spring-form pans for this recipe. The bottom layer of this cake was not baked in a spring-form and made it harder to get the cake out as you can tell by the sides, the second layer as you see was, and sides are perfect!

What is my favorite part of layered cakes one may ask, well let me enlighten you. FROSTING my friend! You get layers and layers of frosting! I'm sort of an addict of sorts in that aspect. I like to always take the corner pieces of the store-bought birthday cakes because it has the most frosting. Luckily this cake has a ton!
Each layer has frosting mixed with nuts lathered all over its lovely self. Then the whole thing is clothed in a thick layer of cream cheese, topped with nuts and coconut and then the outside gets a whole coating of coconut as well. There is definitely no place left uncovered in this slab of heaven. Have I used enough adjectives yet? I sometimes get carried away when I describe my food. My husband thinks I'm weird because I like to use all these different terms to tell him how in love with food I am. 😛

So if you are a lover of coconut, nuts and cream cheese frosting and layer cakes then you have yourself a winner with this one! This is even kid approved. Sometimes kids can be so picky but mine absolutely loved it. Probably was all the frosting, they take after their mother.
So go. Run. Make. NOW! And if it turns out ugly, so what! As long as it tastes good it's all that matters. Now you've seen it, things don't always go as planned in the kitchen. More times than not especially with baking, they tend to mess up somewhere along the lines at some point
Italian Cream Cake
Ingredients
2

cups

sugar

1/2

cup

butter

room temperature

1/2

cup

vegetable oil

5

eggs

separated

1

tsp

baking soda

1

cup

buttermilk

2

cups

all-purpose flour

1

teaspoon

salt

1

cup

flaked coconut

1

teaspoon

vanilla or almond extract
Cream Cheese Frosting:
2

8 oz blocks cream cheese, softened

4

cups

powdered sugar

1/2

stick butter

1-2

tsp

vanilla extract

depending on taste

1

cup

chopped walnuts

Additional coconut for decorating
Instructions
Preheat oven to 350 degrees. Grease and flour three 9-inch round cake pans (spring-form is best).

In a large bowl, cream together butter, oil and sugar until light and fluffy. Mix in the egg yolks, vanilla, and coconut.

In a separate bowl, mix flour, baking soda, and baking powder.

In another bowl, beat egg whites until stiff.

Alternate adding in your buttermilk and flour mixture until combined.

Gently fold in your egg whites.

Pour into prepared baking pans and bake for 20-25 minutes until tops are golden or until toothpick comes out clean.

Let rest for about 10 minutes until you remove from pans, then place on wire racks to cool completely.
Frosting:
In a medium bowl, combine cream cheese, butter, vanilla, and powdered sugar. Beat until light and fluffy.

To assemble cakes, layer your first cake and top with about 2/3 cup frosting then sprinkle with nuts.

Repeat with remaining layers. Once all layers are assembled cover cake with remaining frosting around sides.

Top with remaining nuts and sprinkle with coconut. You may decorate the sides with coconut as well.
Recipe Notes
I used additional frosting to make a frosting rim around the top and bottom of cake. You may decorate the cake to your liking! I also used a combination of walnuts and pecans because I didn't have a full cup of walnuts.