These Texas Almond Sheet Cake Donuts are my new best friends. Almond cake donuts dipped and dripped in the iconic Texas Sheet Cake icing only it's almond flavored and topped off with slivered almonds.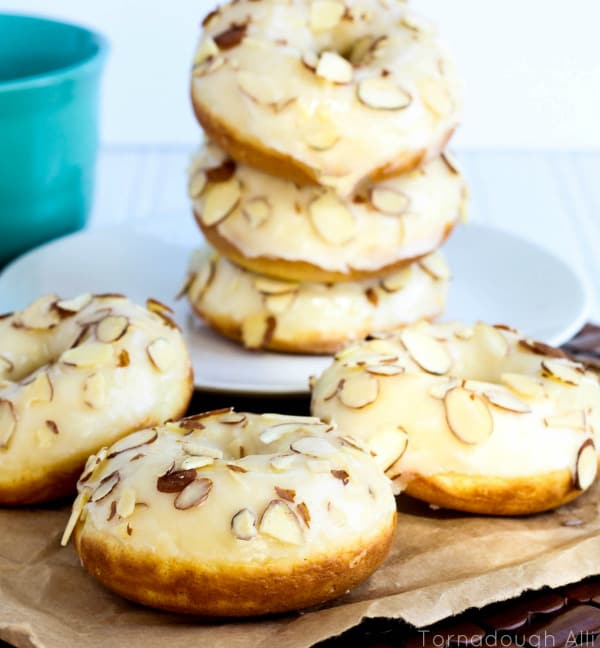 Well my absolute love of donuts has struck again. This time in one of my most favorite cake flavors! I'm sure you've seen the well-known Texas Sheet Cake floating around Pinterest these last few years. Well did you know that it is also made in a white almond version! YUUUUP! I so went there a while back and I was converted into an instant lover. But in my style, I must have everything in carry around form, so I made the cake into donuts.
Everything about these donuts has me smiling. I'm a huge almond lover so these are right up my alley. They have a light airy texture and a nice subtle almond flavoring. That icing though, makes these donuts. As it does with the cake as well. I would just eat it with a spoon all day every day. But….I don't think that my teeth will enjoy that.
If you don't believe that I have a huge donut fetish…why don't you head over here, here, here and here. I have more, but I'll cap it at 4 for now. I have to admit, out of all of them…these are probably my favorite, so far. Don't hold me to that, next week I may change my mind. But almond will always hold they keys to my heart. So go make as soon as you can. Your co-workers, kids, family, random people will love you if you brought a baker's dozen of these handheld treats!
Texas Almond Sheet Cake Donuts
2016-04-03 18:01:32
A delicious almond cake donut, dipped in a creamy almond glazed and topped with slivered almonds.
Ingredients
1 cup all-purpose flour
1 tsp baking powder
1/4 tsp salt
1/4 cup granulated sugar
1 egg
1/4 cup sour cream
3 Tbs milk
1 Tbs butter, melted
1 tsp almond extract
Icing
1/2 stick butter, melted
3-4 Tbs milk
1 1/3 tsp almond extract
3/4 - 1 cup powdered sugar
Slivered almonds
Instructions
Pre-heat oven to 400.
In bowl, add all dry ingredients and stir to combine.
Add egg, sour cream, milk, almond extract, butter and stir everything until just combined.
Spray your donut pan with non-stick cooking spray.
Spoon or pipe into wells of donut pan.
Cook for about 10 minutes or until donuts spring back when touched.
Remove from oven and dump out of pan and let cool.
Meanwhile mix together your glaze ingredients.
Once donuts are cool dip tops of each donut into glaze. Repeat 3 times for each donut.
Sprinkle with slivered almonds.
Tornadough Alli https://tornadoughalli.com/