Stuffed pepper fan? These Chorizo Stuffed Peppers are a delicious take on the classic! Stuffed with spicy chorizo, cream cheese, corn, black beans and a Mexican Cheese blend.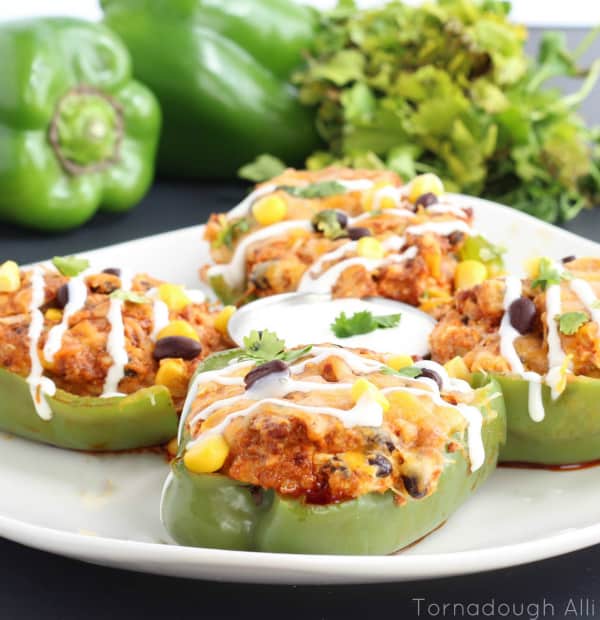 I love stuffed peppers. Like really love them. I have a recipe for original stuffed peppers here that are sadly in need of a facelift. Hey don't judge, I know pictures sell but those bad boys were the beginning of this blog so I've come to love them. Besides the flavor in them was what mattered to me at that point and I wanted to share it with the world!
Sharing is something I've grown accustom to. I am completely in love with what I do here at Tornadough Alli. Have you heard the old saying where if you love what you do, you'll never work a day in your life? Yeah, that's me. I've got a long way to go to be where I want to be, but I'm happy of how far I have come in my first year. It's been one heck of a ride and I'm still having a good old-time creating.
And creating I have done. These Chorizo Stuffed Peppers are off the hook. Seriously, I give them an A+. Tender green peppers, melty cheesy cream cheese, a healthy twist with corn and black beans and a Mexican cheese blend. Holy Hannah everyone, these bad boys have the flavor I've been dreaming about. The heat is balanced out nicely with the cheeses and then you get a crispness from the veggies. Win-win all the way I say.
So if you are a Taco Tuesday type of person, or just generally love yourself some heat or Mexican flair, these babies need to be added to your menus ASAP. You'll thank me later, I promise!
Chorizo Stuffed Peppers
2016-04-05 17:25:25
Crisp green peppers stuffed with a spicy chorizo, cream cheese, corn, black bean and Mexican cheese blend all baked to melty goodness!
Ingredients
2 large green peppers, cut in half and seeded
1 (10 oz.) pkg pork chorizo
1 (8 oz.) block of cream cheese, softened
1/2 can corn, drained
1/2 can black beans, drained and rinsed
3/4 cup Mexican cheese blend
Instructions
Preheat oven to 375.
In pot filled with water, bring to a boil and add your peppers and parboil for about 5 minutes or until slightly tender.
Remove from water and let cool.
Meanwhile fry your chorizo in pan until cooked, about 1-2 minutes.
In bowl add your cream cheese, chorizo, corn, black beans and Mexican cheese and mix until well combined.
Place peppers cup side up on baking sheet, fill will cream cheese mixture. Sprinkle with more cheese if desired.
Bake for about 15 minutes until cheese is bubbly, remove from oven and top with cilantro and sour cream if desired.
Tornadough Alli https://tornadoughalli.com/