If you love Lo Mein, you'll adore these Stir-Fried Mongolian Noodles! Delicious rice noodles, coated in a rich hoisin sauce and tossed with an array of veggies.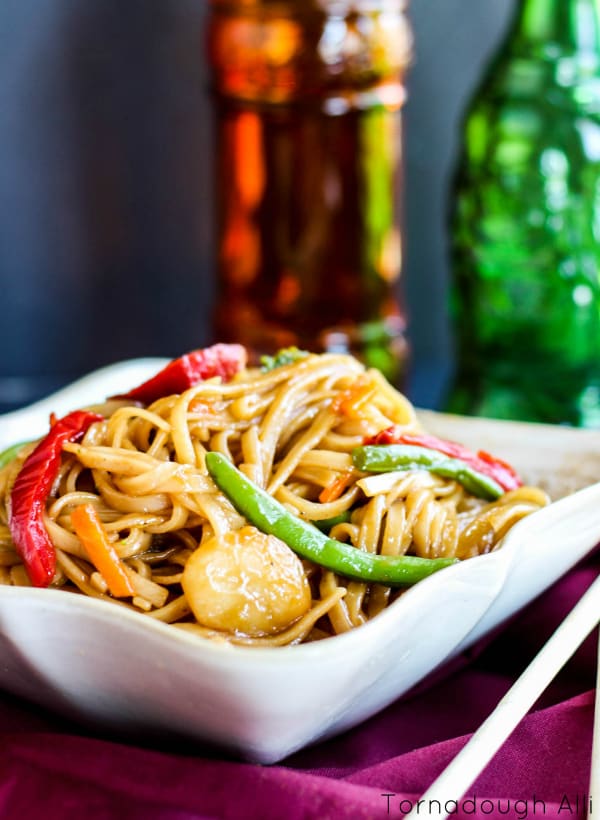 Ok ya'll. If you have been reading my blog for any length of time, you'll know that I am a huge lover of Chinese/Japanese/Thai/Mongolian what have you food. Our favorite Chinese takeout place was under renovations for a few months this past winter and I didn't know what I was going to do with myself. Well obviously being the cook that I am, I improvised. Boy did some amazing creations come out of that little journey. One of them being these seriously off the hook Stir-Fried Mongolian Noodles.
If you love Lo Mein, you'll love these times 10. I kid you not. Think Mongolian Beef but in noodle form. For real, this sauce is epic. Plus adding it to warm rice noodles and stir-fry veggies takes it over the top making it one of my all-time favorite ethnic dishes to date. Now that is saying something because I have like a major love for many many dishes and to rank something that high…wowie! Pair this with some fried rice and you're golden!
OHHHHH! Did I mention….this literally can be whipped up in under 15 minutes! Yup, it is true! This meal is so quick and easy that it will be on the table from start to finish in 15 minutes or less. Now how could you go wrong there? I think that is what makes this Stir-Fried Mongolian Noodles one of our favorite go-to weekly meals. It's ease and delicious taste make this a winner for sure.
Stir-Fried Mongolian Noodles
2016-04-12 19:46:18
Delicious rice noodles slathered in a light hoisin sauce and stir-fried with a veggie blend.
Ingredients
1 pkg rice noodles
1 (14-16oz) pkg frozen stir-fry vegetables
Sauce
2 Tbs hoisin sauce
1 tsp sesame oil
Dash black pepper
1/2 cup soy sauce
1/2 cup water
2 tsp cornstarch
1/2 cup brown sugar
Instructions
Cook noodles according to package directions.
Meanwhile in wok or large skillet add your frozen veggies and heat on medium-high heat until tender then reduce heat to medium.
In bowl mix together all your sauce ingredients, set aside.
Once noodles are done add directly into wok with veggies then pour sauce over.
Heat and continuously stir until sauce thickens making sure noodles don't stick to bottom of pan.
Serve and enjoy!
Tornadough Alli https://tornadoughalli.com/