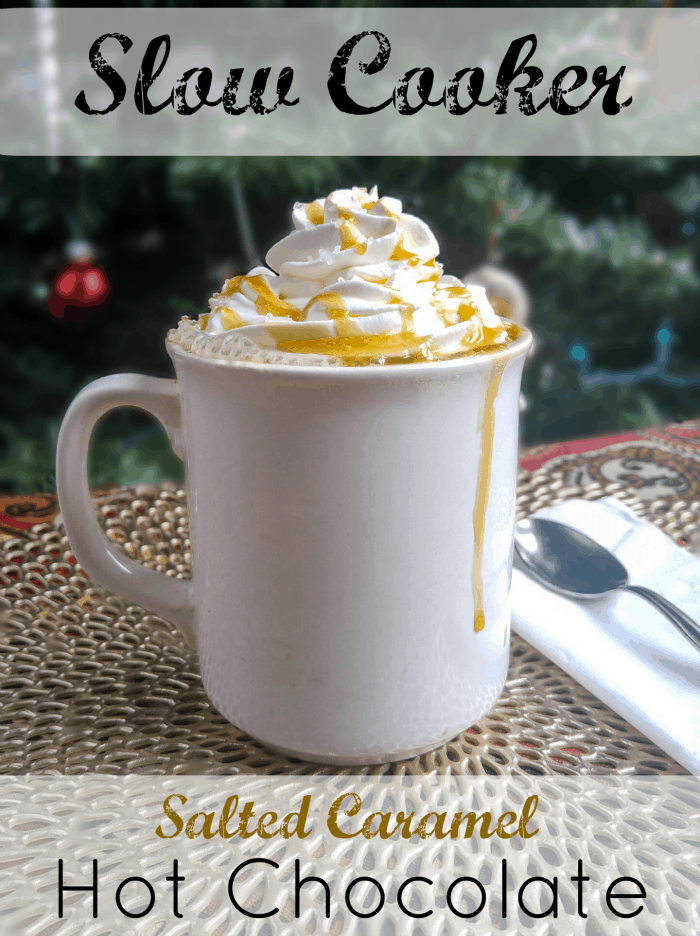 So I'm officially dubbing this week Salted Caramel Week! This was in no way on purpose but I'm not going to complain at all. I must have been craving salted caramel because everything I made, or had actually gotten time to getting around to editing happened to be salted caramel. While there are going to be a few posts possibly that don't fall into this category, the majority will.
We had my 2 older son's birthday party (we do a weekend in between both their actually birthday's) this past weekend and I felt like doing something different. I'm sick of always having the traditional pop (soda if you aren't a Minnesotan) or punch so I made my homemade slow cooker hot chocolate! I felt like switching it up this time and decided to add some caramel…um yes. Chocolatey, caramely, salty goodness. Pretty much heaven in a mug.
The slow cooker is a great method to making this, it makes a big batch AND it constantly keeps your cocoa warm! Love it. If you aren't a HUGE salted caramel fan like moi you can definitely leave out the salt and caramel, but would be sadly missing out. Top this with some whip cream or marshmallows and drizzle with some more caramel and you have a drink that everyone (especially the kids) will love.
Slow Cooker Salted Caramel Hot Chocolate
2015-11-29 20:36:29
Slow cooked creamy hot choolate with the added bonus of caramel and sea salt.
Ingredients
1 (14 oz) can sweetened condensed milk
2 cups heavy whipping cream
6 cups milk
2 cups chocolate chips (milk or semi-sweet, we used milk)
1/2 cup caramel sauce
1-2 tsp sea salt
Instructions
In a 5-6 qt crock pot pour all ingredients.
Stir to combine.
Cook on low for 2-3 hours until chocolate chips are melted and it is warm.
Stir every so often to prevent the chocolate chips from sticking to bottom.
Pour into mugs and top with whip cream or marshmallows and a drizzle of caramel sauce if desired.
Tornadough Alli https://tornadoughalli.com/
To see where I'm linked at visit my Link Parties page and join the fun! Don't forget to come party with me every Tuesday and Thursday at 6pm CST for Wonderful Wednesday and Throwback Thursday!