Sweet and creamy these Honey Cranberry Baguette Bites are a fun, easy Holiday or any day appetizer that are quick and easy and seriously tasty!
I can't believe Christmas and the New Year are so close. I absolutely love this time of year! I have mentioned before that I adore making appetizers. They would hands down be my favorite type of recipe to make. One good thing about the holiday's is all the parties where they have tons of finger food. Score! You can catch me hanging out around the food table people watching, because that's just how I roll.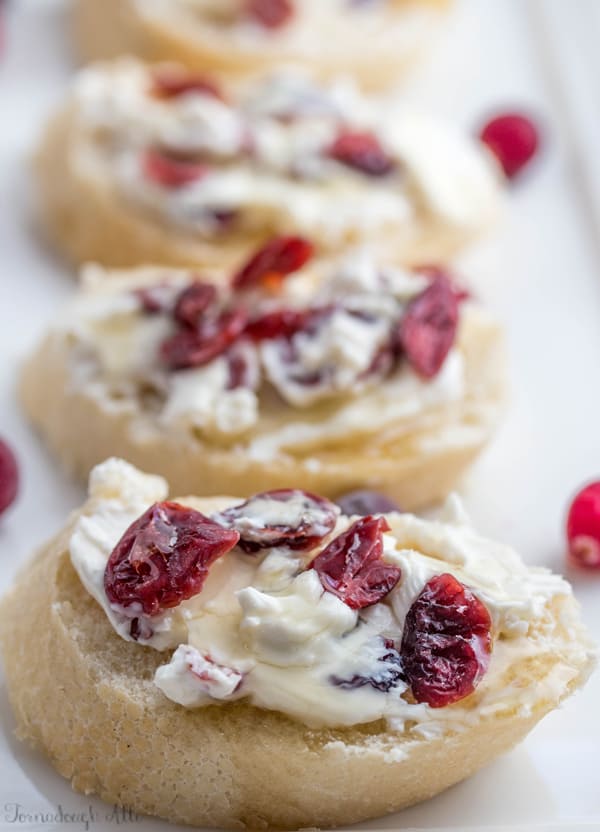 Have I completely weirded you out yet? Or are some of you seriously agreeing with me and raising your hand because that's you as well…haha thought so. I knew I wasn't alone in the awkward food lover yet don't really know how to talk to all these random people bubble. Holiday parties can be some of the most uncomfortable but yet funny situations ever. Don you have a funny holiday party fail that you'd like to share?
Moving on….I really enjoy creating appetizers using baguettes. I'm a bread girl at heart and if an appetizer incorporates bread you'll know that I love it. These Honey Cranberry Baguette Bites do just that. They are the perfect combo of sweet and savory. You have the baguette, cream cheese, cranberries and a drizzle of honey. Delicious and super easy, where you are start to finish in less than 10 minutes! Now who doesn't love that.
I'd love for you to follow along with me on Facebook and Twitter to see what other great Holiday recipes I have to share!
Honey Cranberry Baguette Bites
2015-12-09 18:43:21
A delicous baguette topped with cream cheese, dried cranberries and drizzled with honey.
Ingredients
1 baguette, sliced
1 (8 oz) block cream cheese, softened
1/2-3/4 cup dried cranberries
Honey
Instructions
In bowl mix together cream cheese and cranberries.
Spread about a tablespoon worth of mixture onto each baguette slice.
Top with additonal dried cranberries for color.
Drizzle with honey and serve.
Tornadough Alli https://tornadoughalli.com/