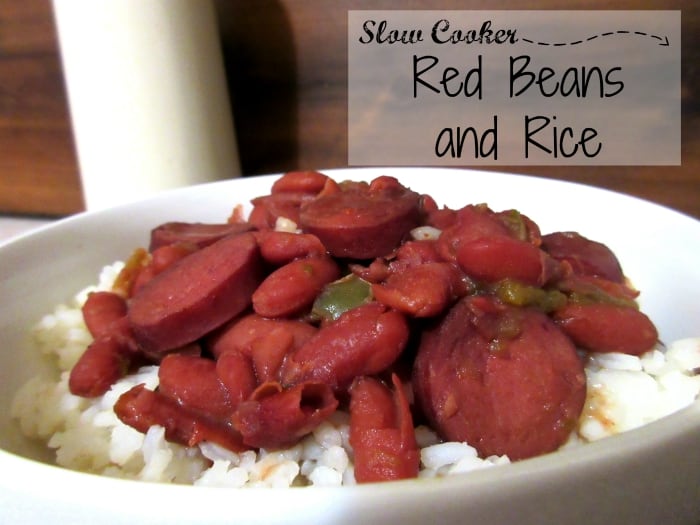 If ya'll haven't noticed yet, I love my crock pot. Like literally in love with is, it is time for me to probably upgrade to a bigger and better model. I have my old gal for about 8 years now, which isn't too long compared to some people. Did you know that they have wifi crock pots now! I was blown away when I seen them in the store, when and how I would use that option I'm not sure. It's probably one of those features that when you get in that situation where you wish you had it it is there. So we will see what the future holds with me buying a new crock.
Anyways, my mom used to live down in Mississippi when she was in her early 20's, my uncle and aunt still reside there. She would always tell me of all this food that they would make and it makes me wish that I lived in the south. So much amazing food is produced down there that I think I would be in heaven. Luckily when she moved back up to Minnesota she brought back a lot of the recipes that she used. She would always make red beans and rice and it quickly became one of my favorite dishes. I got my husband turned on to it and even roped in my in-laws!
What's not to love about this dish, the spices, the sausage all served hot over rice! Now in my unconventional ways, I always mix in cheese with mine. I know so wrong, but it's what I do. Just like my odd ways of eating scrambled eggs with cheese and syrup or my insistent need to eat ranch with like anything. We all have our quirks, can't be just me! I'd love to know what some of yours are!
Don't forget to follow along on social media! I follow back! You never want to miss a post!
Slow Cooker Red Beans and Rice
Ingredients
1

lb

dried red beans

1

lb

smoked sausage

sliced

1

green pepper

diced

1

small onion

diced

1-2

Tbs

creole seasoning

3

cloves

garlic

minced

7

cups

water

Cooked rice
Instructions
In colander, rinse your beans then add to a 4-6qt crockpot.

Add your sausage, pepper, onion, creole seasoning and garlic.

Slowly add water and stir everything together to combine.

Cook on high 6 hours then remove some of your beans and smash, return to crockpot and continue cooking for another hour.

Serve over hot cooked rice!