Want pure comfort but don't want to put in the effort? This Slow Cooker Red Beans and Rice is a fix it and forget it classic dish that will feed a crowd.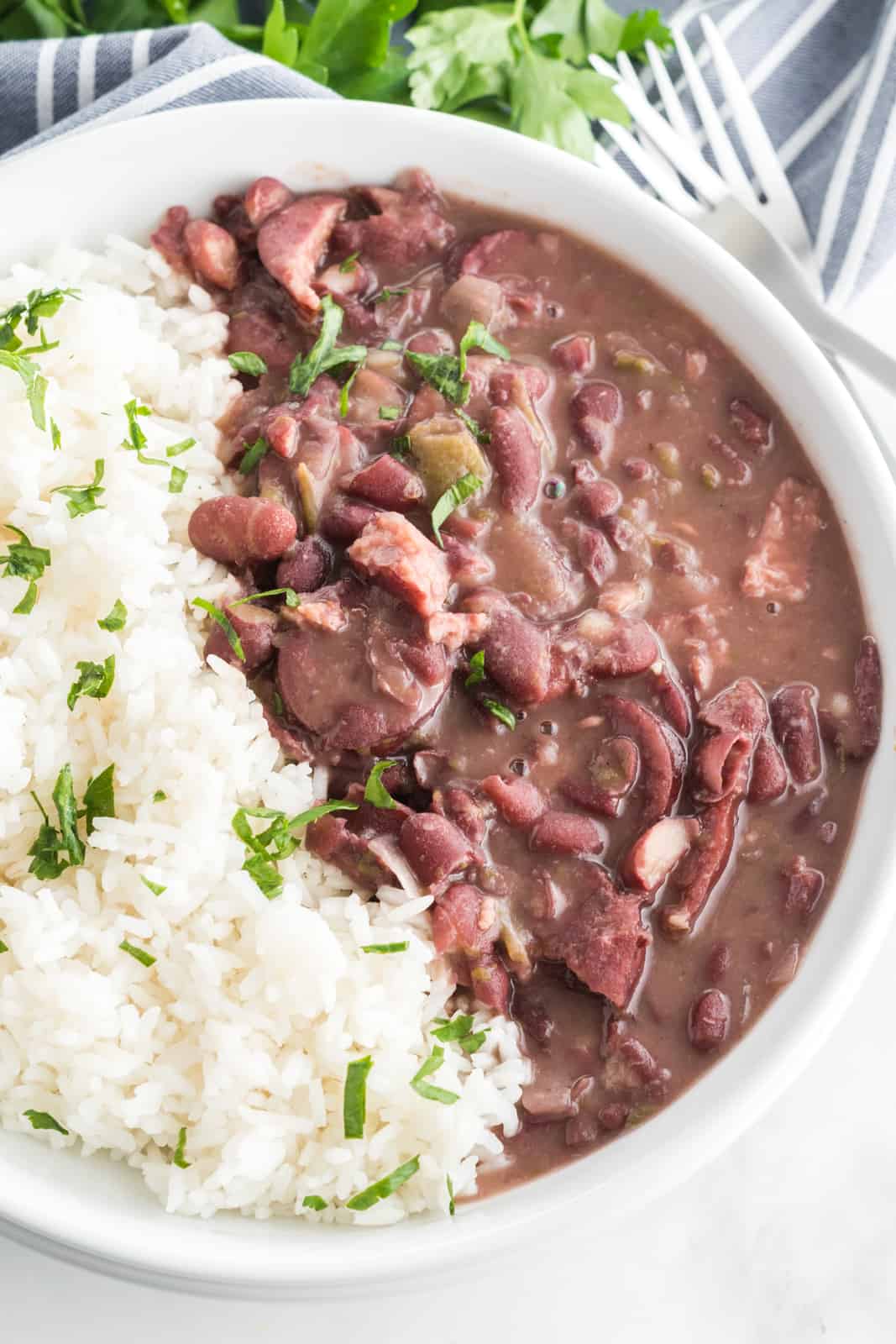 One thing that I have become obsessed with over my 32 some odd years on this earth is Red Beans and Rice. It was the one dish that my mom whipped up more often than not.
She keeps the tradition alive in her ouse as we do ours. She likes to use box mixes and adapt them, whereas we have crafted over the years our perfect homemade version.
We also like to use the slow cooker as we love meals that are fix it and forget it especially now that our kids are home with us full time, just toss in the ingredients and wait.
We also have an instant pot version of this recipe that you can make if you are not wanting the slow cooker and it just as tasty!
WHY THIS RECIPE WORKS:
It is a time savor because it is cooked in the instant pot where you don't have to scramble quickly to make something for dinner.
Simple pantry ingredients (ones that we usually keep on hand) make this quick and easy to whip up.
This make a nice big batch so it feeds our family of 6 perfectly.
We like to add a little spice to ours which consists of creole seasoning, Tony Chachere's is our favorite brand that we use in this particular recipe itself.
We also switch back and forth using smoked sausage and andouille sausage depending on how spicy you want this, also who your serving if kids, you might want to tone it down a bit.
HOW TO MAKE SLOW COOKER RED BEANS AND RICE, STEP BY STEP: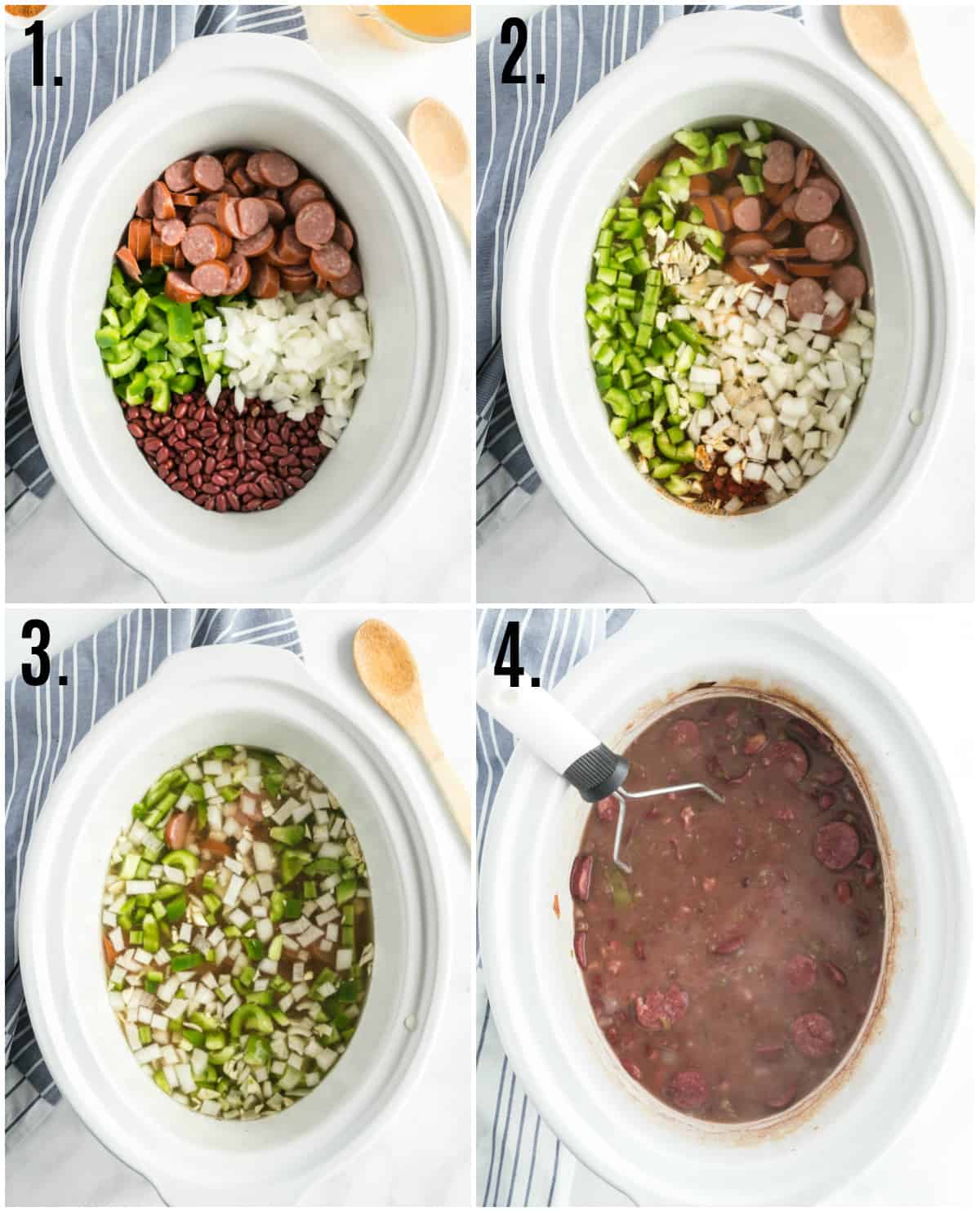 Rinse your beans and to a 6qt slow cooker add them along with the sausage, pepper, onions, creole seasoning and garlic.
Add in your water and chicken broth.
Give it a good stir so everything is nice and combined. Cover and cook on high for 6 hours.
Remove lid and using a potato masher, mash some of your beans, not all of them but 1/3 to 1/2 of your beans, replace lid and cook for another hour then serve over rice.
This Slow Cooker Red Beans and Rice is really such a simple recipe, we make it at least a month, and all throughout the year. Everyone needs comfort food no matter the season.
My trick to making the best Red Beans and Rice is to mash those beans, it was a trick that I learned from my mom. It makes the recipe itself a little thicker.
You don't want some runny Red Beans and Rice, you want something with substance, so this is what I do with all our recipes when we make them.
WHAT TYPE OF BEAN IS USED IN THIS RECIPE?
Typically for Slow Cooker Red Beans and Rice you will use small red kidney beans, but larger ones will work as well and they can be dark or light.
If you use larger kidney beans the cooking time may be slightly longer so check the tenderness of the beans after the 6 hour mark and you can tell if it needs more time.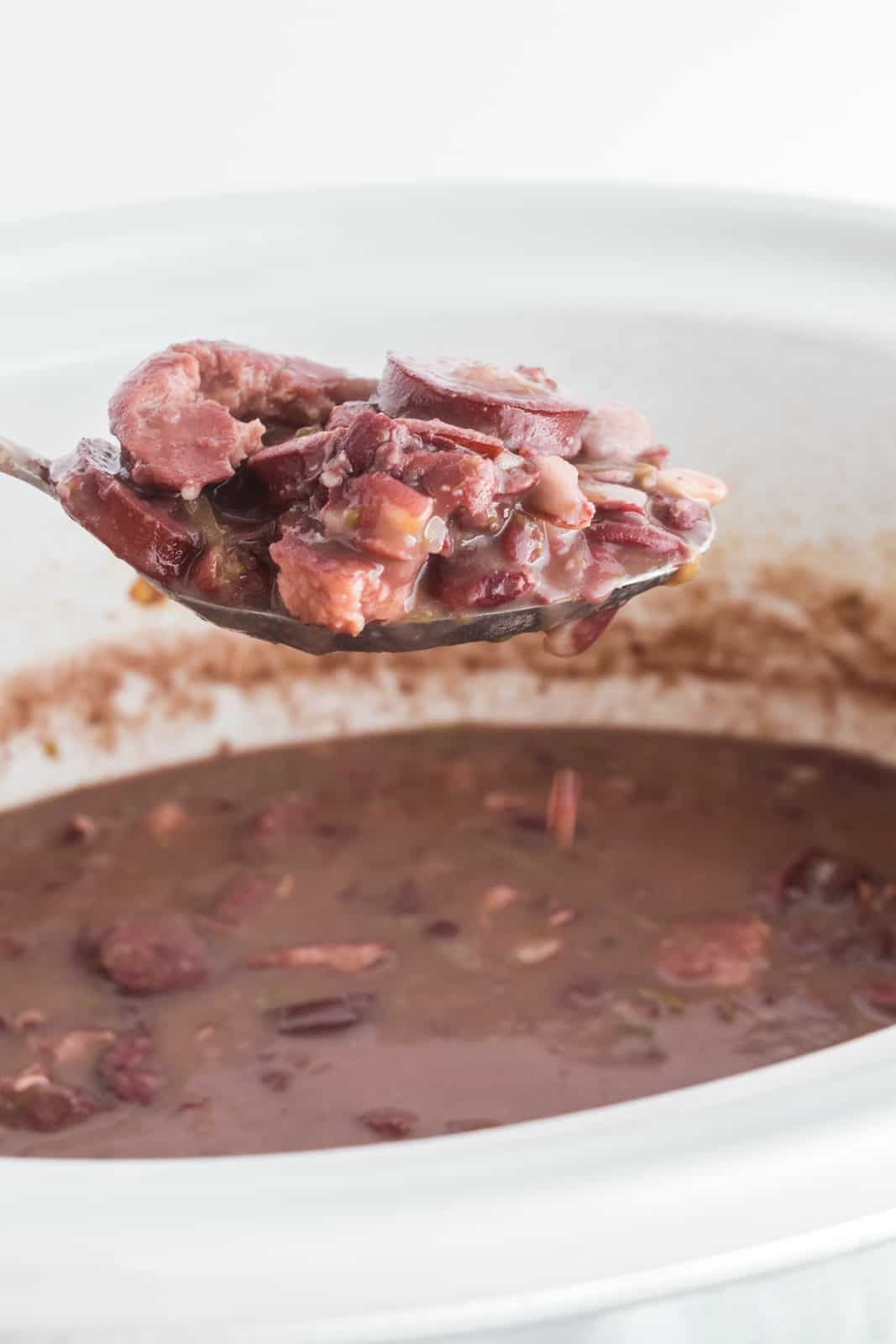 When we feel like cooking southern food in our house we like to go all out, sides, desserts, the whole shebang.
Some of my favorite other southern recipes include:
This Slow Cooker Red Beans and Rice Recipe alone really doesn't need to be served with anything because let me tell you, it is FILLING.
So if you really don't have to worry about making something extra, but sometimes we just like to have something else to serve along side this dish.
My mom lived in Mississippi for a good portion of her young adult years and my uncle still lives down there to this day.
This is one of those recipes that just has been handed down from them, that is simple, not to complicated and we just have mad our own.
The best recipes seem to be the ones that are handed down from our elders that we adapt and make our own and we continue to use over and over again.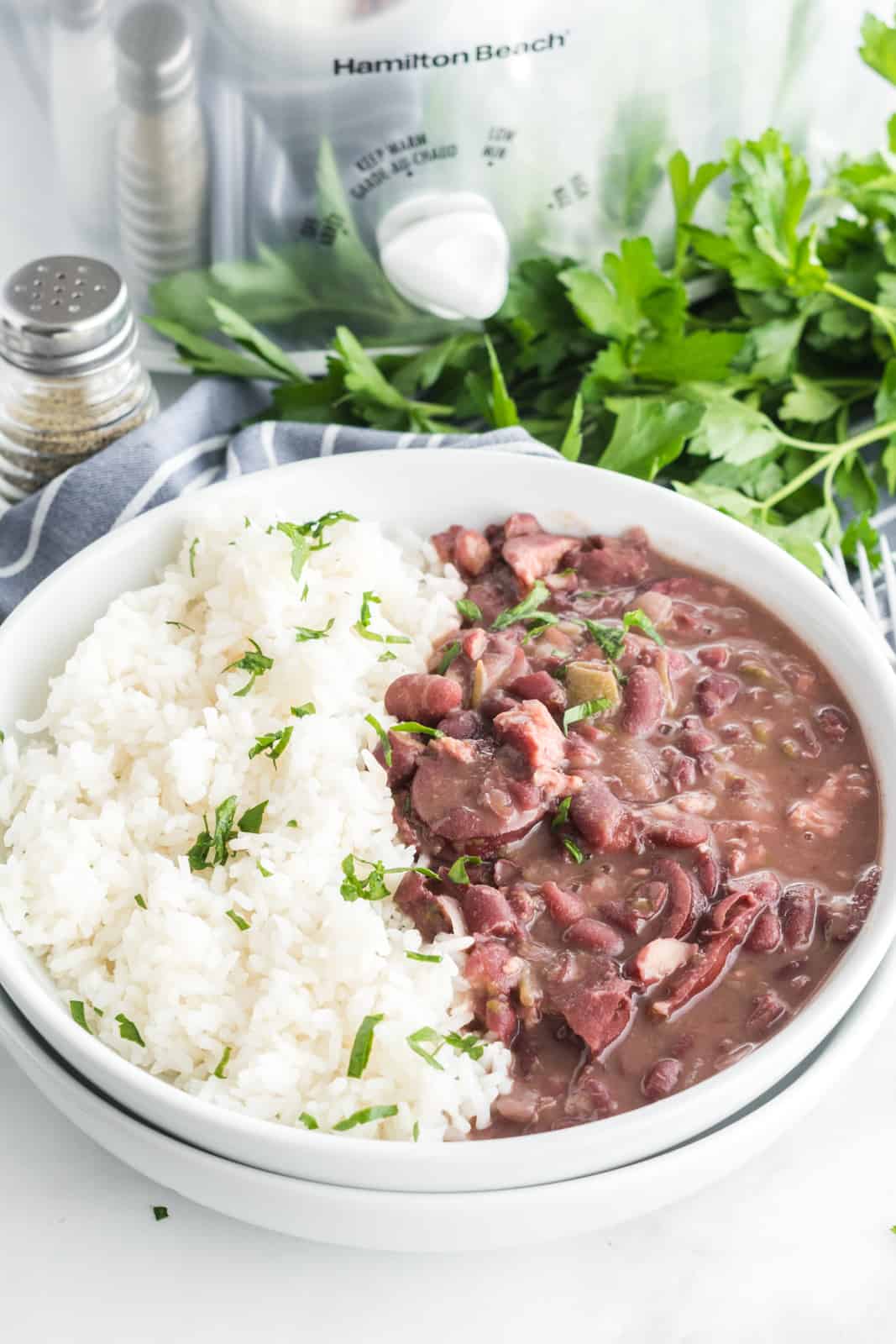 Like you can already tell about my website, I like to keep things as easy as possible. Now I'm sure a lot of people wouldn't consider this "authentic" southern style, but that's ok.
This is our favorite version, it tastes flipping amazing and we continue to make it along with many other people over the years!
TIPS AND TRICKS:
Make sure you cook this on high heat, this way the beans are ensured to be done in time.
You DO NOT have to soak your beans ahead of time for this recipe.
Mash your beans, this creates the perfect texture to spoon over your rice.
To tone down the heat use smoked sausage and less creole sauce.
We have an instant pot version linked above if you want a quicker meal.
Add some cheese when serving, trust me it's weird, but tastes amazing
This Slow Cooker Red Beans and Rice really is a good and wholesome meal that fills you up and feeds a crowd, we've kept it on our rotation for MANY years.
Our kids absolutely love it and my youngest son surprisingly asks for it ALL THE TIME. I'm not complaining on that one bit because it is hands down one of my favorite meals ever.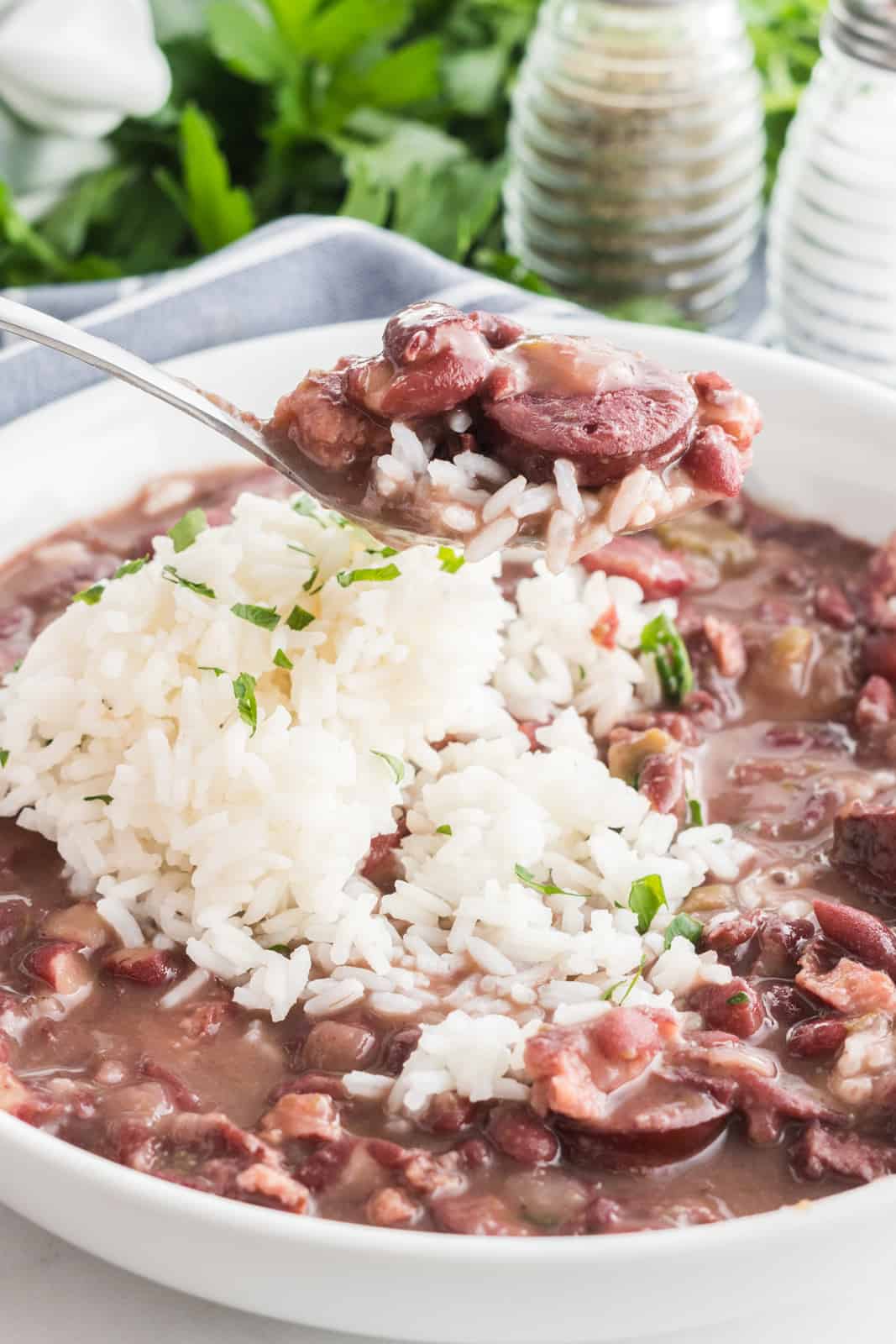 If you are looking for a meal that you can throw together and not have to worry about this Slow Cooker Red Beans and Rice is just the one you've been looking for!
If you like this recipe you might also like: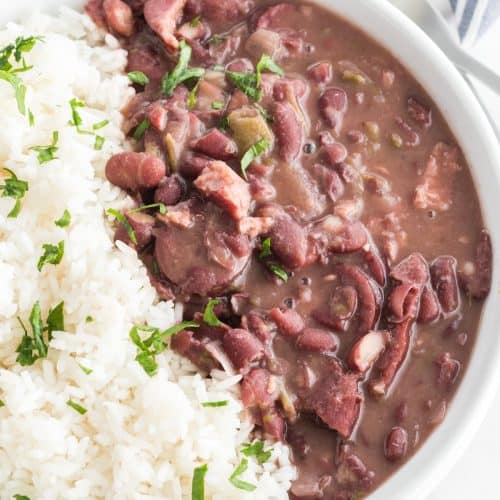 Slow Cooker Red Beans and Rice
Want pure comfort but don't want to put in the effort? This Slow Cooker Red Beans and Rice is a fix it and forget it classic dish that will feed a crowd.
Print
Pin
Rate
Ingredients
1

lb

dried red beans

1

lb

smoked sausage

sliced

1

green pepper

diced

1

small onion

diced

1-2

Tbs

creole seasoning

3

cloves

garlic

minced

4

cups

water

3

cups

chicken broth

Cooked rice
Instructions
In strainer add your beans and rinse.

In a 6qt crockpot add your beans, sausage, pepper, onion, creole seasoning and garlic.

Slowly add water and broth and stir everything together to combine.

Cook on high 6 hours then remove lid and using potato masher mash some of your beans, replace lid and continue cooking for another hour.

Serve over hot cooked rice!
Notes
Nutritional Calculations are calculated before serving with rice.
Make sure you cook this on high heat, this way the beans are ensured to be done in time.
You DO NOT have to soak your beans ahead of time for this recipe.
Mash your beans, this creates the perfect texture to spoon over your rice.
To tone down the heat use smoked sausage and less creole sauce.
We have an instant pot version linked above if you want a quicker meal.
Add some cheese when serving, trust me it's weird, but tastes amazing
Nutrition
Calories:
378
kcal
|
Carbohydrates:
38
g
|
Protein:
20
g
|
Fat:
15
g
|
Saturated Fat:
5
g
|
Cholesterol:
40
mg
|
Sodium:
817
mg
|
Potassium:
1011
mg
|
Fiber:
9
g
|
Sugar:
2
g
|
Vitamin A:
315
IU
|
Vitamin C:
22.5
mg
|
Calcium:
67
mg
|
Iron:
4.7
mg
Nutrition Disclaimer
ORIGINALLY PUBLISHED SEPTEMBER, 2015