Lightly spiced double chocolate cupcakes combine peppery cayenne seasoning with rich dark chocolate and decadent white chocolate buttercream frosting.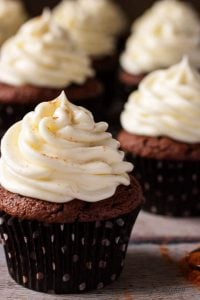 Kim and I talk, a lot. In fact, we spend hours at a time sitting next to each other on our sectional sofa just chatting. Usually, the topics surround our daily experiences or our plans for the future. It's nice when you have someone to share your aspirations and desires with on a daily basis. During one such conversation, we were trying to come up with a new recipe for Alli. As always, I wanted dessert, but I wanted something unique. These lightly spiced double chocolate cupcakes were the result of that discussion.
We had just come back from traveling and were exhausted from the road. During the trip, we devoured tons of Mexican food. Kim typically goes after chile rellenos and rice; while, I prefer enchiladas and refried beans. However, there is one thing we share a love for, and that is peppers! From ancho chilis to jalapenos and beyond, we adore peppers. So, it seemed like an obvious idea to try and add them to a dessert. Thus, the spicy double chocolate cupcakes were born.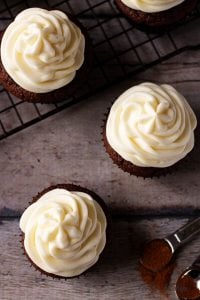 For this venture, Kim did the baking, and I made the frosting. I must say, she is remarkable at baked treats. She used a Devil's Food Cake dry mix but then added chocolate pudding and sour cream. It was a menage a trois made in heaven. The pudding kept the double chocolate cupcakes moist, while the sour cream provided a hint of tartness behind the chocolate cake. For the spice, she chose ground cayenne peppers. All I can say is wow, she really brought the heat. A little word of warning, these cupcakes have a kick. Fortunately, my buttercream frosting is perfect for keeping the peppers in line.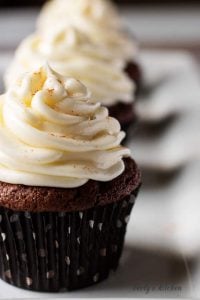 I guess you could say these double chocolate cupcakes are a chocolate triple play because I used melted white chocolate to flavor the frosting. Now, when adding melted chocolate to a buttercream base, things can get tricky. Once the cupcakes are stored in the fridge, the frosting can get pretty firm. To combat this texture annoyance, I mixed some heavy cream into the melting white chocolate. It was a risk, but it paid off. The frosting turned out smooth and creamy, even after being refrigerated for hours. I guess the extra fat from the cream helped out? I am not sure, so someone with more culinary experience will have to confirm or explain what I did to keep the texture soft.
Just one final note before I give you the recipe. As you may or may not know, at Berly's Kitchen, we try to focus on simplicity. Partly, due to chronic illness but, also to show you don't have to be an expert in the kitchen to cook delicious food. Will the food always look the same? No, because there is a lot more to food blogging than cooking a dish and taking a picture. With that being said, don't let differences in presentation discourage you. All that matters is that YOU prepared something tasty for yourself and the ones you love. As always, I wish you love everlasting, a long healthy life, and a belly full of spicy treats!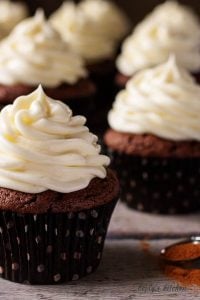 Lightly Spiced Double Chocolate Cupcakes
Lightly spiced double chocolate cupcakes combine peppery cayenne seasoning with rich dark chocolate and decadent white chocolate buttercream frosting.
Print
Pin
Rate
Ingredients
Lightly Spiced Double Chocolate Cupcakes
1

15.25 Ounce

Package of Devil's Food Cake Dry Mix

(we used Duncan Hines)

3

Large

Eggs

1

3.9 Ounce

Package for Instant Chocolate Pudding Dry Mix

(we used Jell-O Brand)

3/4

Cup

Sour Cream

3/4

Cup

Vegetable Oil

1/2

Cup

Warm Coffee

1

Teaspoon

Vanilla Extract

1

Teaspoon

Ground Cayenne Powder
White Chocolate Buttercream Frosting
2

Sticks

Butter

(softened)

1

Cup

White Melting Chocolate or White Chocolate Chips

(we used Ghiradelli Melting Chocolates)

1/2

Cup

Heavy Cream or Whipping Cream

(full fat not half and half)

2 1/2

Cups

Confectioner's Sugar or Powdered Sugar
Instructions
Lightly Spiced Double Chocolate Cupcakes
First, brew the coffee, preheat your oven to 350 degrees F., and pull the butter from your fridge to soften for the frosting.

After that, in a stand mixer or large mixing bowl with a hand mixer, blend the cake mix, eggs, dry chocolate pudding mix, sour cream, oil, coffee, vanilla extract, and cayenne powder. Make sure the batter is well blended with no lumps.

Now, line a cupcake pan with liners and transfer 1/4 cup of batter into each liner. Once the pan is filled with cupcakes, place it into the oven and let it bake for 18 to 22 minutes.

With the cupcakes finally cooked, set them on a cooling rack while you prepare the frosting.
White Chocolate Buttercream Frosting
First, using a double boiler, or a microwave safe bowl, heat the heavy cream and melt the chocolate. I used a small sauce pan filled halfway with water and a metal mixing bowl to create a double boiler. Then, I heated the water over medium heat and melted the chocolate in the heavy cream while stirring the mixture.

Next, use a stand mixer or medium mixing bowl and hand blender, combine the butter, powdered sugar, and melted chocolate cream. Blend the frosting until it is smooth and creamy.

Afterward, place the frosting in your fridge to firm up a little while the cupcakes cool.

Last, use a cupcake decorator or spoon to frost the cupcakes. They can be served now or stored in your fridge for up to three days.
Notes
The calories listed are an approximation based on the listed ingredients. Actual calories may vary based on your ingredients. Cook and prep times include melting the chocolate and letting the cupcakes cool before applying the frosting. This recipe makes 20 cupcakes and they can be stored in your fridge for up to three days.
Nutrition
Nutrition Disclaimer