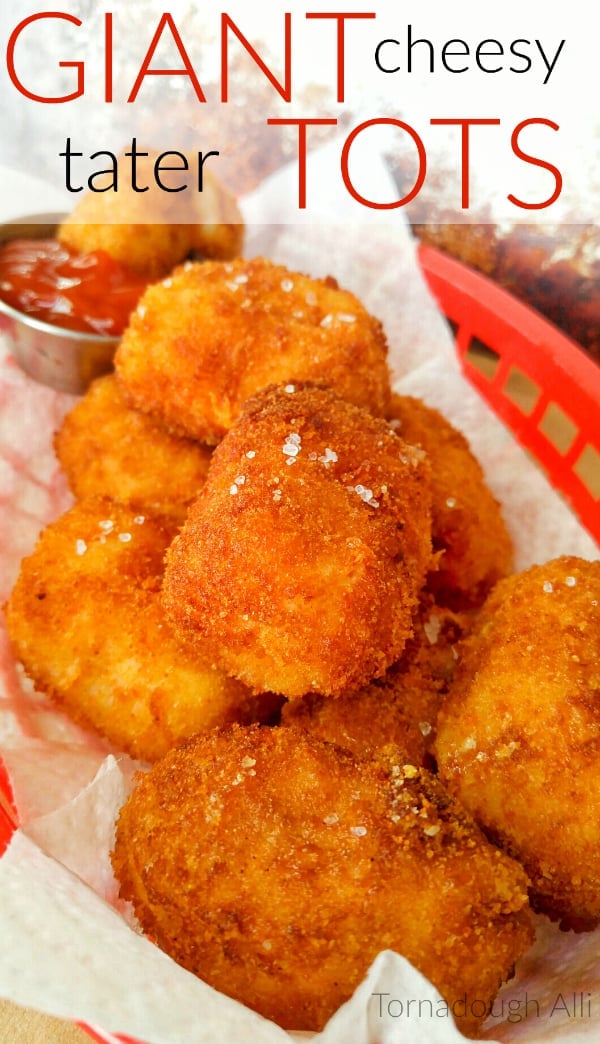 Well it's Monday, is everyone back to the daily grind? Did you all watch the big game? I'm sad that all the game food isn't going to be the main focus around the foodie blogosphere anymore. Like I've said a thousand times, I looooove appetizers. Like beyond any food out there. Finger foods, and a lot of them are the focal point of my dreams. Seriously though for real. That's why today I'm sharing my ever loved recipe for these amazing Giant Cheesy Tater Tots!
Remember as a kid and you absolutely loved your tots? The were the epitome of all the school lunches and tater tot hot dish was a staple menu item on Sunday's. Maybe not tater tot hot dish that's kind of a Minnesota thing. Well I'm going to give you my giant cheesy adult version of them. It's like tots on steroids. But friendly, warm and inviting.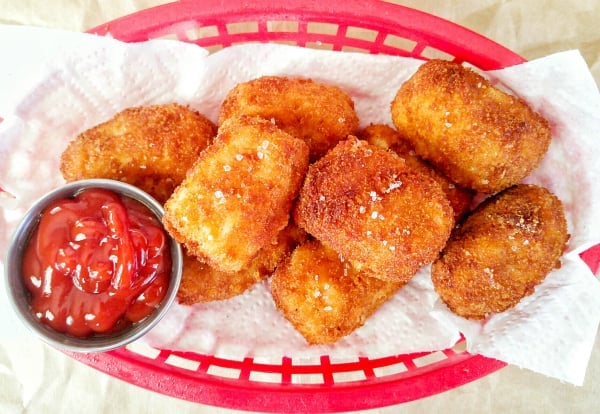 I love adapting recipes from potatoes. They are easily interchangeable in pretty much all types of dishes (maybe not dessert, if you have a dessert recipe using potatoes please send it my way). The best thing is that they come in so many different forms that you can buy in the store. Tot, waffle, diced, stuffed, patty, fry, you get the jist. But still working with the plain old potato in its natural form is one of my fave ways.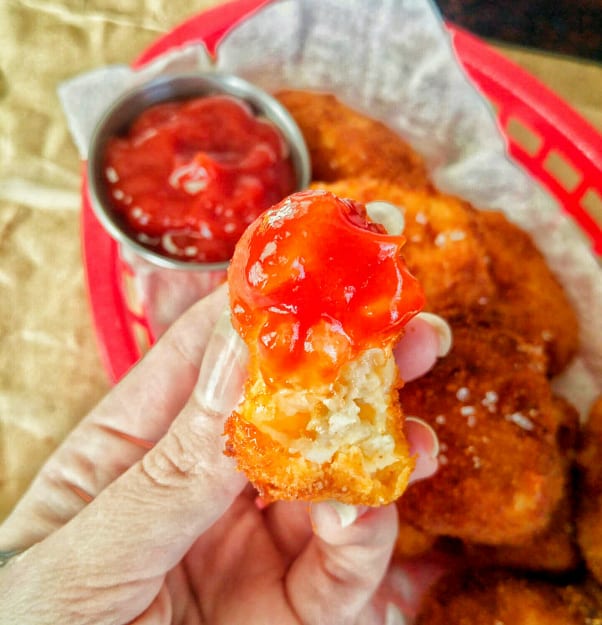 So if you're looking for a great new side dish, appetizer or meal (yes these are meal worthy) you'll want to give these Giant Cheesy Tater Tots a try. You'll love the simple recipe and you can adapt them into so many different flavor combos, woohoo!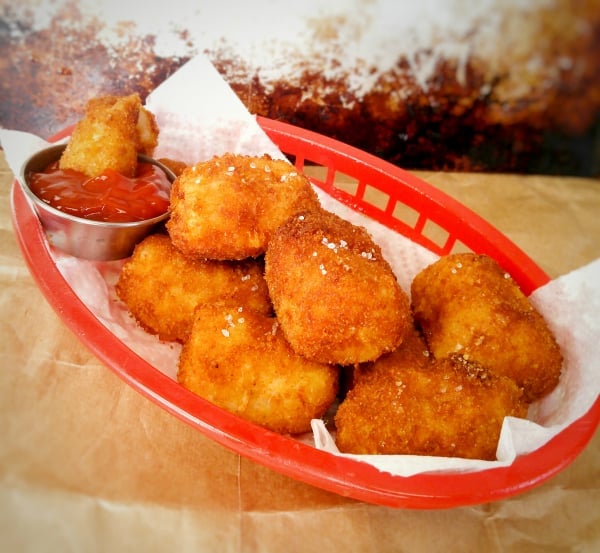 Giant Cheesy Tater Tots
2016-02-08 09:20:11
A delicious giant tater tot filled with cheese and spices! An adult childs dream!
Ingredients
2 1/2 lbs baking potatoes, russet or your favorite type
1 tsp galic salt
1/2 tsp paprika
1 tsp onion powder
1 tsp salt
1 tsp pepper
1 cup shredded Montery Jack cheese
1/2 cup flour
2 eggs, beaten
1 1/2 cup breadcrumbs
Oil for frying
Seasoning Salt/Sea Salt
Instructions
Preheat deep fryer to 375.
Peel your potatoes and boil for about 30 minutes until tender but not mushy.
Remove from pot and let cool.
Once cool shred in a food processor and place in large bowl.
Mix in your garlic salt, paprika, onion powder, salt, pepper and cheese.
Shape each one into a giant tot using about 3 Tablespoons of mixtures.
In separate bowls place your flour, eggs and breadcrumbs.
To coat the tots start by rolling in flour, dipping in eggs then lastly into breadcrumbs.
Place on baking sheet until each one is coated.
In batches place in deep fryer and fry until golden.
Remove and let drain on a paper towel lined plate.
Sprinkle with some seasoning salt and/or sea salt and serve!
Tornadough Alli https://tornadoughalli.com/
To see where I'm linked at visit my Link Parties page and join the fun! Don't forget to link up with me every Tuesday and Thursday night's at 6pm CST for Wonderful Wednesday and Throwback Thursday!