Creamy and delicious this Slow Cooker Tortellini Soup is filled with hearty veggies, meats, cheese and slow cooked until hot and yummy!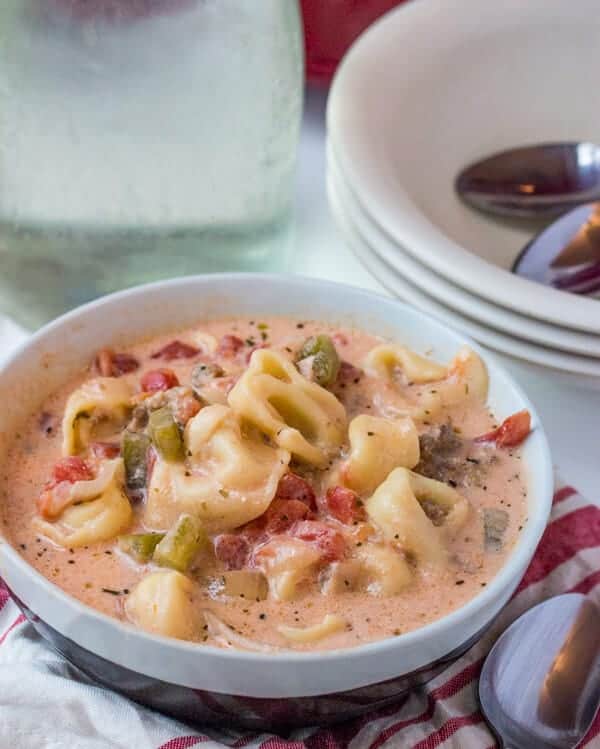 Hello to the weekend! Do you all get those days where you simply don't want to write anything but just want to share what you have created? Yeah, sometimes inspiration doesn't strike. Writers block of sorts. More or less just want to bake instead. But I also have creators block.
Food and I have a hasty relationship. I'm one of those people who will go all day thinking of something to make for supper. And unfortunately I'm also one of those people who can get quite testy when I can't find exactly what I'm hungry for!!
I think I may have mentioned it before but I absolutely love my crock pot. This bad boy has been a life saver. Especially when I worked evenings! Fix it and forget it meals are seriously awesome. I used to hate my crock pot though. I honestly didn't know what to do with it. I always thought it was for old ladies. Flash forward 8 years and now I'm in love and prefer to use it when I can. Just saves time especially when you have 4 kids running around who virtually need your every minute.
I don't remember when I first seen this recipe. It's one of those that has been saved to memory because it's been made so often! I've switched up the variation a bit, added some onions and peppers this time. In the past I've added spinach and mushrooms too! It's one of those recipes that you can kind of run with and create as you go. Switch it up and play around and see what you come up with!
Just a little FYI this post was updated in March 2017 with new pictures and a video!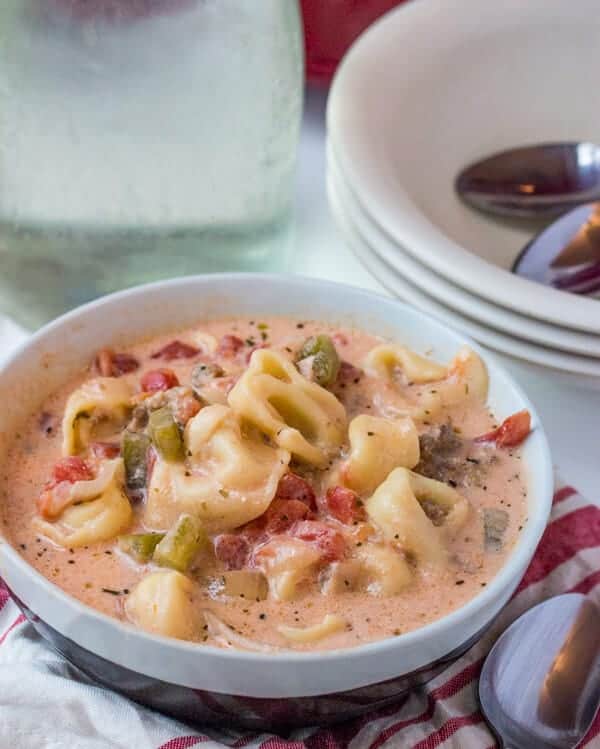 Slow Cooker Tortellini Soup
Ingredients
1

lb

ground mild italian sausage

1

small onion

1

green pepper

1

container chicken stock

32 oz

2

cans italian diced tomatoes

15 oz

1

block of cream cheese

8 oz, softened and diced

1

pkg frozen 3 cheese tortellini

19 oz
Instructions
In skillet, fry together your onions, peppers and italian sausage and add to crock pot.

Pour in your chicken stock, tomatoes and cream cheese.

Cook on low for 3 hours, add your tortellini and stir and cover and continue to cook for 1 more hour.

Stir around every few hours to disperse the cream cheese.

Remove lid for the last 30 minutes of cook time to let sauce thicken up.

Serve and enjoy!