Simple easy and delicious this Banana Mug Cake is the perfect single serving dessert to perk you up when your sweet tooth is calling!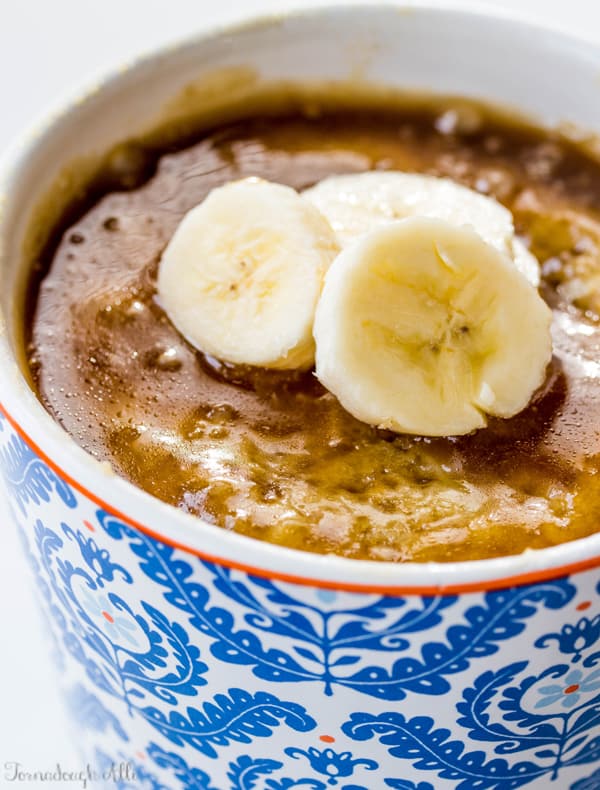 Have you jumped on the mug cake train yet? If not your really should. They are easy, tasty and perfect for a single serving dessert, which is great when you have a husband who has an aversion to sweets. Seriously, I don't think he is from this planet and I can't comprehend how we even got together. Opposites attract I suppose.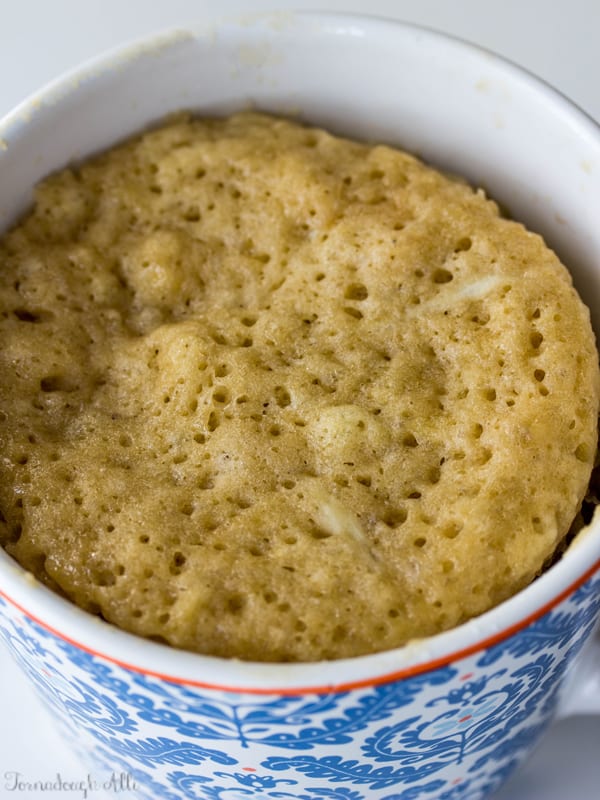 This Banana Mug Cake is my go to mug cake recipe when I don't feel like making a huge pan of something or if I get that sweets craving at those inconvenient time! Which seems to be pretty much all day for me. I don't stop craving sweets. Ugh…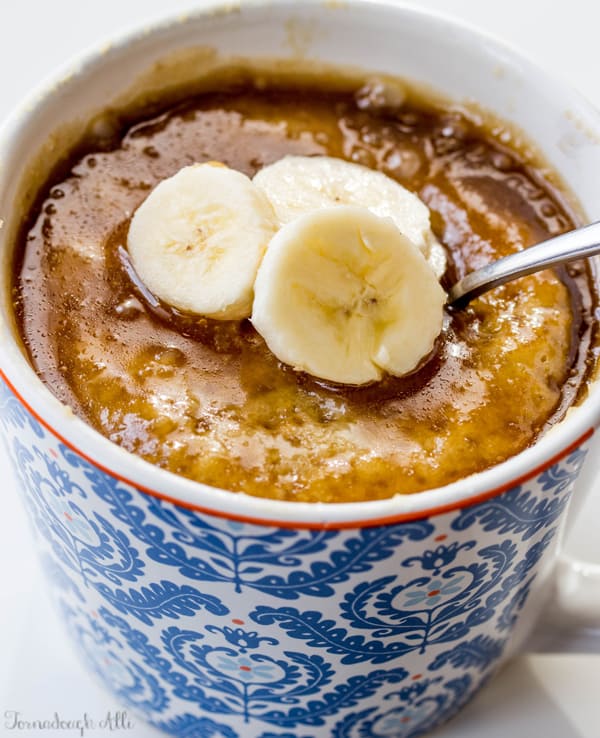 This cake can be whipped up in about 3 minutes and is filling. Since it has bananas, does that qualify it as being healthy?? I sure hope so, because I could live off these bad boys.
My non sweets loving husband tasted mine and he HAD to have me make him one. I made mine in these cute little ramekin bowls that I had. You can make these in a mug as well. Don't use too small because they will overflow. It does puff up but don't let that scare you, it will deflate once it cools!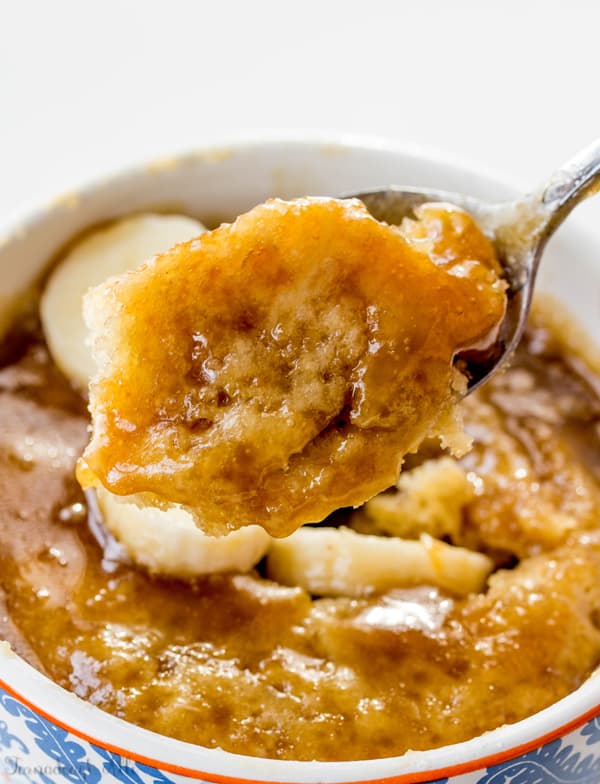 Do you have 3 minutes to spare? Can you mix things in a cup? This recipe calls fo simple ingredients that you already have in your pantry to begin with, so it's great! You can't go wrong with this. Plus the extra special part is that it has a brown sugar glaze…um yes who doesn't absolutely love that you can make cakes in a mug?!? Glazes make everything better, especially with banana!! You'll thank me later.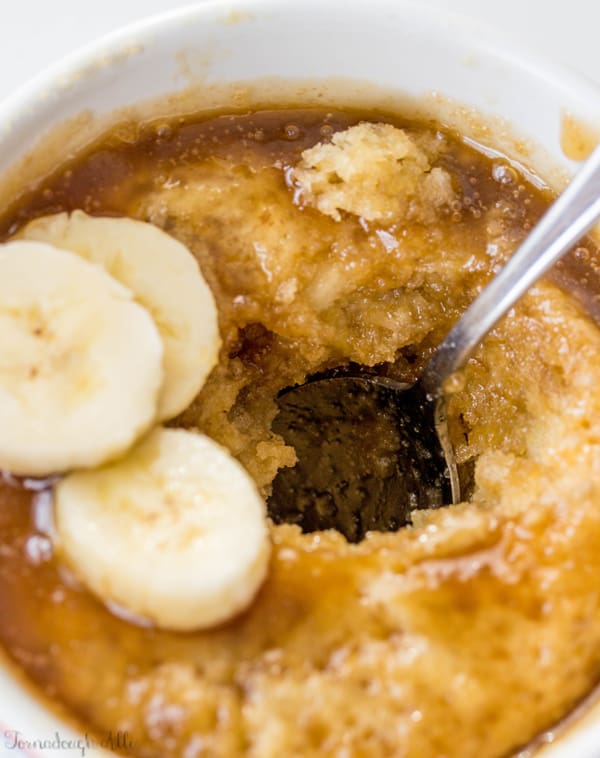 Banana Mug Cake
2015-11-05 08:14:31
Serves 1
A delicious banana cake, topped with a brown sugar glaze all baked in a mug!
Ingredients
3 Tbs all-purpose flour
3 Tbs brown sugar
1/2 tsp baking powder
Dash of salt
1 Tbs butter, melted
1 egg, lightly beaten
1 Tbs milk
1 banana (mashed)
1/4 tsp vanilla
Glaze
1/4 cup brown sugar
1 1/2 Tbs butter
1/4 tsp vanilla
Small splash of milk
Instructions
In bowl, or mug itself mix together your flour, sugar and baking powder and salt.
Stir in your butter, milk, banana, egg and vanilla until combined.
Microwave for 3 minutes, checking halfway through.
Let sit to cool.
Glaze
Combine all ingredients in small bowl and microwave until bubbly.
You may need to stop a few times as this likes to bubble very quickly.
Keep microwaving for about 30 seconds to 1 minutes.
Stir to combine completely.
Drizzle over the top of the cake.
Top with sliced bananas if desired and enjoy!
Notes
You don't need the glaze, I added it because I like the combo. I kept drizzling it over each bite.
Tornadough Alli https://tornadoughalli.com/