Love pizza? These Supreme Pizza Egg Rolls have all the ingredients in a pizza all rolled up and deep-fried until crunchy and golden!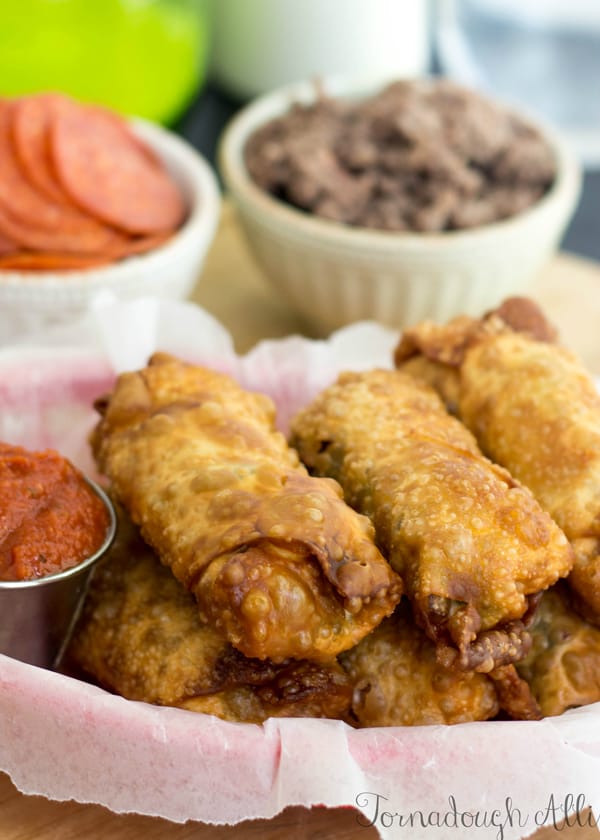 Ok, I have to be real with you. I hate these pictures BUT I love this recipe! I honestly put the whole picture thing aside just because I love this so much. We are big "out of the box" egg roll lovers and this is one of our favorite kinds to make. We do get sick and tired of the traditional pizza every once in a while and want to switch it up, and what better way than with these Supreme Pizza Egg Rolls.
What I love most about these is the Italian sausage. I might be slightly addicted to the stuff. I could eat it straight out of the pan if I could! I can't be the only person that feels that way right? I think it has something to do with the fennel that is in it. Now if you're not a huge fan of the supreme part of these, totally switch it up with how you like it. All your favorite pizza toppings. Call these giant adult pizza rolls if you must!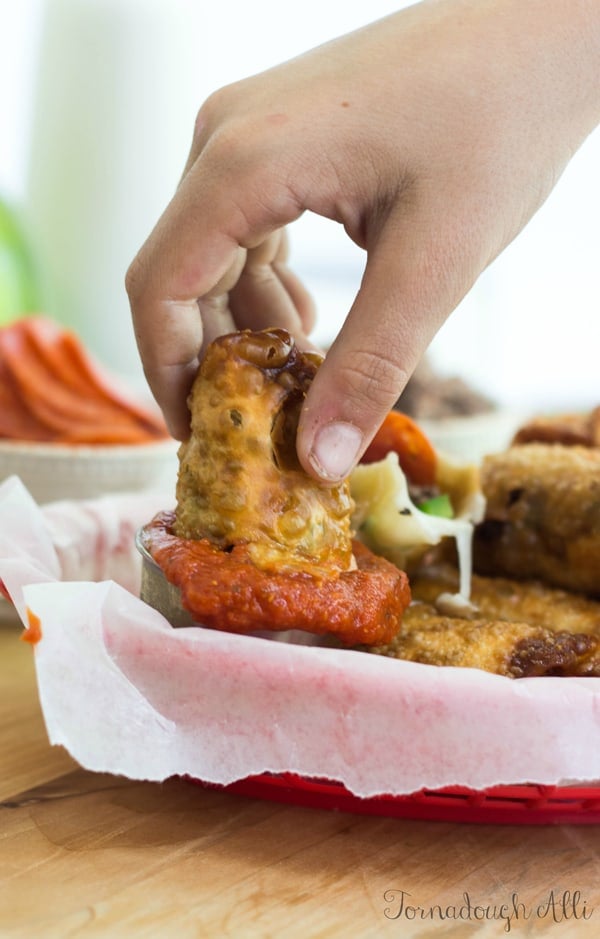 These only take a few minutes to whip up and probably the same amount of time to devour. SERIOUSLY, I love these. I know, I already said that but rarely do I rant and rave about something that I absolutely love because I'm a foodie and love all food….most food. But when you have a little time, want a fun family alternative to regular pizza you need to give these Supreme Pizza Egg Rolls a shot!
Supreme Pizza Egg Rolls
2016-05-27 05:46:55
Supreme pizza toppings all rolled up in to an egg roll wrapper and fried until golden.
Ingredients
3 links Italian sausage, cooked
40 pieces pepperoni
5 pieces string cheese
1 small can sliced olives
1 small can sliced mushrooms
1 small green pepper, diced
10 egg roll wrappers
Marinara or pizza sauce
Instructions
Heat oil to 375.
Split each of your string cheese pieces in half lengthwise.
Lay down one of your egg roll wrappers and top with 4 pieces of pepperoni, add some Italian sausage, olives, mushrooms, peppers then top with cheese.
Roll up egg roll style (shown on package if you're not sure how) and place in deep fryer and fry until golden (about 2 minutes) turning as needed to get each side.
Repeat with remaining egg rolls and fry in batches.
Serve with marinara or pizza sauce for dipping.
Tornadough Alli https://tornadoughalli.com/