Light and fresh are the key to this scrumptious Strawberry Lime Cake making it a perfect summer dish!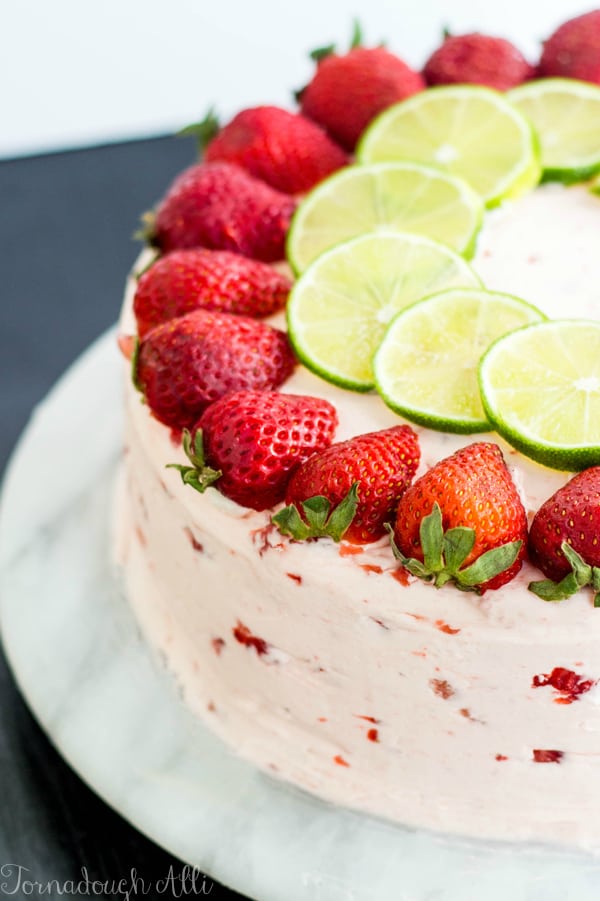 Ok so I've been in a real cake mood lately. I don't know if it's the time of year where I get overly ambitious or I just have cravings now that it's warmer out and I am more active. All that I know is that I'm having too much fun making and decorating cakes lately! Oh and did I mention eating them too!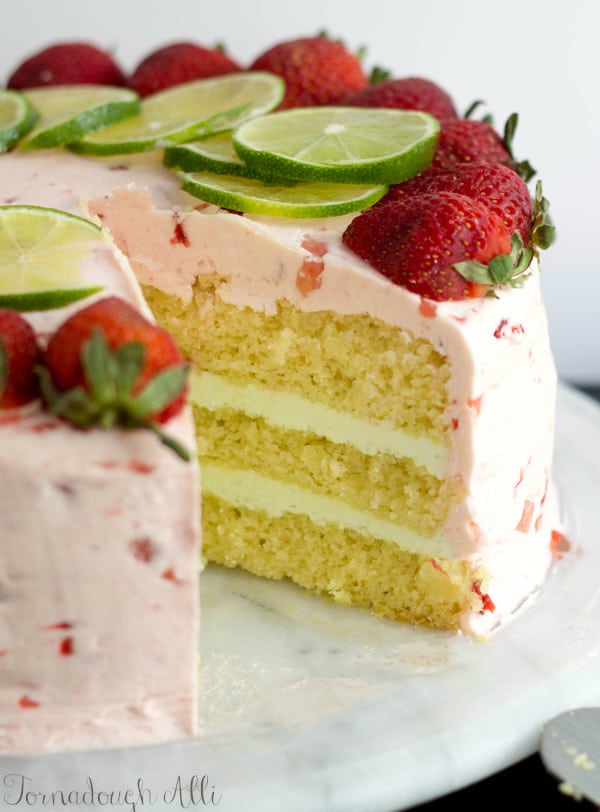 So this beautiful thing was made for my father-in-laws 60th Birthday party!! But shhhhh, don't tell him I told you his age. He had Happy 50th Birthday flyers gracing the yard, it was very well-fitting to his humor! I think he can appreciate a good cake, even if it looks sorta girly! But despite the looks of this, the flavor is amazing.
Now I love Strawberry Lime flavors, if you haven't seen my Strawberry Lime Donuts already take a look at them here! One of my mot favorite flavors ever! Both scream summer and the colors together just make everything POP! I'm a bright and shiny type of gal so this cake screams to my personality.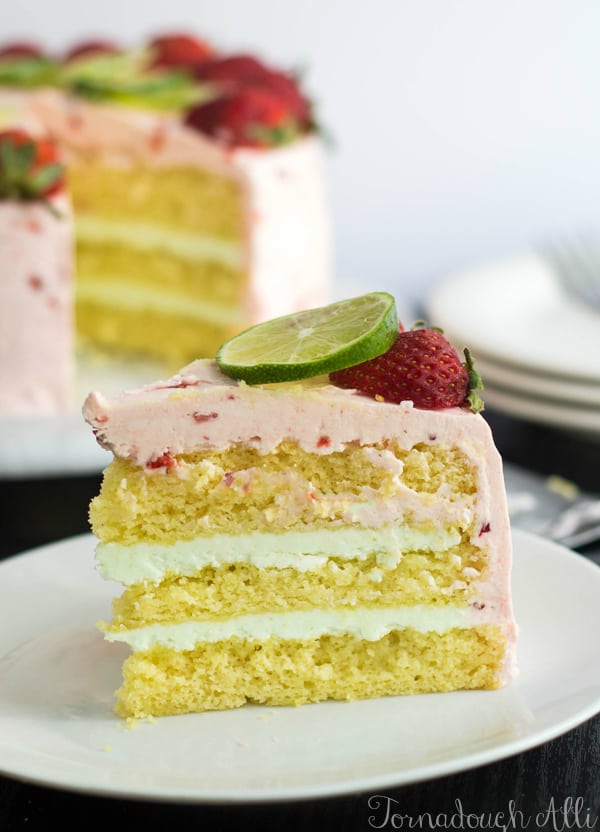 So since I know you all like shortcuts and I do try to keep the majority of what I write on this blog fast fix, this cake is semi-homemade! It is a doctored up cake mix that I got over at this amazing blog called Liv for Cake. That girl has some mad skills, you need to go check her out for real! I drool all day looking at some of her cakes!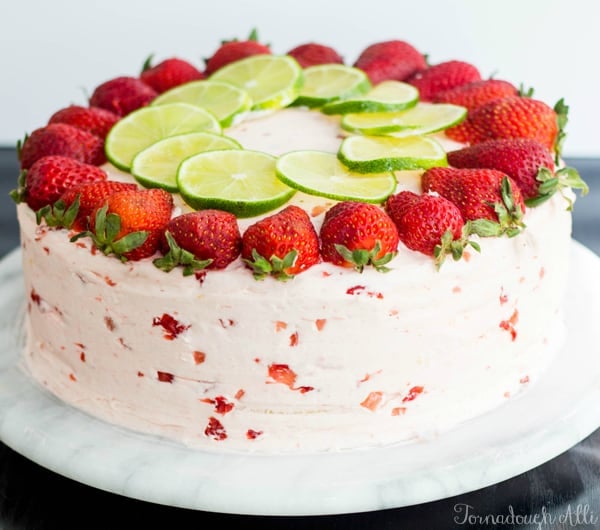 The buttercream is my go-to fave! I love the mixture of butter and shortening together. It is actually considered decorators buttercream because it is so easy to work with! Oh and did I mention that I finally got something that spins so I can decorate better! Oh I was so excited, technically it's not a cake stand but it works the same!
So go ahead, be happy and eat cake!
Oh and FYI this recipe is to make a 4 layer cake…unfortunately one of my layers bit the dust when it got stuck to my counter top….I know sad right!!!!
Strawberry Lime Cake
2016-06-01 06:42:15
Delicious moist cake filled with a tangy lime buttercream then finished off with a chunky fresh strawberry buttercream outside.
Ingredients
1 box yellow cake mix
1 cup all-purpose flour
1 cup sugar
1/2 tsp salt
3 eggs
1 1/3 cup water
2 Tbs vegetable oil
1 cup sour cream
2 tsp vanilla extract
Lime Buttercream
1 1/2 sticks butter
3/4 cup shortening
5 cups powdered sugar
9 Tbs lime juice
Zest of 1 lime
A drop or two of green food coloring
Strawberry Buttercream
2 sticks butter
1 cup shortening
6 cups powdered sugar
2 tsp vanilla extract
1 tsp almond extract
1 cup diced strawberries
Instructions
Preheat oven to 325.
Add parchment paper to bottoms of 2 9" cake pans and then spray the sides with non-stick cooking spray, set aside.
In large bowl add your dry ingredients and whisk together until blended, then mix in all your wet ingredients and mix with hand or stand mixer for a few minutes until combined.
Pour evenly in cake pans and bake for about 50 minutes or until cake springs back when touched and lightly golden.
Remove from oven and let cool in pan for about 10 minutes then turn out onto cooling rack to cool completely.
Meanwhile to make your lime buttercream, in large bowl mix together your butter and shortening and mix on medium speed until combined and fluffy. Add in your lime juice and continue to mix until incorporated.
Add your powdered sugar one cup at a time until you reach your desired consistency.
Lastly mix in your zest and your food coloring until combined, set aside.
To make strawberry buttercream again in large bowl mix together your butter and shortening until light and fluffy.
Add in your extracts and then powdered sugar 1 cup at a time until you reach your desired consistency.
Lastly mix in your strawberries until incorporated.
To assemble
Using a cake leveler split your cakes in two and start by laying your bottom layer on cake stand. top with 1/3 of your lime buttercream and smooth over top.
Add the other half of that cake to the top of that and repeat process until the last layer is added.
Starting from top of cake working down add about 1-2 cups of your strawberry buttercream and work down over the sides, repeat for around the cake. Add more buttercream and spread until even and smooth and cake is fully covered.
Finish by decorating cake with sliced strawberries and limes.
Refrigerate any uneaten portion.
Adapted from Cake batter from Liv for Cake
Tornadough Alli https://tornadoughalli.com/