Sticky Pumpkin Caramel Puddings are a fall-inspired play on the classic British dessert, Sticky Toffee Pudding. What makes this dessert stand out, especially, is the brown butter ice cream!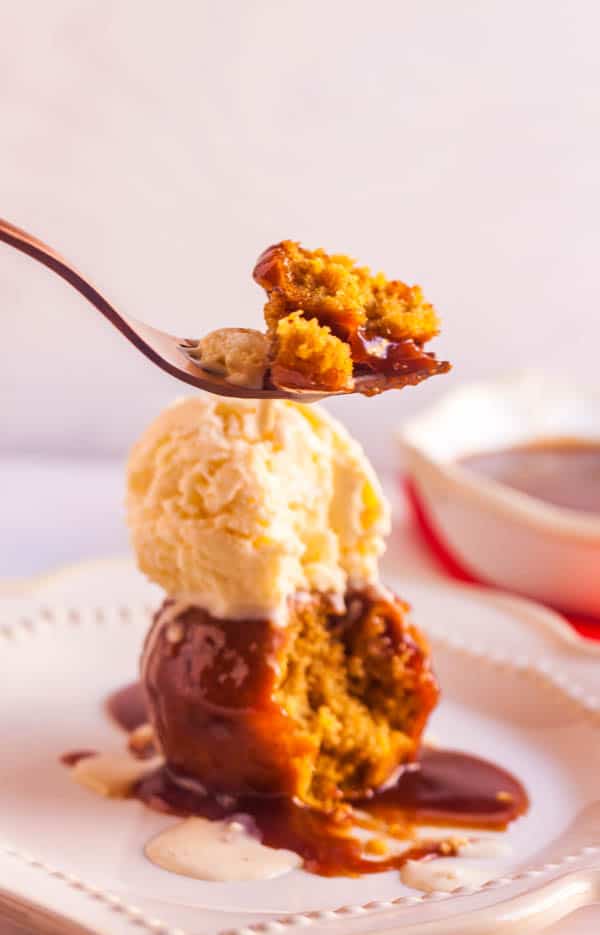 Fall is the season to start having warm and cozy desserts. Well… food in general but desserts are what everyone really looks forward to. And it wouldn't be fall without pumpkin and spice! My inspiration for this dish comes from a classic British dessert. But it's not like any pudding that us Americans know.
In the UK, they have this awesome dessert called Sticky Toffee Pudding. It's essentially a date cake that is super moist and swimming in toffee sauce. It gets topped with either whipped cream, ice cream, or sweet cream gelato. This dessert is pretty fantastic and worth every calorie. The British call desserts puddings, which is so bizarre to an American and what we know as pudding.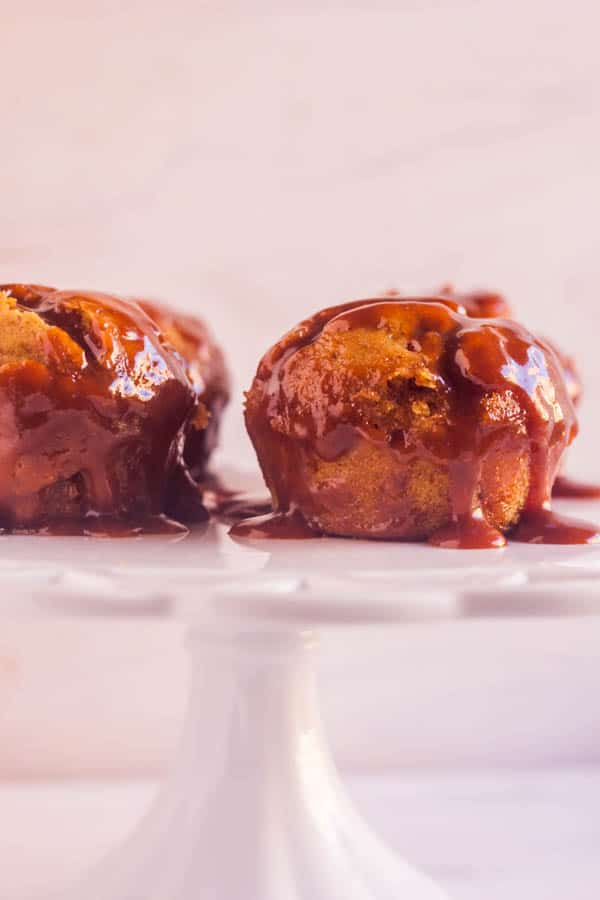 I really wanted this cake to have a great flavor to it. I derived some of the taste from spice cake that is usually eaten around this time of year, as well as pumpkin. I went pretty heavy on the spices because I wanted that warmth to really shine through in the taste. I also wanted a robust flavor to be present in this dessert. I opted to brown my butter before beginning the mixing process. I love the rich and nutty flavor browning butter adds to a dish.
Browning butter is a delicate process because you can turn from having slightly golden butter to burnt butter in a matter of a few seconds if you leave it unattended in the crucial moments. Be sure to whisk the butter in the sauce pan every so often to keep the milk solids of the butter from sticking to the bottom. As the butter melts and boils, the water will evaporate and you'll be left with the fat and milk solids. The solids will begin to brown and you'll develop foam. Pull the pot off of the heat when you start to get medium brown flecks in the foam. Place the butter in a cool mixing bowl, and if possible, in an ice bath to quickly slow the cooking process of the butter. Once the butter has cooled, you're now free to use the butter!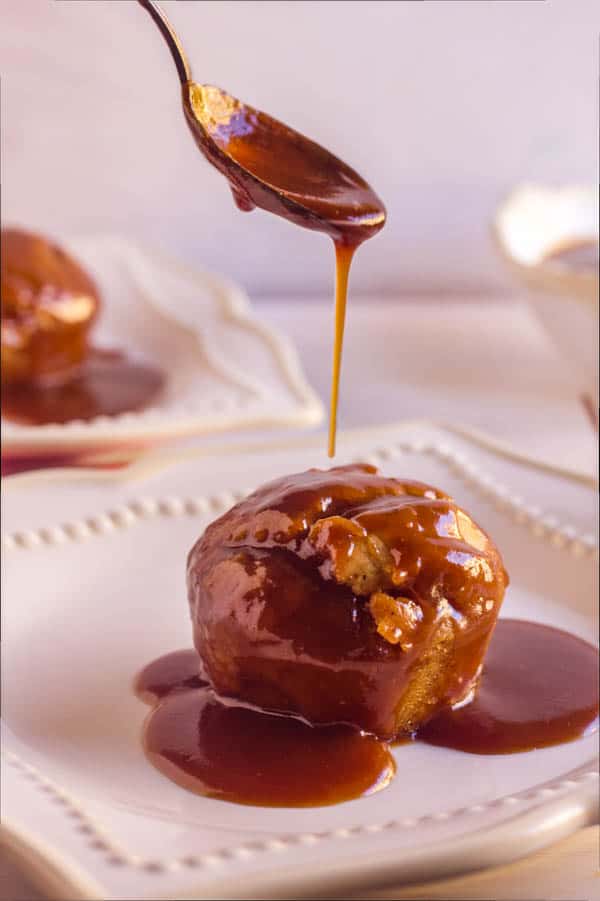 Now a sticky pudding wouldn't be sticky without a killer sauce! Want to know the fun difference between caramel and toffee sauce??? It's all in the color of the sugar you use! Toffee sauce it made by melting and caramelizing brown sugar. Caramel is made with white sugar. I feel that the caramel sauce really compliments this dessert the best; it's fall! Here is an example of another fantastic fall dessert but with toffee sauce!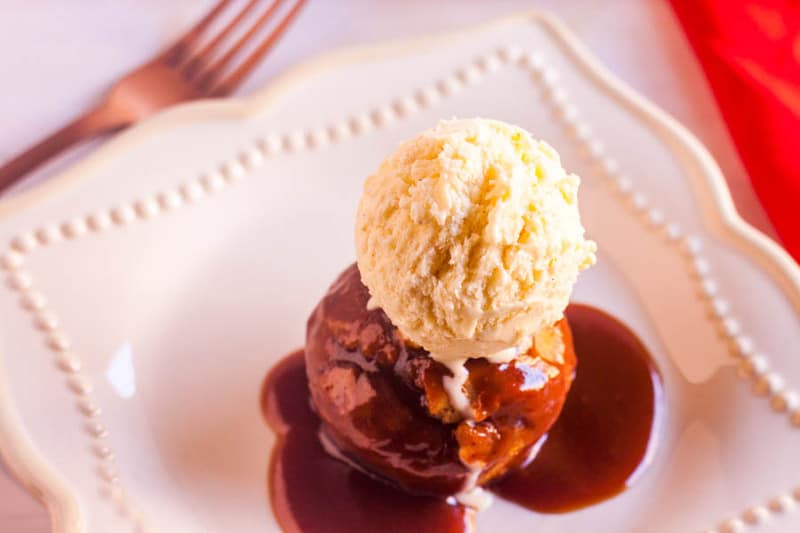 When it comes to ice cream, I love making my own and customizing it to how I like it. This brown butter ice cream is beyond amazing and out of this world! I have full and comprehensive tutorial here on how to make amazing ice cream at home! My secret to emulsifying the browned butter and the ice cream base together is in a blender. That way, the butter doesn't separate from the base and you have a smoother ice cream consistency.
Enjoy this wonderful fall dessert and a fun spin on a British classic! Time for pudding!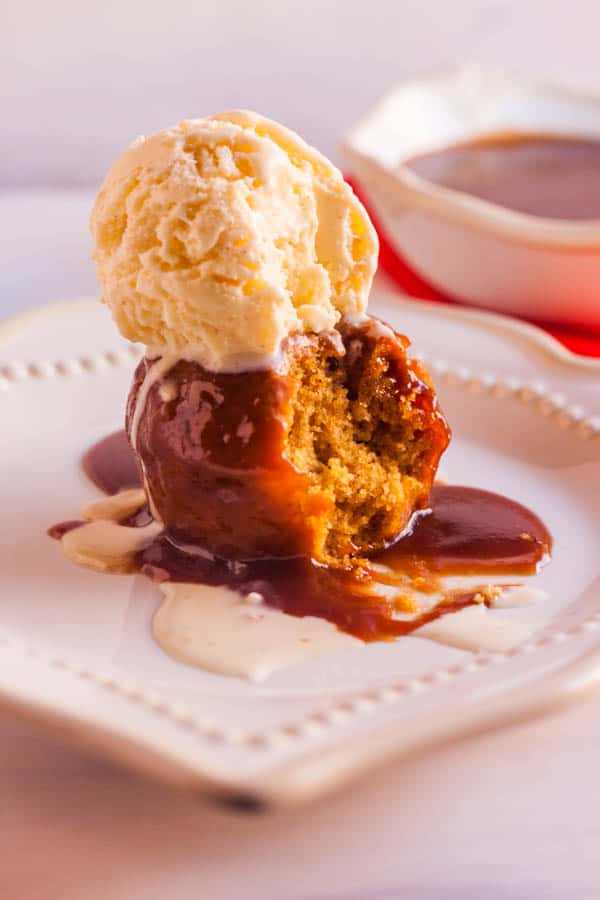 Sticky Pumpkin Caramel Puddings with Brown Butter Ice Cream
Sticky Pumpkin Caramel Puddings are a fall-inspired play on the classic British dessert, Sticky Toffee Pudding. What makes this dessert stand out, especially, is the brown butter ice cream!
Print
Pin
Rate
Ingredients
Brown Butter Ice Cream
20

ounces

whole milk

14

ounces

heavy cream

6

each

egg yolks

7

ounces

sugar

1

ounce

corn syrup

2

teaspoons

vanilla extract

8

ounces

browned butter
Caramel Sauce
1 ½

cups

white sugar

½

cup

water

1

pint

cream

4

ounces

butter

cubed

1/1

tsp

fine salt
Pumpkin Puddings
13

ounces

pureed pumpkin

I used a fresh pumpkin and roasted it before pureeing it

6

ounces

butter

browned

8

ounces

brown sugar

10

ounces

all-purpose flour

½

tsp

salt

½

tsp

baking soda

2

each

eggs

¼

tsp

ground cloves

¼

tsp

ground nutmeg

¾

tsp

ground cinnamon

1

tsp

vanilla extract
Instructions
Brown Butter Ice Cream
Place 8 ounces of butter into a sauce pan and begin to brown butter. Once butter has turned medium brown, remove from heat and into a small bowl inside of an ice bath (part water, part ice) and stir until butter is cooled.

In a medium sauce pot, combine milk, cream, sugar and syrup and boil. In a medium mixing bowl, place the egg yolks and whisk until light yellow. When cream has boiled, carefully ladle ½ of cream mixture into the egg yolks to temper. Add eggy mixture into the cream in pot. Allow to thicken, stirring constantly and watching for large bubbles. When base has thickened, remove from heat and pour through a fine strainer into a medium mixing bowl. Place mixing bowl in an ice bath to cool down.

Pour ice cream base in a blender and begin to blend on low speed. Slowly begin to add browned butter to ice cream base and allow each addition to fully incorporate. Add vanilla extract afterwards.

Pour ice cream base into a medium mixing bowl and cover bowl with plastic wrap, having plastic wrap touch the ice cream base and cool in refrigerator for about 3-4 hours or overnight.

Set up ice cream maker (whether stand alone or an ice cream attachement) and spin ice cream base according to ice cream maker instructions. Take soft serve ice cream and place in a storage container and allow to firm up in freezer for a few hours.
Caramel Sauce
In a medium sauce pot, mix together water and sugar (sugar should be the consistency of wet sand) and bring the pot over medium-high heat. Allow the sugar to melt and form bubbles, DO NOT stir the sugar.

Keep an eye on the sugar and after about 5-7 minutes, sugar will begin to change colors, wait until sugar is a medium brown color and big bubbles have formed. Remove sauce pot from the heat and whisk in cream. Be careful as this will create lots of steam and cause sugar to expand and foam up.

After sugar has cooled down and cream has been fully added, carefully whisk in butter in small batches. Make sure butter is completely incorporated in the sugar. Once all of the butter has been whisked in, add salt and whisk again.
Pumpkin Puddings
Place 6 ounces of butter in a sauce pan, over medium heat, and brown, about 10 minutes. Pull from heat and cool slightly by stirring.

In a mixing bowl, mix together browned butter and brown sugar. Beat until well incorporated. Next add eggs, one at a time and making sure to scrape the edges of the bowl after each addition. Beat in pumpkin puree and vanilla extract and mix until well combined.

Mix together all dry ingredients and then slowly add to wet ingredients, being sure to mix until well incorporated.

Preheat an oven to 350 degrees. Scoop "pudding" batter into greased muffin tins. Place in the heated oven and bake for 20 minutes. Check doneness.

Poke a hole into each pudding with a chopstick or small spoon and pour caramel sauce into the puddings. Flip puddings over and cover in caramel sauce again.

To serve, drizzle more caramel sauce and top with a scoop of brown butter ice cream.
Tornadough Alli is not a nutritionist or dietitian, and any nutritional information shared is an estimate. If calorie count and nutritional value is important to you, we recommend running the ingredients through whichever online nutritional calculator you prefer. Calories and values can vary depending on which brands were used.
Nutrition Disclaimer