This shop has been compensated by Collective Bias, Inc. and Philadelphia. All opinions are mine alone. #ItMustBeThePhilly #CollectiveBias
Snacking with Philadelphia Cheesecake Cups is made easy for this busy on the go mom with almost no time to herself!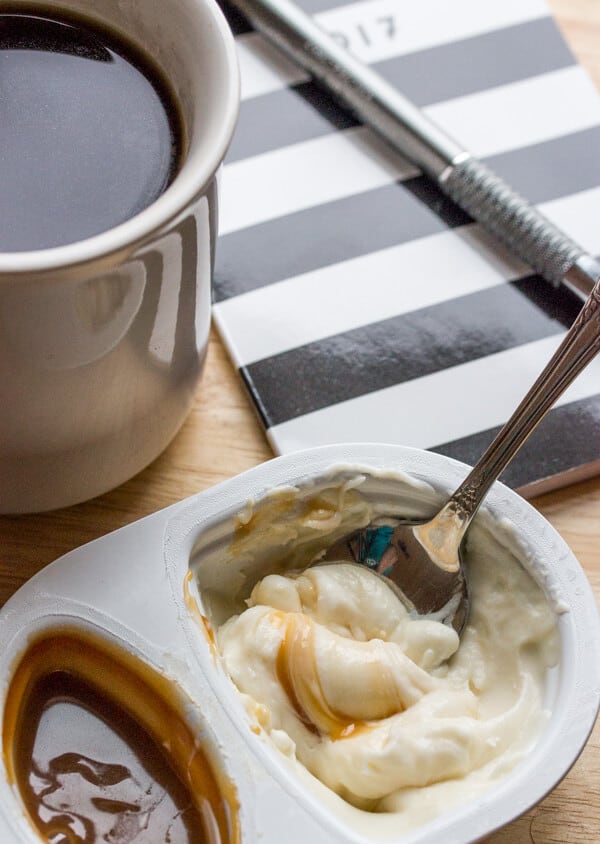 So as you may all know, I'm a seriously busy mom of 4 kids. On top of being a mom, I'm a wife, a food blogger and a daycare provider (part-time). So needless to say, my life is kind of hectic. Three of my kids are in school, then I have my 3 year old daughter home with me during the day. Let's just say, she takes the work of probably all my boys put together. This girl is in motion, my friends.
With sports, dance, work, life just coming in a million miles a minute, it's hard to find time to snack, or even get a good quality meal in at times, especially now that spring has sprung and baseball and dance will overload our schedule. But thanks to Philadelphia Cream Cheese and their new rich and creamy Cheesecake Cups, snacking is made a little easier and more convenient for this lady.
I've always been a late night snacker. It's just a fact of nature with me, I believe that no one should go to bed without dessert. I've lived by that motto for a long time, and I don't even remember a night that I haven't gone to bed without dessert. Well, these Cheesecake Cups are the perfect ending to my night! They satisfy my need for a rich cheesecake indulgence in one convenient, pre-portioned cup.
So I love me some cheesecake…if you don't believe me then just check out my Coconut Cream Cheesecake, Chocolate Chili Cheesecake or my No Bake Cheesecake Fluff. But my friends, those recipes sometimes take too long for this avid sweet tooth of mine. Philadelphia Cheesecake Cups come in four seriously amazing flavors, Cheesecake with Strawberries; Cheesecake with Milk Chocolate Sauce; Cheesecake with Cherries and Cheesecake with Salted Caramel Sauce.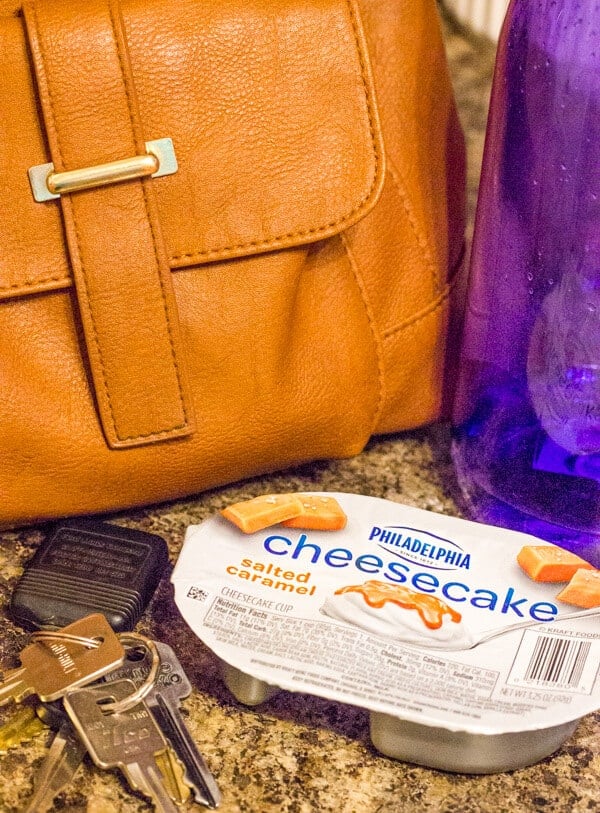 The creamy cheesecake is separate from the toppings so you have your choice to dip or spoon the toppings on the cheesecake itself. I do a little bit of both. So I get to indulge in these delicious handheld desserts whenever I actually am able to find a free minute. Whether it's quickly on the go when I'm on my way out the door with the kids, while I'm at my desk working, or in the morning with my coffee…because dessert for breakfast is a must 😉
These are the perfect serving size to fit my needs and satisfy my sweet tooth. They have to be refrigerated before eating, so it forces me to actually be able to sit down and eat instead of throwing it in my bag and waiting until later, and maybe never even get to it! But, who wouldn't want to devour these right away anyway? I mean, come on, it's delicious cheesecake! My favorite flavor is the Salted Caramel version.
So, if you're in the mood to get your dessert snacking on, then these Philadelphia Cheesecake Cups are just what you need. They're made with simple, real ingredients too like fresh milk, real cream and real fruit, chocolate or caramel topping and contain no artificial flavors or dyes. You can find this delicious treat located in your refrigerated dessert section.
For more information, visit creamcheese.com or follow Philadelphia on social media.
Philadelphia Cream Cheese Facebook Page | @LoveMyPhilly on Twitter
@SpreadPhilly on Pinterest | @LoveMyPhilly on Instagram