Fun, quick and delicious this Easy Fruit Pizza is perfect for a picnic, a snack or the sweet fruity ending to your night. Full of cream cheese and tons of fruit, there isn't a person who doesn't enjoy a slice.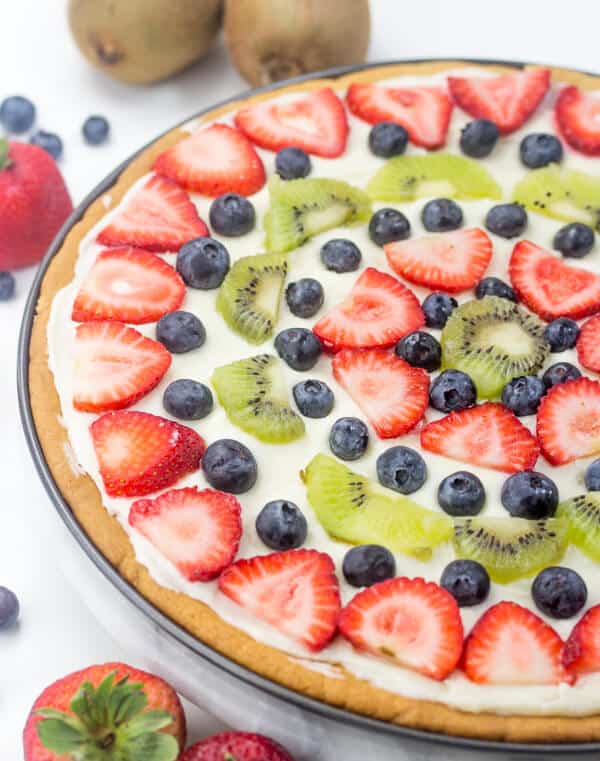 Fruit Pizza is one of my kids all time favorite pizzas around. I think them, and myself could go for fruit pizza over the regular stuff any day of the week. I mean seriously, dessert pizza? How could you not fall in love.
We've made this fruit pizza many times over the last few years and it never gets old. The "frosting" on this pizza really makes the whole thing, and the freshness of the fruit makes the pizza just pop. And don't even let me get started on that sugar cookie crust.
This Fruit Pizza whips up in 20ish minutes and thats just an extra bonus. I'm not the biggest fresh fruit fan, but when you combine it with sugar cookie and a cream cheese topping then I'm a sucker. Isn't it weird how that works out? Like you don't like something very much until it's combined with something else?
This Easy Fruit Pizza is one of those treats that would be perfect for a get together, a birthday party or just for something extra to add to your Friday night pizza parties. It's so colorful and tasty that the kids will fall in love, much like the adults.
You can switch it up with any fruits that you like. Make it holiday themed for the 4th of July or even wait to make it for Christmas! This dessert is made to be customized.
We went with strawberries, kiwi and blueberries for this one. I've never been the biggest kiwi fan, but in this pizza the kiwi literally melts in your mouth and blends so well with all the sweet flavors. It really does balance all the sweetness nicely.
Want to know My little secret for making the best spread? I use a mixture of vanilla AND almond extracts. I pretty much do that for any spreads or icings/frostings. I have a little addiction to all things almond flavored and I think adding a little bit of almond extract along with your vanilla brings the flavors to a whole new level.
Everything combined in this Fruit Pizza recipe make it great. It really goes along well with your traditional pizza, if you ever grew up with a pizza place that also served dessert pizza, you knew you could never leave without having at least one slice of that sweet and delicious stuff.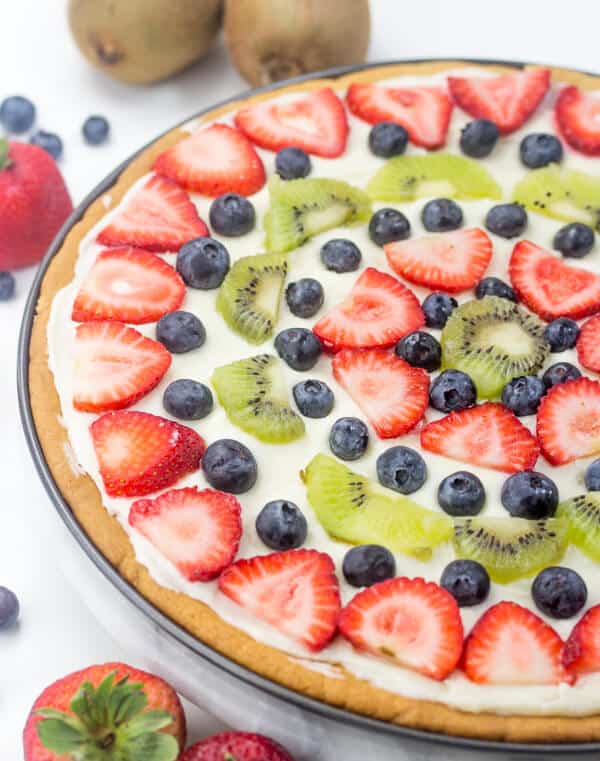 Easy Fruit Pizza
Fun, quick and delicious this Easy Fruit Pizza is perfect for a picnic, a snack or the sweet fruity ending to your night.

Ingredients
1

(16 oz) tube refrigerated sugar cookie dough

1

(8 oz) pkg cream cheese, softened

2

Tbs

butter

, softened

1/2

tsp

vanilla extract

1/2

tsp

almond extract

2

cups

powdered sugar

1-1 1/2

cup

sliced strawberries

1

kiwi

, skinned and sliced in halves

1/2

cup

blueberries

Any other fruit you enjoy
Instructions
Preheat oven to 350.

On pizza pan or cookie sheet press your cookie dough into about a 12" circle.

Bake for about 10-15 minutes or until slightly golden, remove and let cool.

Meanwhile in bowl mix together your cream cheese, butter, extracts and powdered sugar until combined.

Spread over cooled cookie crust.

Top with fruit in your favorite designs.