This shop has been compensated by Collective Bias, Inc. and its advertiser. All opinions are mine alone. #MMSFlavorVote #CollectiveBias
A rich chocolatey cheesecake filled with a sweet chili spice makes this Chocolate Chili Cheesecake an edgier version of the original recipe!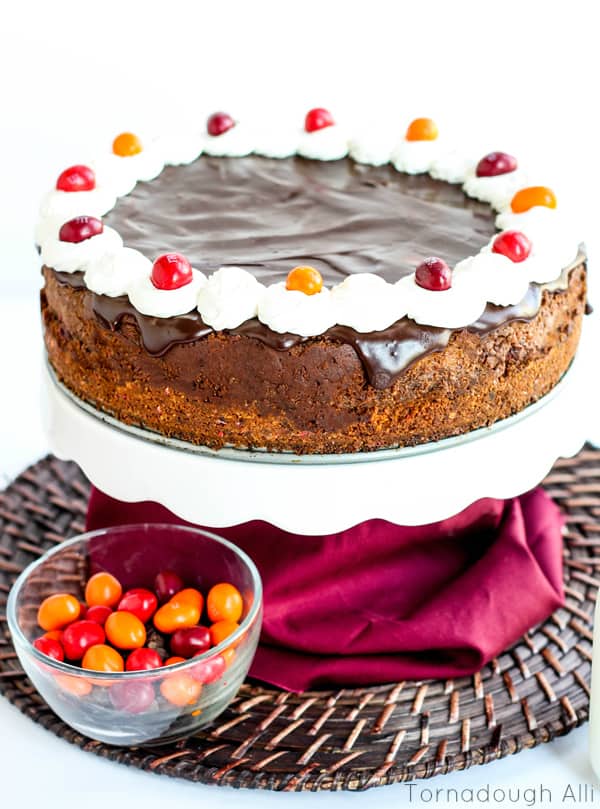 Ok you guy's, I have such a treat for you. I won't even lie. Have you tried the new M&M's® Chili Nut, M&M's® Honey Nut or M&M's® Coffee Nut? If you haven't yet, you need to head over to your local Walmart and pick up all of these QUICK! They wont last long that's for sure.
Now, once you've tried all of them (or inhaled each bag like me, shhhh) then you need to head over here and cast your vote for you favorite flavor! Voting is taking place now through June 17th. BONUS is that when you cast your vote you'll be entered to win $100,000 and earn the title of the official M&M's® Taste Tester. The winner will be announced in August along with the winner of the 'Flavor Vote'.
Which will you choose? They are all so amazing! But for this recipe, I chose to use the M&M's® Chili Nut. I love having a little heat with my chocolate and that made the M&M's® Chili Nut flavor one of the flavors that I could not pass up playing around with and creating a delicious new treat. Obviously, I'm a huge dessert fan as you all know! And what better way to use these candies than in cheesecake? So behold Chocolate Chili Cheesecake.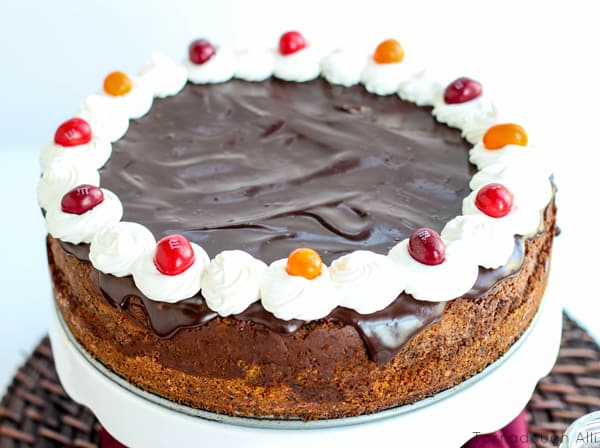 I'm all about keeping it easy here on Tornadough Alli and this cheesecake may look complicated, but in all honestly it isn't. All the ingredients for this delicious chocolatey heaven you most likely have on hand already! Cream cheese, graham crackers, eggs, chocolate chips, sugar, butter and whip cream. THAT IS IT. Oh, but to set this over the top we have M&M's® Chili Nut crushed into the crust and in the batter as well.
I think that I'm becoming more of a chocolate cheesecake lover than the traditional these days! But I may be biased as I consider chocolate one of my main food groups that I consume. No judgement, I can't help it. Apparently it releases the same chemicals in your brain that are released when you fall in love so one can only come to one conclusion for my addiction.
This Chocolate Chili Cheesecake is so moist and dense, I pay that deliciousness to letting it sit overnight to rest. That is the key to this bad boy. To get the full effect, this cheesecake needs to chill for at least 8 hours if not overnight. Then in the morning (yes morning, what better time for sweets!) you get a thick, solid chocolatey heaven.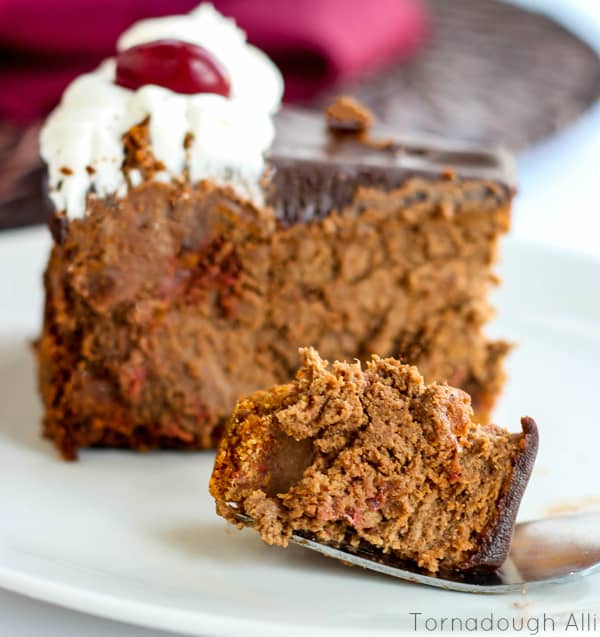 Oh did I mention that it is topped with a thick, silky layer of ganache as well? Then, it is set off by light whip cream to balance out the chocolate chili flavor, which comes through with just a little kick at the end of each bite. Something that our family and even the kiddo's really enjoyed! We are not a family who shy away from heat!
What will be your favorite flavor? Remember to head over to M&M's® Flavor Vote page on Facebook and cast your vote to decide which one of M&M's® new flavors will make the cut. Don't forget to share your pick on social media with the hashtag #MMSFlavorVote to let everyone know which one is your most loved.
Chocolate Chili Cheesecake
2016-04-27 14:22:53
A delicious chocolate cheesecake filled with crushed M&M's® Chili Nut giving it a little heat and topped with sweet whip cream.
Crust
1 sleeve graham crackers
1/4 cup sugar
1/2 cup M&M's® Chili Nut
6 Tbs melted butter
Filling
1 1/2 cups semisweet chocolate chips
4 (8-ounce) packages cream cheese, room temperature
1 1/4 cups sugar
1/4 cup unsweetened cocoa powder
1/2 tsp chili powder
4 large eggs
1 cup chopped M&M's® Chili Nut
Whip cream
Ganache
1 cup semi-sweet chocolate chips
2/3 cup heavy whipping cream
Instructions
Preheat oven to 350.
Butter the bottom and sides of a 9" spring-form pan.
In food processor blend together your graham crackers, sugar, M&M's® Chili Nut until coarse. Pulse in your butter until it becomes moist.
Press onto bottoms and up sides of prepared pan and bake for about 10 minutes or until it appears set, set aside to cool.
In double boiler melt your chocolate chips until smooth, remove and let cool slightly.
Meanwhile in large bowl mix together with hand mixer or stand mixer your cream cheese, sugar and cocoa powder until creamy and combined.
Add in your eggs one at a time, mixing well after each addition.
Mix in your melted chocolate until blended then fold in your chopped M&M's® Chili Nut.
Pour cheesecake over prepared crust and bake for about one hour or until center just seems set.
Remove from oven and remove the ring from the spring-for pan, let cool until it becomes room temperature.
Cover with plastic wrap and refrigerate 8 hours to overnight.
Once cool and set make your ganache by placing chocolate chips in bowl and heating your heavy whipping cream in saucepan until simmering.
Once simmering pour your cream over your chocolate chips and cover for 2-3 minutes.
Remove cover and stir until all blended together, let cool for about 10-15 minutes.
Once cooled pour over your cheesecake and place in refrigerator for a few minutes until ganache sets.
Remove from refrigerator and top with whip cream.
Remove from refri
Notes
I chilled mine over night.
Cheesecake likes to puff up on sides, I cut my crusted sides off to make cheesecake flat on top.
Tornadough Alli https://tornadoughalli.com/