These brownie Cauldron Cups are a fun and easy Halloween treat that are perfect for the kids and are seriously addicting! They are a handheld quick and tasty dessert delight!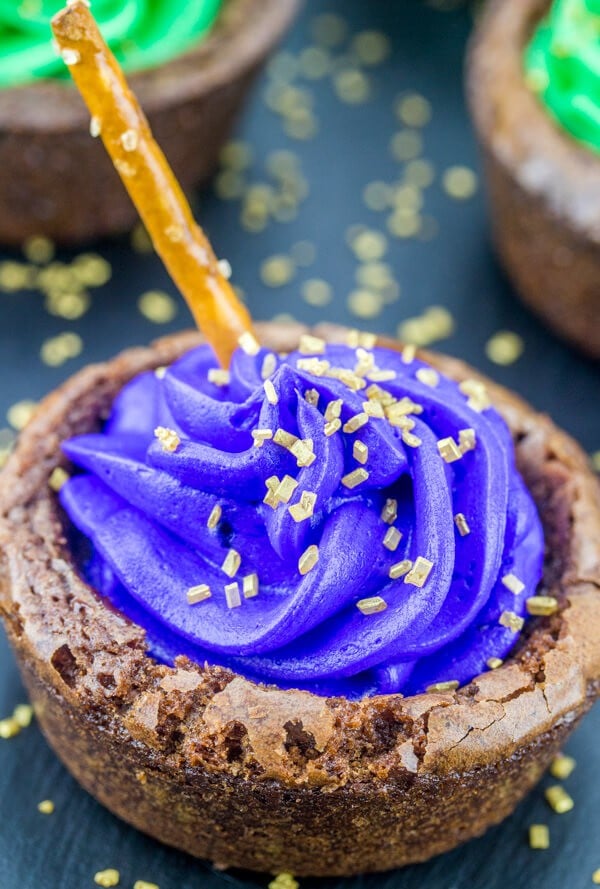 Ok so I'm trying to get into the spirit of Halloween! I mean it is less than a month away and my kids have been begging me since the end of august to get their costumes…seriously, I mean who needs their costumes 2 months ahead of time. Apparently my kids, that's who!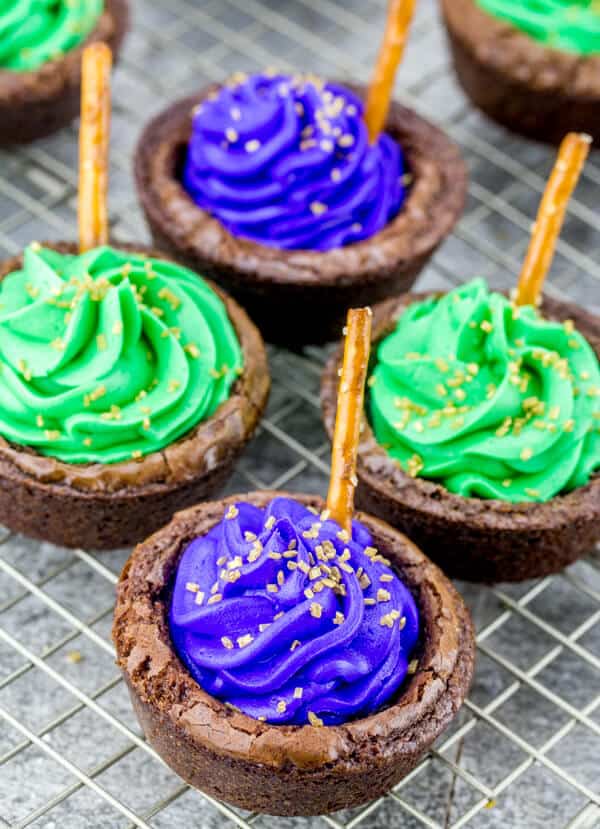 But I've been trying to embrace that fall has graced our presence lately. I mean it has been raining for a full 2 weeks here in Minnesota. I'm not quite sure that's a fall thing, but it is a Mother Nature doesn't know what she's up to kinda thing! Usually the weather here is pretty weird so I'm just gonna roll with it. At least it isn't 90 like it was 2 weeks ago.
Anyways, these Cauldron Cups are super quick and FUN! They are the perfect treat to have on your party table, for snack, or a treat after dinner…or breakfast like me. Now this isn't 100% homemade, and I'm completely ok with that, because since school started things have been a little hectic around here and I just find myself strapped for time. So these semi-homemade dessert fits in perfectly.
When I think of cauldron I think of green and purple magic brew that the witch is every so gently stirring while chanting what ever it is that they chant. So I think that these Cauldron Cups measure up to that perfectly. Even adorned with a pretzel as the stirring stick! I mean how fun are these bad boys!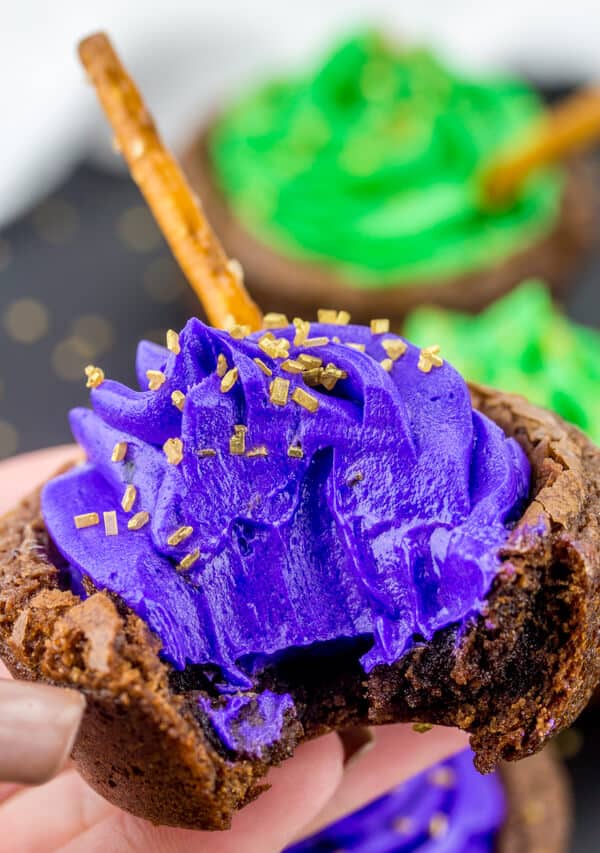 So if you're looking for a fun yet easy and colorful treat to whip up this Halloween with the kids then these brownie Cauldron Cups are what you're looking for! Give them a little sprinkle of magic to top them off and you have yourself a deliciously fun Halloween treat!
Ingredients
1

box fudge brownie mix and ingredients called for on box

2

sticks butter

softened

1

tsp

vanilla extract

1

tsp

almond extract

4-5

cups

powdered sugar

2-3

Tbs

heavy cream

Food coloring

Gold decorators sugar

Pretzel sticks
Instructions
Preheat oven to 350.

In bowl mix together your brownie batter as stated on box and fill a 12 cup muffin tin 3/4 the ways full with batter.

Bake for about 20 minutes or until just done and immediately depress centers with a tablespoon or measuring cup.

Let cool.

Meanwhile in large bowl mix together your butter until light and fluffy.

Add in your extracts until blended.

1 cup at a time add in your powdered sugar until smooth then add your heavy cream to reach desired consistency.

Separate your frosting into 2 equal batches and mix in your food coloring.

Pipe swirls into your brownie cups.

Sprinkle with decorators sugar and add a pretzel stick.