Delicious carne asada atop a heaping bed of golden french fries and slathered in melted cheese, sour cream and guacamole makes these Carne Asada Fries an addicting treat.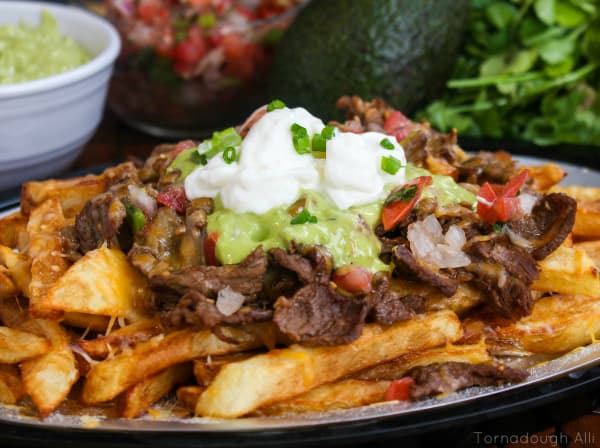 Raise your hand if you're a carne asada lover (RAISES HANDS!!!!). We can't get enough of these Carne Asada Fries. They are layered with delicious goodness in each and every bite.
WHAT KIND OF MEAT IS CARNE ASADA?
Carne asada is a thinly sliced grilled beef that is served in burritos and tacos. Usually made with a skirt or a flank steak.
WHAT SPICES ARE USED IN CARNE ASADA?
Now everyone makes their carne asada differently, but in this recipe we like to use a mixture of cumin, garlic powder, paprika, oregano, chili powder, cilantro, salt, pepper, lime juice and garlic cloves.
So these have been popular around the US and possibly the world lately. I first heard about them coming out of a food truck in San Diego and I know that I needed to try my hand at making then, and boy I'm so happy that I did.
When we have guests over this is one of the first recipes that they request. They can't get enough. You can make your own homemade French fries or you can use store bought it really doesn't matter because the fries alone are just an after thought for the meat on these.
These Carne Asada Fries are so customizable that the topping combo's are endless. We love to top ours with some guac, sour cream, pico and a little bit of green onion. It's pretty much a taco topped french fry dish on steroids.
The marinade for these is seriously something I could sit and smell all day, it's just that good. I'm a particular lover to the cilantro so it's easy for me. Come to think about it I never realized there were people who hated cilantro!
My mother in law really dislikes it. It seems like you either love it or hate it and I'm all for it, it's another one of those things that you'll randomly see me shove in my face just to smell…I'm werid like that. So without further adieu here are my amazing version of Carne Asada Fries!
If you like this recipe you might also like these Mexican Stuffed Shells, Glazed Sopapilla Bites and this Tres Leches Cake.
Carne Asada Fries
2016-03-20 18:03:49
Delicious carne asada grilled and piled on french fries with melty cheese and sour cream!
Ingredients
2lbs flank steak, fajita meat, thin steak
2lbs french fries
2 cup shredded Montery Jack cheese
Sour Cream, Guacamole, Pico de gallo and other desired toppings
Marinade
1/4 cup worcestershire Sauce
1/3 cup white vinegar
1/2 cup soy sauce
1/2 cup olive oil
1 tsp cumin
1 tsp garlic powder
1 tsp paprika
1 tsp oregano
1 tsp chili powder
2 Tbs cilantro, chopped
1/2 tsp salt
1/2 tsp pepper
2 Tbs fresh lime juice
4 minced garlic cloves
Instructions
Chop meat into bite sized pieces and add to a 1 gallon zip lock baggie.
Mix marinade together in a bowl, once mixed pour over meat.
Shake around until all meat is covered.
Refrigerate for at least 6 hours, turning every so often to redistribute marinade.
Preheat oven to 350.
Once meat is marinaded toss in pan and heat until cooked through, set aside.
Deep fry your french fries, when done add to sheet pan or pizza pan and top with cheese and carne asada.
Place in oven for about 15 minutes or until cheese is melted.
Top with sour cream, guacamole, pico de gallo and other desired topping.
Adapted from Marinade from Type A Parent
Tornadough Alli https://tornadoughalli.com/