These Blackberry Cream Cheese Pie Dippers are a flaky pie crust filled with creamy blackberry cream cheese spread and baked until golden and crispy!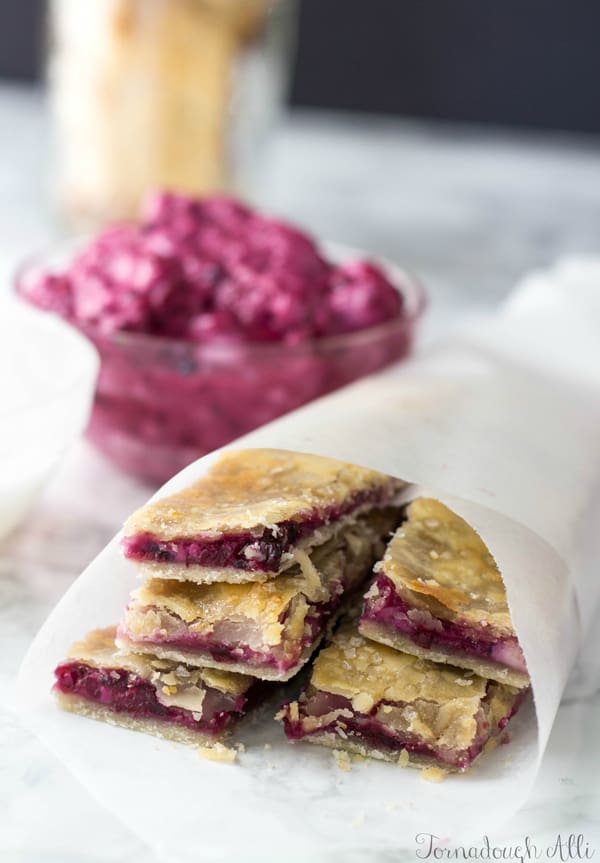 Are you all pie fans? I mean who doesn't love a good old pie? Honestly, I've never been the biggest pie fan out there. Weird I know, no judging. Like I said before, I'm more of a cake girl, but give me some of these delicious Pie Dippers and I'm SOLD! They are a mix of the traditional pie and hand pies if I had to compare them to anything!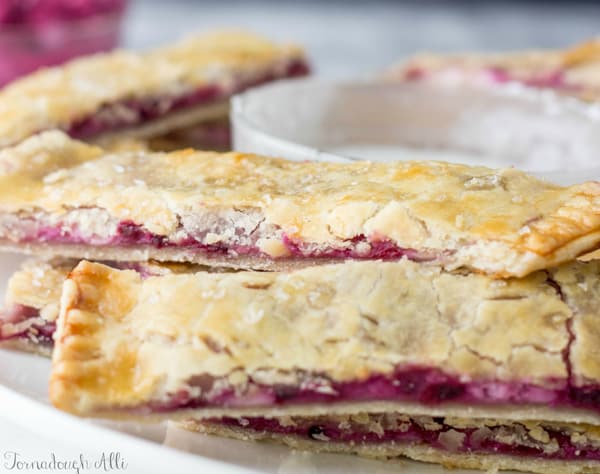 These little hand-held treats are so fun and simple to make that they look more elegant than they really are. It takes pie eating to a whole new level. Dip these bad boys in some creamy glaze dipping sauce and you are ready to go. Oh and these are a little less mess for the little ones and easier to eat as well.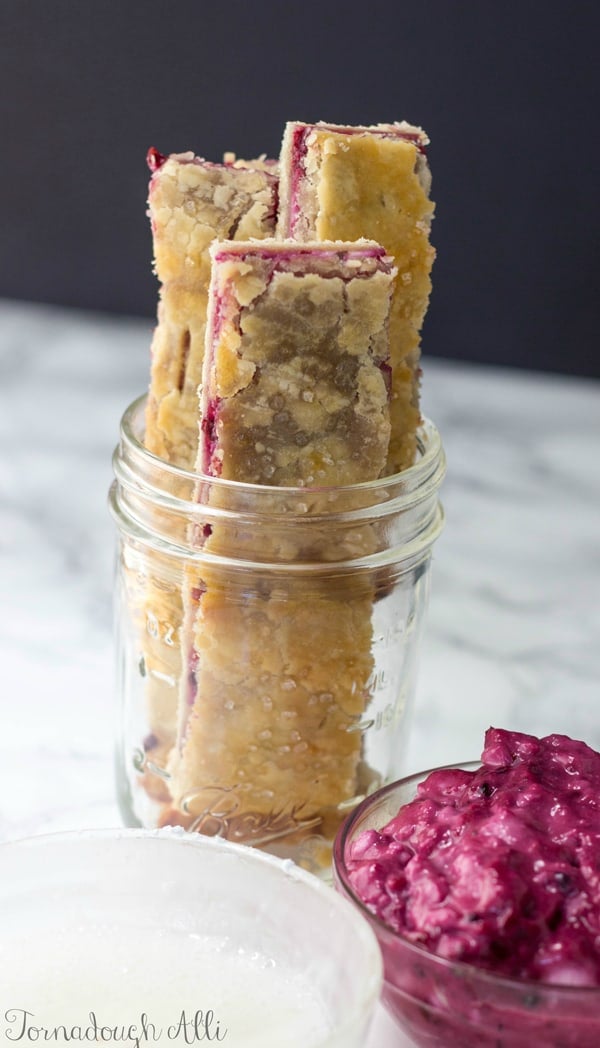 I've been on a berry kick lately. If you've missed some of my berry recipes you can check some out here, here and here. Let's just say that I'm in no short supply on recipes that include fruit in them. Since I'm not the biggest fruit eater plain, I'm happy that I have some go to recipes that let's me bake with them instead.
Flaky crust is filled with a delicious blackberry and cream cheese mixture, topped with more pie crust, egg washed and sprinkled with some decorators sugar to give it a nice sweet crispy bite to the top. Now I can't say that this will be your new go to pie recipe, but these Blackberry Cream Cheese Pie Dippers will be your new go to pie alternative recipe for sure! Switch up the flavors and just have some fun with this!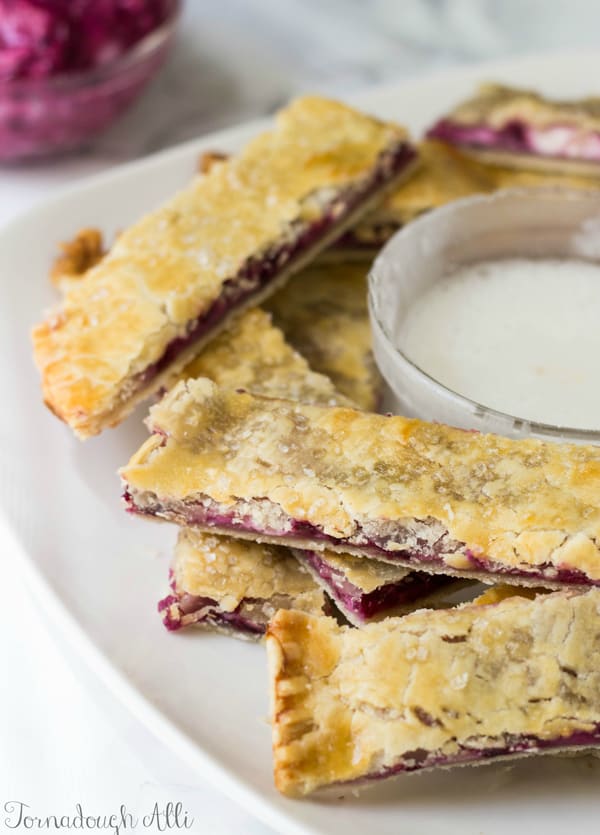 Blackberry Cream Cheese Pie Dippers
2016-06-28 20:46:13
Flaky pie crust filled with a blackberry cream cheese filling and baked until golden and cut into dippable strips
Ingredients
2 (2 ct) packages pie crust (or 4 homemade crusts)
1 (6 oz) pkg blackberries
2 Tbs water, divided
1/2 cup + 2 Tbs sugar, divided
1 Tbs cornstartch
1 (8 oz) pkg cream cheese, softened
1 tsp vanilla
Egg wash
1 egg, slightly beaten
1 Tbs water
Decorators sugar
Dipping Sauce
1/2 cup powdered sugar
1 Tbs milk
Instructions
Preheat oven to 350.
Unroll your pie crusts and place on floured surface.
In sauce pan add your blackberries, 1 Tbs water and 2 Tbs sugar and bring to boil, stirring often until blackberries are tender and you can mash them with spoon.
Mix 1 Tbs water with 1 Tbs cornstarch and add to your blackberry mixture, reduce heat to simmer and stir and continue mashing blackberries until thickened. Set aside to cool.
Once cooled mix your blackberry mixture, cream cheese, 1/2 cup remaining sugar and vanilla together until combined.
Spread over bottom of 2 pie crusts until it reaches about 1/2" from edges.
Place other 2 pie crusts on top of the blackberry mixture and using a fork, seal the edges shut.
Mix together your egg wash ingredients and brush over tops of pies, then sprinkle with desired amount of decorators sugar.
Bake in batches for about 15-20 minutes or until golden, remove from oven and let cool.
Once cooled, slice down center and then into 1" strips.
Mix together your dipping sauce ingredients, serve and enjoy!
Tornadough Alli https://tornadoughalli.com/