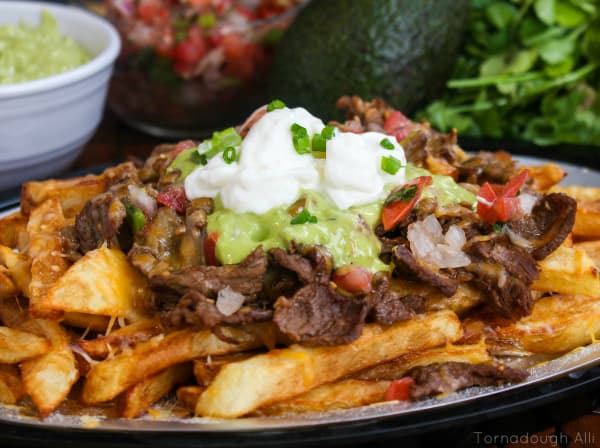 I don't understand why weekends have to go by so fast!! I wish adults could be like kids and have spring break and summers off from responsibility! I miss being young…but yet I enjoy my freedom. So it's kind of one of those things where I could benefit from both situations. No responsibility or freedom…ugh, who could choose. The good thing about being an adult is that we get to have dinner parties with friends and neighbors! That's exactly what we did this weekend. I feel so grown up, I mean I'm 28, married, have 4 kid and own a house but yet it takes a dinner party to make me actually feel grown…odd how that works! But with that dinner party came these amazing, cheesy Carne Asada Fries!
I've heard about these beauties a few times in my food quest, mostly from them being popular in the San Diego area. Now coming from Minnesota, I'm a long way from there and although I would absolutely love to visit, I don't see that happening in my near future so I had to make these lovelies at home. One of the most delicious and easy recipes that you could ever make! Seriously, if you can mix up a marinade then you're golden! The hardest part was waiting the 6 hours (minimum) for the meat to marinade. Yup, that's it!
These Carne Asada Fries are so customizable that the topping combo's are endless. We love to top ours with some guac, sour cream, pico and a little bit of green onion. It's pretty much a taco topped french fry dish on steroids. The marinade for these is seriously something I could sit and smell all day, it's just that good. I'm a particular lover to the cilantro so it's easy for me. Come to think about it I never realized there were people who hated cilantro! My mother in law really dislikes it. It seems like you either love it or hate it and I'm all for it, it's another one of those things that you'll randomly see me shove in my face just to smell…I'm werid like that. So without further adieu here are my amazing version of Carne Asada Fries!
Carne Asada Fries
2016-03-20 18:03:49
Delicious carne asada grilled and piled on french fries with melty cheese and sour cream!
Ingredients
2lbs flank steak, fajita meat, thin steak
2lbs french fries
2 cup shredded Montery Jack cheese
Sour Cream, Guacamole, Pico de gallo and other desired toppings
Marinade
1/4 cup worcestershire Sauce
1/3 cup white vinegar
1/2 cup soy sauce
1/2 cup olive oil
1 tsp cumin
1 tsp garlic powder
1 tsp paprika
1 tsp oregano
1 tsp chili powder
2 Tbs cilantro, chopped
1/2 tsp salt
1/2 tsp pepper
2 Tbs fresh lime juice
4 minced garlic cloves
Instructions
Chop meat into bite sized pieces and add to a 1 gallon zip lock baggie.
Mix marinade together in a bowl, once mixed pour over meat.
Shake around until all meat is covered.
Refrigerate for at least 6 hours, turning every so often to redistribute marinade.
Preheat oven to 350.
Once meat is marinaded toss in pan and heat until cooked through, set aside.
Deep fry your french fries, when done add to sheet pan or pizza pan and top with cheese and carne asada.
Place in oven for about 15 minutes or until cheese is melted.
Top with sour cream, guacamole, pico de gallo and other desired topping.
Adapted from Marinade from Type A Parent
Tornadough Alli https://tornadoughalli.com/