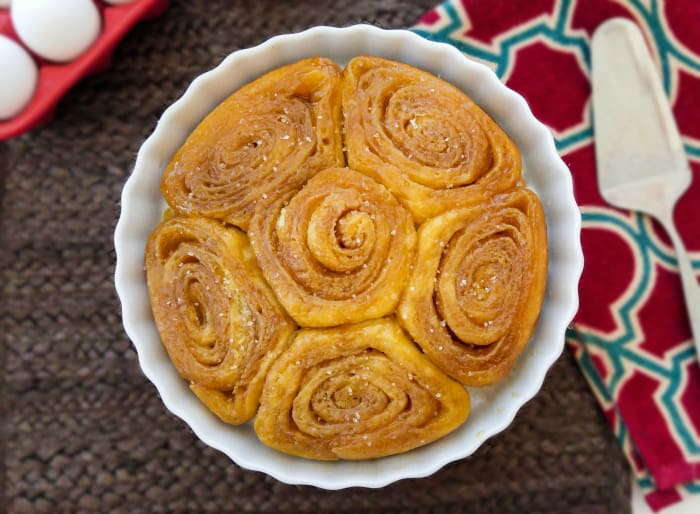 Like all good things Salted Caramel Week has to come to an end. I've had so much fun creating and sharing all these salted caramel recipes with you. Do you think this is something that you'd like to see every year around this time as salted caramel is a big holiday flavor? Or is there any other "week" you'd like to see? Cookie week, egg nog week, gingerbread week? Let me know and I can jump to the task.
So like all my recipes I shared this week salted caramel has been the main player. Well let me just tell you, these Salted Caramel Rolls are my absolute fave. I usually just make them the normal Caramel Rolls but obviously I had to spice it up and share a new twist with you!
As you can see on the outside its sprinkled with yummy sea salt, but inside there is a surprise as well. It is lathered in butter and sprinkled with cinnamon, sugar and you guessed it…sea salt. The sweet softness in these rolls are balanced so well with the kick of the salt.
I don't know about you but caramel rolls are one of those "sweets" that I can have for any meal. When I made them I told my husband that I was going to forego making supper and just nosh on these. That's totally acceptable right? I mean as long as no one knows that I substitute my nutritious meal for sweets?
Oh well, I can do what I want, it's my house. Lol joking. But no really…I do eat dessert for meals at times. It's quite common with me. I really should stop but hey, you only live once so I might as well make this time worth it right! Anyways, enough of me going back and forth guilt tripping myself how about we get onto this nummy recipe shall we!
Salted Caramel Rolls
2015-12-04 08:11:28
A soft and warm caramel roll baked to gooey perfection with the added bonus of sea salt!
Ingredients
3 1/2 cups all-purpose flour
1/4 cup sugar
1/2 teaspoon salt
1 pkg. active dry yeast
1 cup milk
1/4 cup butter
1 egg
Filling
2 tablespoons butter
1/4 cup sugar
1 teaspoon cinnamon
1 Tbs sea salt
Caramel Sauce
3/4 cup brown sugar
3/4 cup butter, slightly melted
3 Tbs corn syrup
1-2 Tbs sea salt plus more for sprinkling
Instructions
In large bowl, combine 1 1/2 cups flour, 1/4 cup sugar and salt.
*In a sauce pan or bowl in microwave melt your butter and milk until warm. Let cool and add your yeast to proof.
Once yeast has proofed add your milk and butter mixture along with your egg to flour mix.
Stir to combine add 1/2 flour at a time until dough starts to pull away from bowl.
Dump out onto floured surface knead until dough is smooth and elastic adding in additional flour as needed, about 5 minutes.
Grease 2 round 9" cake pans.
In small bowl, combine butter, brown sugar and corn syrup. Divide mixture evenly into greased pans and spread until bottom is covered, sprinkle with salt.
Once dough has risen punch it down.
On lightly floured surface, roll dough into 15x12-inch rectangle.
Spread with butter.
In small bowl, combine sugar and cinnamon. Sprinkle evenly over dough.
Finally sprinkle with your sea salt.
Starting with shorter side side, roll up tightly, pressing seam firmly to seal.
Cut into twelve egual slices and place in prepared pans.
Cover and let rise again until double in size, about an hour.
Once your rolls have risen for a second time preheat your oven to 375.
Bake rolls for about 20-25 minutes or until lightly golden.
Remove from oven and let rest for a minute before turning onto serving tray or baking sheet.
Sprinkle with additional sea salt and enjoy.
Notes
Make sure you let your butter and milk mixture cool otherwise you may kill your yeast.
Adapted from Pillsbury
Adapted from Pillsbury
Tornadough Alli https://tornadoughalli.com/