Cooked low and slow these Slow Cooker Nashville Hot Chicken Sandwiches are an easy, tasty no fuss weeknight meal that is tempting for the whole family!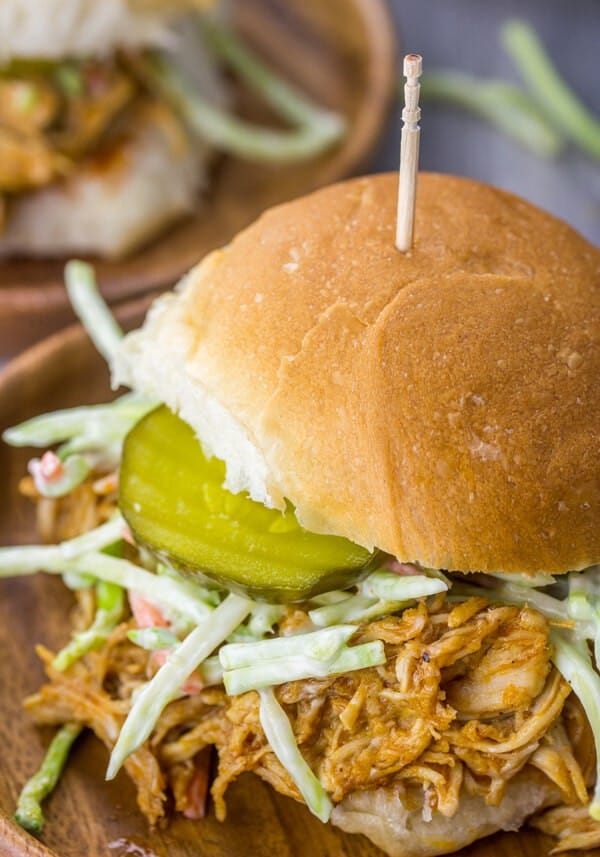 So have you seen this trend of the Nashville Hot Chicken yet? KFC got me hooked on the stuff. They had them in their chicken littles and I couldn't stop buying them! Of course they were hot as heck so I could only consume a little bit at a time, but seriously so so so good.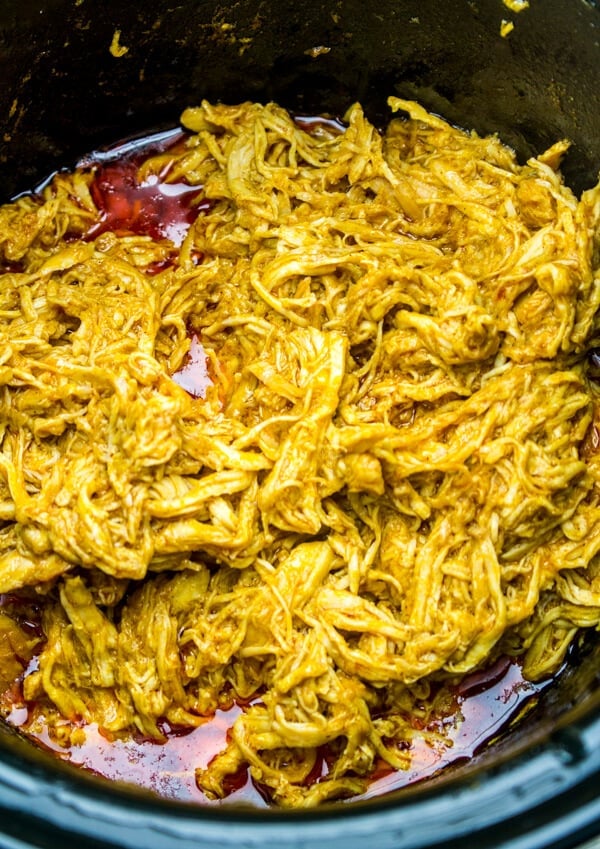 So I figured I'd jump on the bandwagon and create something around that and twisted it to make these Slow Cooker Nashville Hot Chicken Sandwiches. They are absolutely perfect if you want a fix it and forget it meal for the week or weekend.
It's a toned down version of the classic, but still has a kick after each and every bite. That is then mellowed by the broccoli slaw and sliced pickles. I mean how can you have Nashville Hot Chicken and NOT have pickles? It's unheard of right…well at least in my sandwich eating form!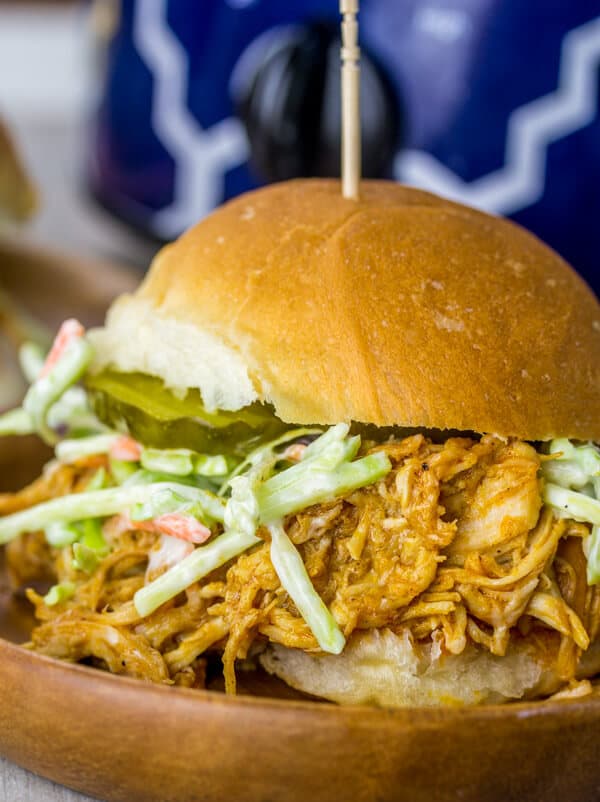 Everything about this recipe is super simple to follow, all you do is mix all the sauce ingredients together and stir and pour over the chicken in the crock pot, cover and set on low for about 4-5 hours and shred.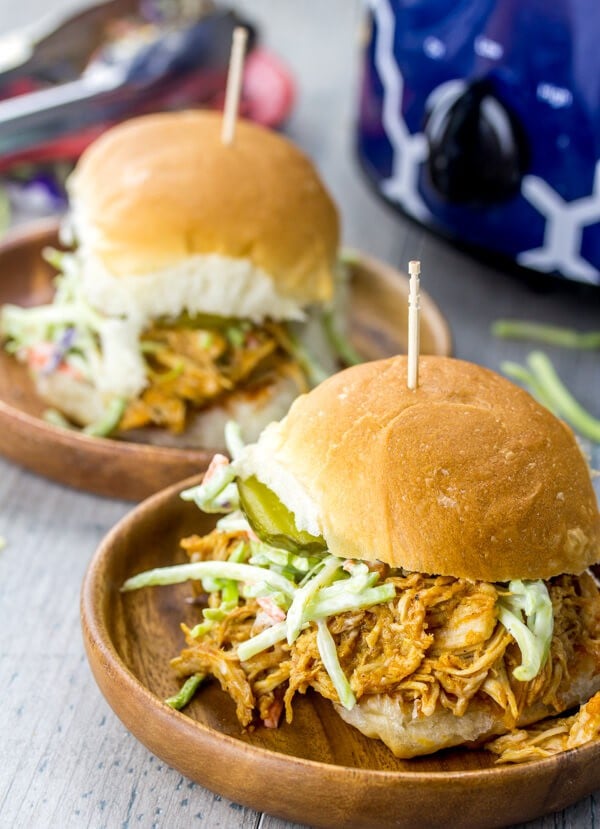 The slaw is even simpler and quicker. I like to use the broccoli slaw because it has a mixture of different textures and flavors but you could absolutely use regular and add in some mayo, apple cider vinegar, sugar and salt and pepper. Give it a toss and top the pulled chicken with that.
To finish these bad boys off you top with some sliced pickles. I found some from Valasic at the store the other day that were sliced and oval and they seemed extra large so I figured they would be absolutely perfect for these Slow Cooker Nashville Hot Chicken Sandwiches and boy were they!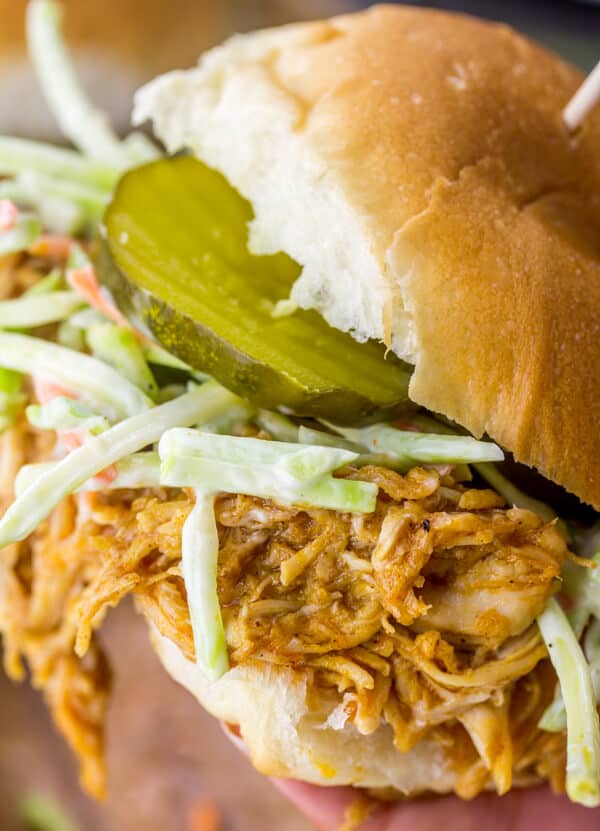 All the flavors play so well with one another! Whoever created this tasty treat has some delicious ideas brewing in that brain. HA! So run, make now….if your kids are spicy lovers like mine then this sandwich will be perfect!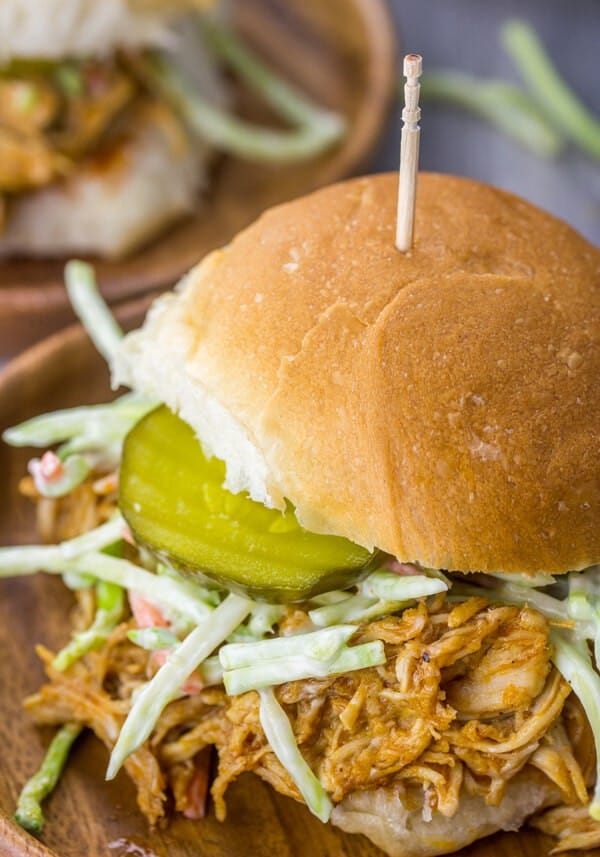 Slow Cooker Nashville Hot Chicken Sandwiches
Ingredients
4

boneless skinless chicken breasts

3/4

cup

vegetable oil

3

Tbs

cayenne pepper

2

Tbs

brown sugar

1

tsp

chili powder

1

tso garlic powder

1

tsp

smoked paprika

2

Tbs

water

2

Tbs

cornstarch

Pickles
Slaw:
1

bag broccoli slaw

1/2

cup

mayo

2

tsp

apple cider vinegar

3-4

tsp

sugar

Salt and pepper
Instructions
In bowl whisk together your oil, cayenne pepper, brown sugar, chili powder, garlic powder and smoked paprika, set aside.

Place 4 chicken breasts in the bottom of a slow cooker, pour sauce over the top and cover and cook on low for 4-5 hours.

Remove lid and shred your chicken

Once shredded in small bowl whisk together your water and cornstarch and pour into shredded chicken and stir.

Cover and cook on high for about 15 minutes to thicken a little.

Meanwhile in large bowl mix together all your slaw ingredients.

Place shredded chicken on bun and top with slaw and pickles.