Creamy, delicious and full of flavor this Lemon Blueberry Cream Pie whips up in minutes and is silky smooth with bursts of fruit.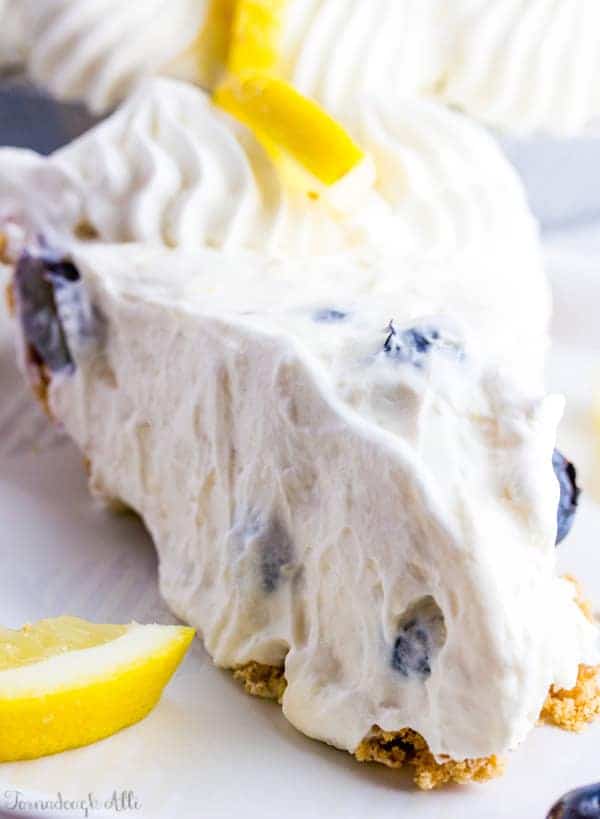 So I kind of have this love affair with all things lemon and blueberry. I mean it's an iconic flavor, how can you go wrong? I've been craving something with lemon for a while now. Well technically I just made these Iced Lemon Sugar Cookies not too long ago, but it was still too long without something lemon flavored in my professional opinion.
This Lemon Blueberry Cream Pie is SUPER easy!!! And when I say super easy, i absolutely mean it. I used store-bought graham cracker crust (you can use homemade if you like) because I felt like being lazy and when my sweet tooth hits it needs something this minute. And the rest of the pie was made in one bowl…can you say yes?
So this pie is actually a play on one of my other favorite desserts – No Bake Cherry Cheesecake Fluff. If you haven't tried that before, you're missing out. So I kinda adapted that recipe to make this into pie form and OMG I'm so happy that I did. I love lemon cream pie but I just didn't want to have to bake anything, do you ever get that way?
I absolutely have no hesitations turning my oven on in the winter time, but sometimes a no bake dessert is just what I want! There are two ways you can eat this bad boy. 1. You can throw it in the pie crust and go, have yourself a super creamy dessert or 2. Toss it in the fridge for a few hours to get a little firmer and eat it that way.
I have no preference either way, its more or less how hungry I am as to if I want to wait on digging in or not. I'm sure a few of you can relate how that goes, especially when it comes to desserts! I mean I swear I'm like this with savory stuff too, but this girl has a sweet tooth like no other.
So do we wanna know how super simple this is to make then? Well all you need is cream cheese, powdered sugar, heavy cream, lemons and blueberries. I think 5 ingredients are pretty simple and I consider 5 ingredients or less "super simple". I guess I rate my recipe simplicity on simpleness depending on how many ingredients each has.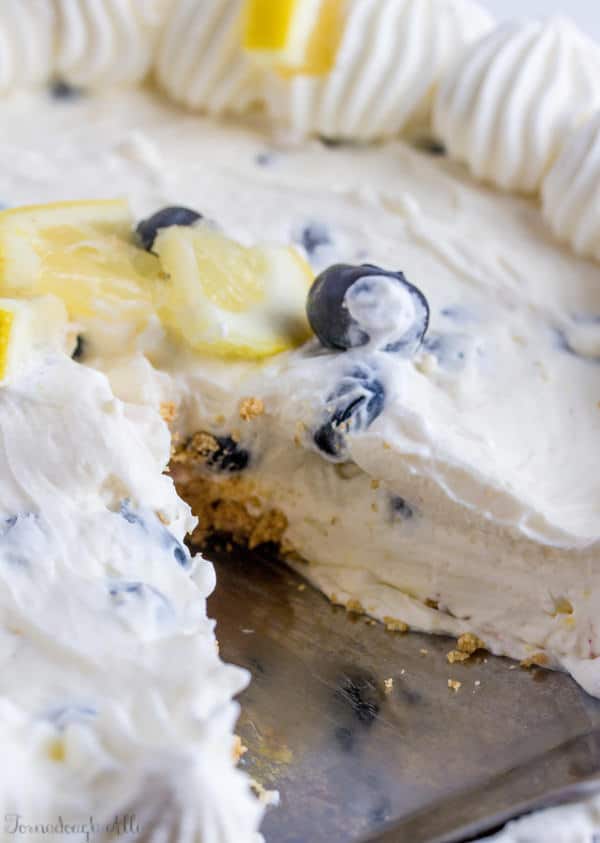 So now that we know that this is a super simple recipe, hop into that kitchen and whip this Lemon Blueberry Cream Pie up. You seriously will be happy you did!
Lemon Blueberry Cream Pie
2017-02-07 22:20:13
Creamy and delicious this Lemon Blueberry Cream Pie is full of lemon flavor and fresh blueberries.
Ingredients
1 (8 oz) package cream cheese, softened
1/2 cup powdered sugar
1 cup heavy cream
Juice and zest of 1 lemon
1 cup blueberries
1 9" premade graham cracker crust
Lemon Whip Cream
1 cup heavy cream
1/3 cup powdered sugar
2 Tbs lemon juice
Instructions
In large bowl with hand mixer mix together your cream cheese and powdered sugar until smooth.
Add in your heavy cream, lemon juice and zest and beat on high for about 3-5 minutes or until it becomes thick.
Fold in your blueberries and then spoon into crust.
Refrigerate for about 2 hours to harden up slightly.
Meanwhile to make your Lemon Whip Cream, mix together your heavy cream, powdered sugar and lemon juice in bowl until stiff peaks form.
Once pie is set up, pipe your whip cream on top, cut and serve!
Tornadough Alli https://tornadoughalli.com/