Like your childhood favorites these Homemade Pizza Rolls are stuffed with pepperoni, cheese and pizza sauce. Making these hand-held treats a fun weekday snack.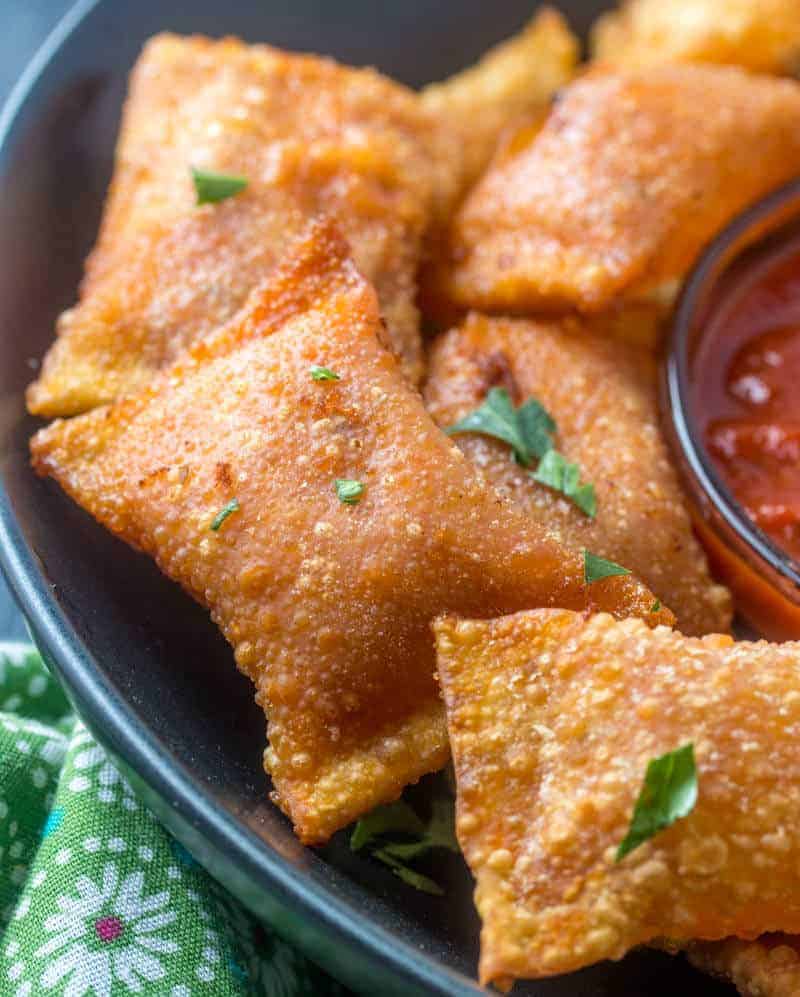 I don't know about you, but my kids are addicted to Pizza Rolls. Yeah we go through bags of those little things like they are going out of style. I do have to admit that I also partake in the binging because, hey…I loved them too!
But the cost can add up from buying one bag after another after another and I get kind of sick and tired of always purchasing them so I figured one day that I would just make some homemade pizza rolls instead. Genius!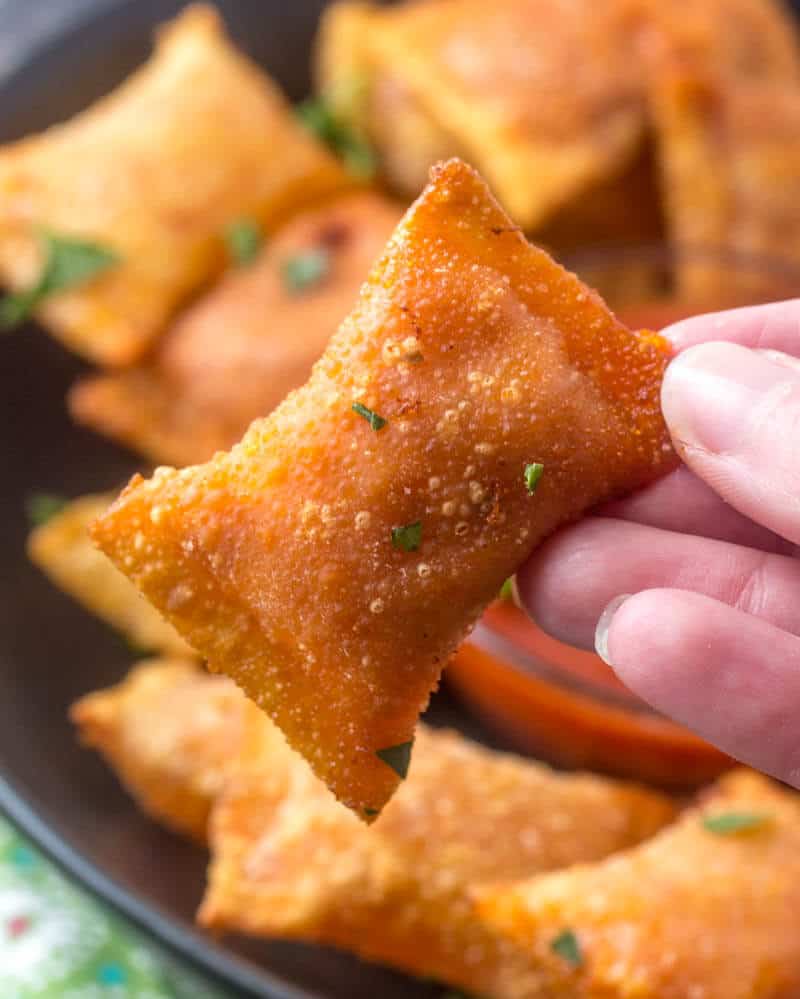 Now you're never going to get that "real" pizza roll flavor, because I just can't copy a boxed meal. But these homemade pizza rolls are just as good and my kids LOVE them!
They are a little time consuming consuming, stuffing each and every roll, but it's so worth it and it's fun that you can create something at home that you usually just buy from the grocery store. WIN!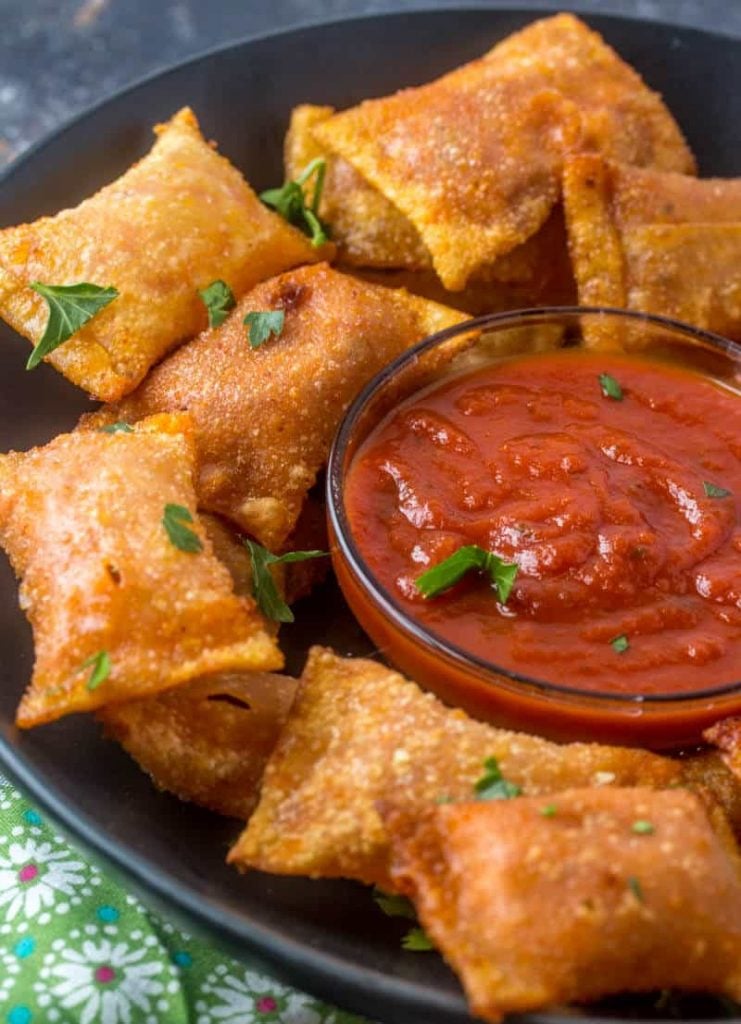 Ok so I'm going to TRY to explain my steps for folding and sealing these puppies. Don't mind my horrendous photos of me showing you HOW to roll and fold these, I used my phone so I could actually kinda show you and not just leave you in the dark with my mumbled words.
So you'll want to start out with 5 sheets of egg roll wrappers. You then cut those into quarters so you'll end up with about 4 squares. You'll add a little filling off to the left side of the square and then you'll wet all sides and roll it up.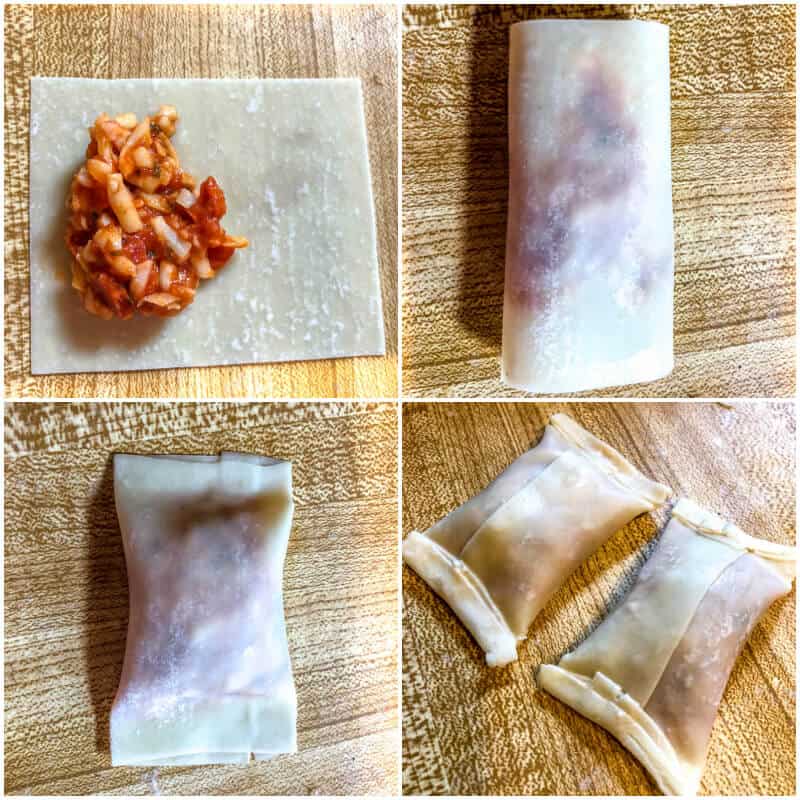 Then you'll press the edges down to seal and then roll up slightly to seal again. Follow me? I truly hope the pictures help. You'll want to make sure they are sealed nice and tight or they will burst open in the hot oil, and thats never good…who want's and empty pizza roll? Surly not I!
So hopefully those directions weren't too horrific, its really a weird process to try to explain so hopefully the pictures can help a little bit because these things are SUPER addicting! My kids go wild when I make these bad boys!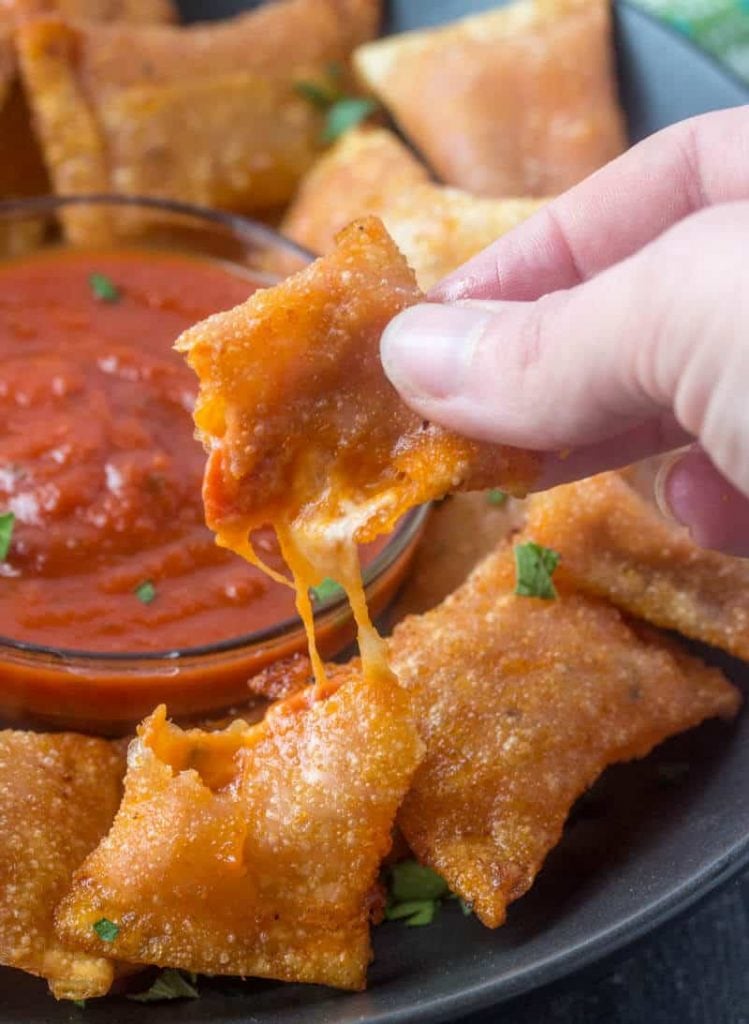 Serve these delicious little things with a side of pizza sauce and you'll have an amazingly delicious treat that everyone will love! If you're having pizza night at home, these are a fun addition along side your normal slice, or maybe even hav these the main dish and serve with a side salad!
There are so many options also for filling these, pepperoni, sausage, cheese, supreme, chicken. Limitless, as long as you can stuff it all inside, it will be amazing!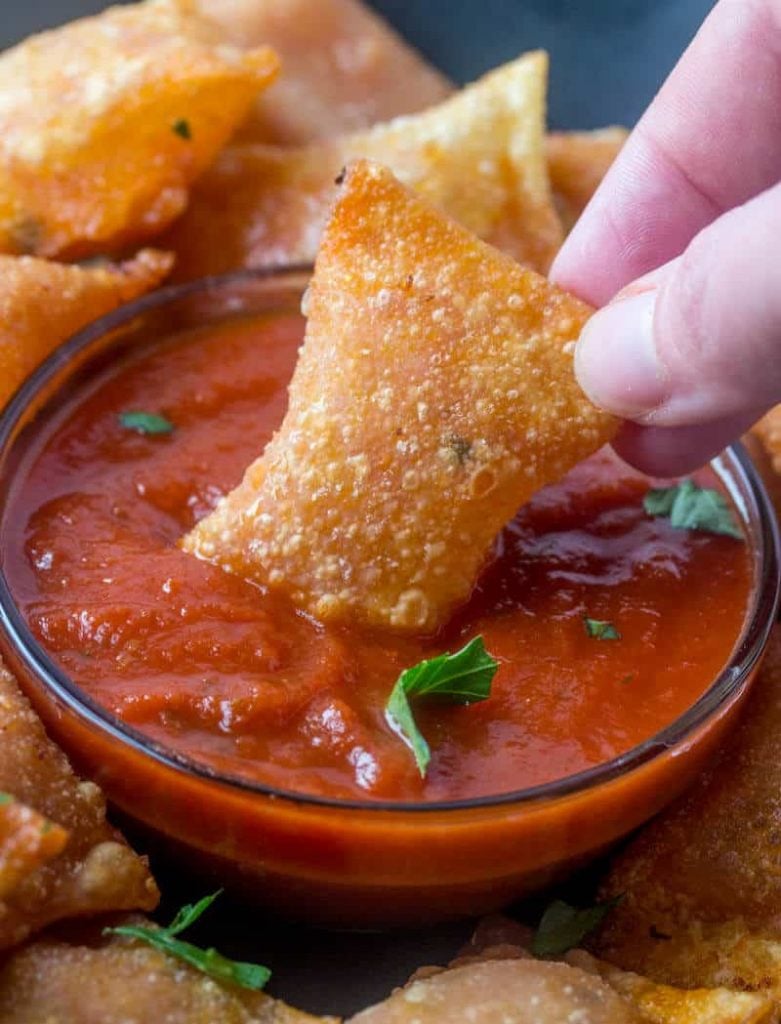 If you like this recipe you might also like this Italian Pasta Salad, Supreme Pizza Sliders and Supreme Pizza Egg Rolls.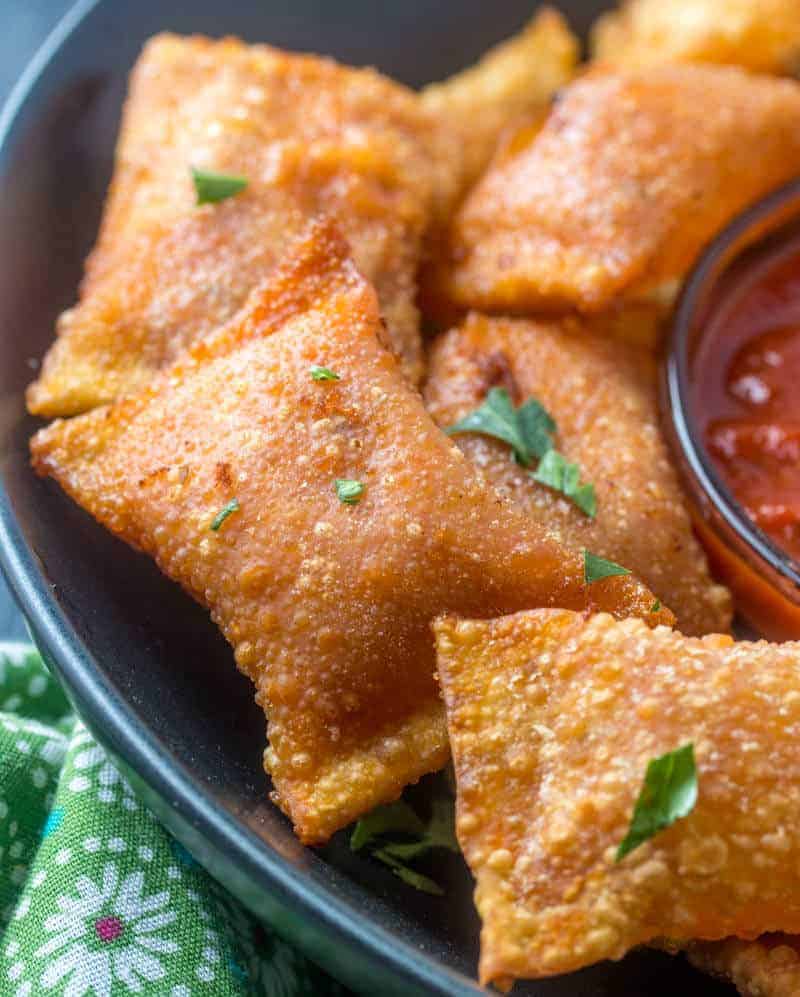 Homemade Pizza Rolls
Like your childhood favorites these Homemade Pizza Rolls are stuffed with pepperoni, cheese and pizza sauce. Making these hand-held treats a fun weekday snack.

Ingredients
5

egg roll wrappers

1/3

cup

chopped mini pepperoni

or regular sized, minis are thicker

1/4

cup

pizza sauce

1

cup

shredded mozzarella cheese
Instructions
Preheat 1"-2" of oil in pan to 350 or in deep fryer.

Cut each of your egg roll wrappers into 4 squares.

Chop your mozzarella cheese into smaller pieces.

In bowl mix together pepperoni, pizza sauce and cheese.

Place heaping teaspoonfuls of filling onto the left side/center of your egg roll wrapper leaving 1/2" above and below filling.

Using your finger, wet all edges of wrapper with water.

Gently roll your pizza roll up and press above and below filling to seal edges.

Wet the top and bottom again and just gently fold each up to create a small seal (reference photos above in post).

Make sure you seal tightly so they do not bust open in oil.

Place about 4 into heated oil at a time frying for about 1-2 minutes until puffy and golden.

Remove from oil and drain on paper towel lined plate.

Serve with pizza sauce for dipping if desired.