The complete opposite of the classic cookie these Chocolate Peanut Butter Blossoms are a quick and easy cookie that will soon be a holiday favorite.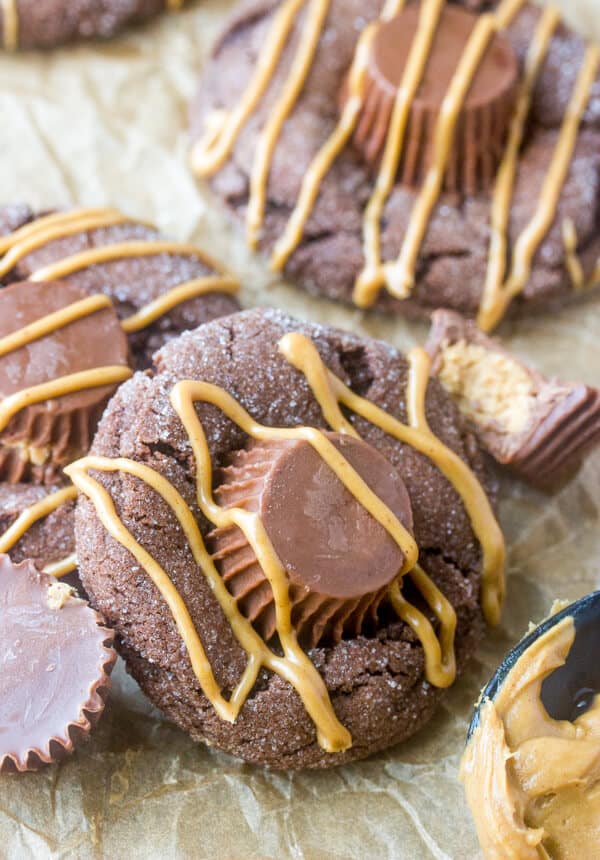 Do I have any Cyber Monday shoppers out there? You are my people! I've never been the one to go out in the crowds. I like to sit at home behind my computer screen and go to town on my bank account instead. That's legit right? I mean yeah we don't get the goodies right away but I don't have to interact with all the people either. So it balances itself out.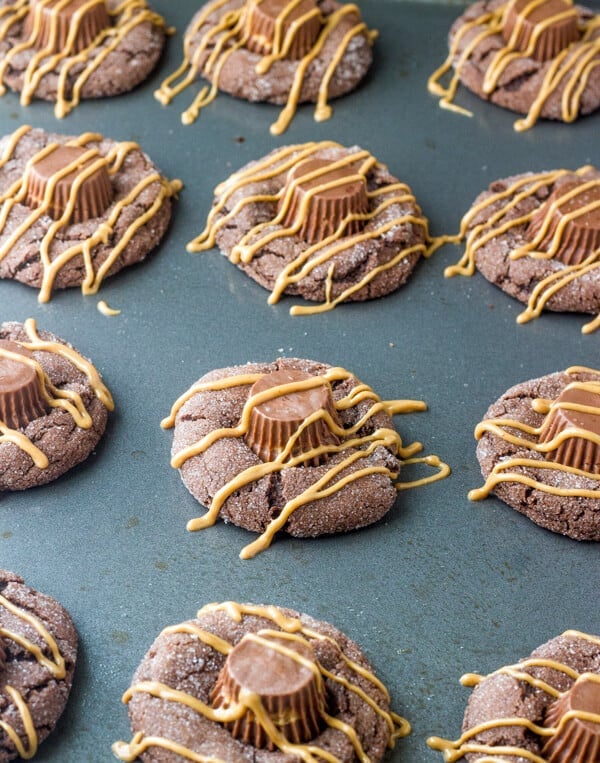 But if you're sad about not getting the goodies today, here are some goodies I will give you. Chocolate Peanut Butter Blossoms. So you all know the all so delicious Peanut Butter Blossom cookies, well let's call this it's cousin. It is pretty much the exact same cookie but reversed.
We have a chocolate cookie with a peanut butter candy and a peanut butter drizzle. You guys, these cookies are a flavor explosion. Now I'm all for the original but when it comes to these Chocolate Peanut Butter Blossoms I'll have to admit it is REALLY hard to keep me out of the cookie jar.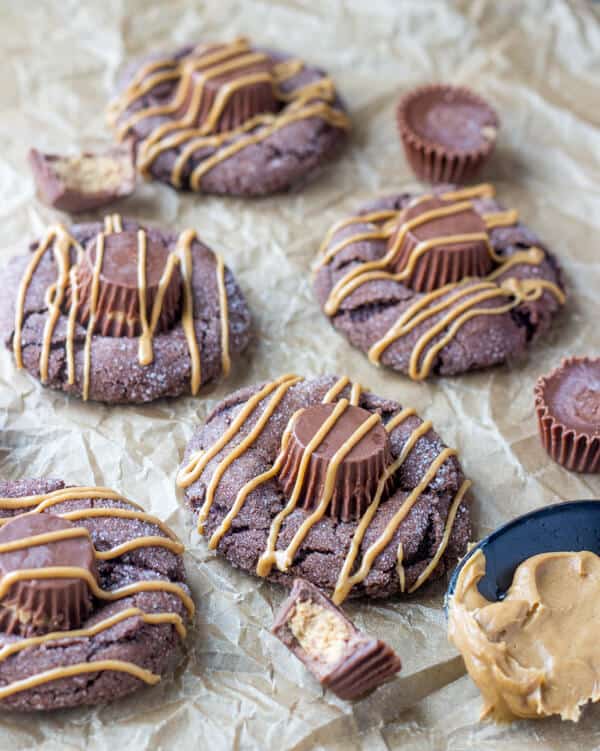 These are the perfect edible Christmas gift for your friends and family this year. They are quick and easy to make and they travel really really well. They can also be frozen for later consumption, but in all honesty you probably won't have that happen since they will most likely be gone by the time you had a chance to put them in the freezer.
Kids love these too! But that's a no brained, they're cookies and are the iconic chocolate and peanut butter duo. I sat these out at my son's birthday party and the kids like swarmed to them. Forget the cake they said, they wanted cookies.
To br honest I've never been the biggest cookie fan. Don't ask me why, it's not like I'm totally against cookies but I'm so picky. I like soft and chewy and my family makes crispy so I've always avoided them. But these Chocolate Peanut Butter Blossoms meets all my requirements for me to love, and you will too!
Ingredients
1

cup

butter

softened

1 1/4

cup

sugar

divided

1

cup

brown sugar

2

eggs

2

tsp

vanilla

2 1/4

cup

flour

3/4

cup

unsweetened cocoa powder

1

tsp

baking soda

36

mini Reese's Peanut Butter Cups

1/4

cup

peanut butter
Instructions
Preheat oven to 375.

Line a cookie sheet with parchment paper and set aside.

In large bowl beat butter until creamy, add 1 cup in sugar and 1 cup brown sugar and continue to beat until blended.

Add your eggs and vanilla and beat until incorporated.

In another bowl whisk together your flour, cocoa powder and baking soda.

Add into your butter and sugar mixture and continue to beat until blended.

Roll into about 1.5" balls, roll in remaining quarter cup sugar and place on cookie sheet.

Bake in batches for about 8 minutes and slightly puffy and spread out.

Remove from oven and immediately press your peanut butter cups with widest side down into cookies.

Let cool.

Add your peanut butter to a small bowl and microwave for about 30 seconds until melted.

Drizzle peanut butter over cooled cookies and let set up for about 5-10 minutes.