If you want a simple breakfast or dessert recipe that has 6 ingredients and is done in 25 minutes then this Braided Apple Puff Pastry is for you!
Breakfast is one of the most important meals of they day, or so they say. Mine usually consists of some coffee and thats about it.
I know shame on me, but when it comes to having something sweet for breakfast this Braided Apple Puff Pasty is one of my favorite things ever.
Not only is it quick to whip up, it bakes up just the same. Oh and it's absolutely to die for. I love easy recipes, you all know that and this is super super easy!
WHY THIS RECIPE WORKS:
It consists of only 6 ingredients.
You can use canned apple pie filling or make your own.
Puff pastry is super versatile and is easy to use in this recipe.
We have been making Puff Pastry desserts for a long while now, I haven't posted a lot of them because we eat them up super quick.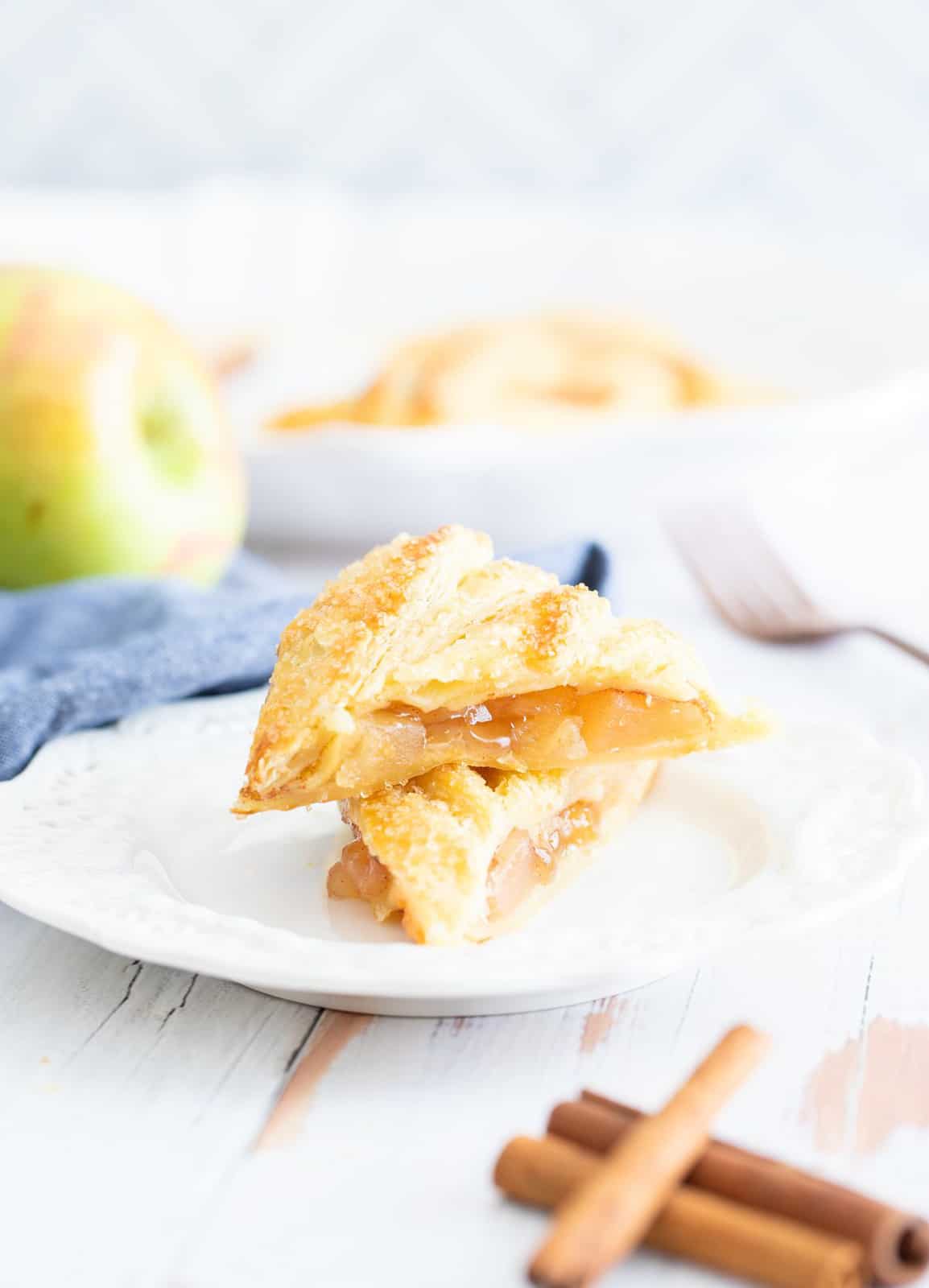 But some of my favorite breakfasts/desserts/appetizers that use puff pastry that we have include Strawberries and Cream Puff Pastry, Lemon Blueberry Danishes and these Sausage Rolls.
See what I mean about it being versatile, it can be used in a variety of things either sweet or savory, it really doesn't matter, as long as it's good.
And let me tell you this simple Apple Puff Pastry is delicious, it is one of the most requested desserts whether it be fall or summer.
It is on the kids all love and that I love to make because we always have puff pastry on hand and it whips up quickly.
HOW TO MAKE BRAIDED APPLE PUFF PASTRY, STEP BY STEP: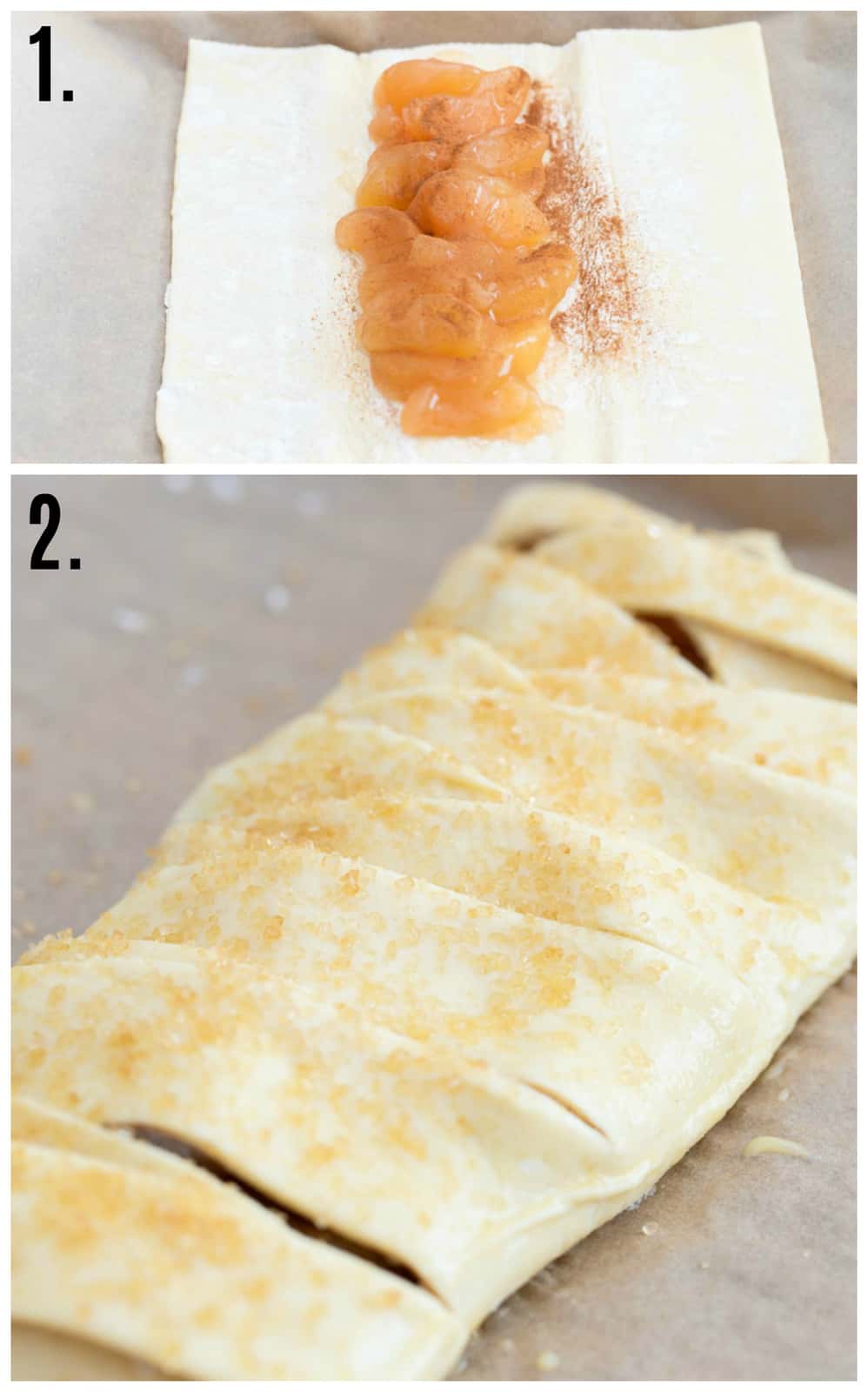 Preheat the oven to 400°F. On a parchment lined sheet tray, unfold the puff pastry sheet. Spread the apple pie filling down the center of the pastry, between the two lines. Sprinkle the ground cinnamon on top.
Make 8 diagonal cuts facing the bottom of the pastry on each side of the filling. Cut off the bottom part of the pastry flaps and the top part of the pastry flaps, leaving the center pieces intact. Fold the top over the filling, then alternating sides, lay the pieces of pastry on top of each other to mimic a braid. When you get to the bottom, before the last two braid sections on each side, fold the bottom part of the pastry over the filling, continue with the last two braided sections.
In a small bowl, whisk the egg with a splash of water to make an egg wash. Brush the egg wash all over the pastry. Sprinkle the coarse sugar on top. Bake for 18-20 minutes until golden brown. Let cool for 10 minutes, slice and serve.
See, it really isn't that hard to make a Braided Apple Puff Pastry, or any other kind of fruit that you might like, we have tried this with various!
HOW TO STORE:
Puff pastry is really best eaten the same day that it is made, so I don't recommend storing this for very long.
If you will not eat this in the first day that you make it I recommend storing in an airtight container and you can store at room temperature for maybe one more day.
WHAT ELSE CAN I FILL THIS WITH?
We have done various different fillings like I said, we have done pumpkin pie filling, cherry pie filling, blueberry pie filling, etc.
You can make your own homemade filling or to make it easier just use the canned stuff, we kinda like the easy route.
But that's because sometimes I can be a lazy baker and just want something that I can whip up ahead of time, but whatever works best for you is the best.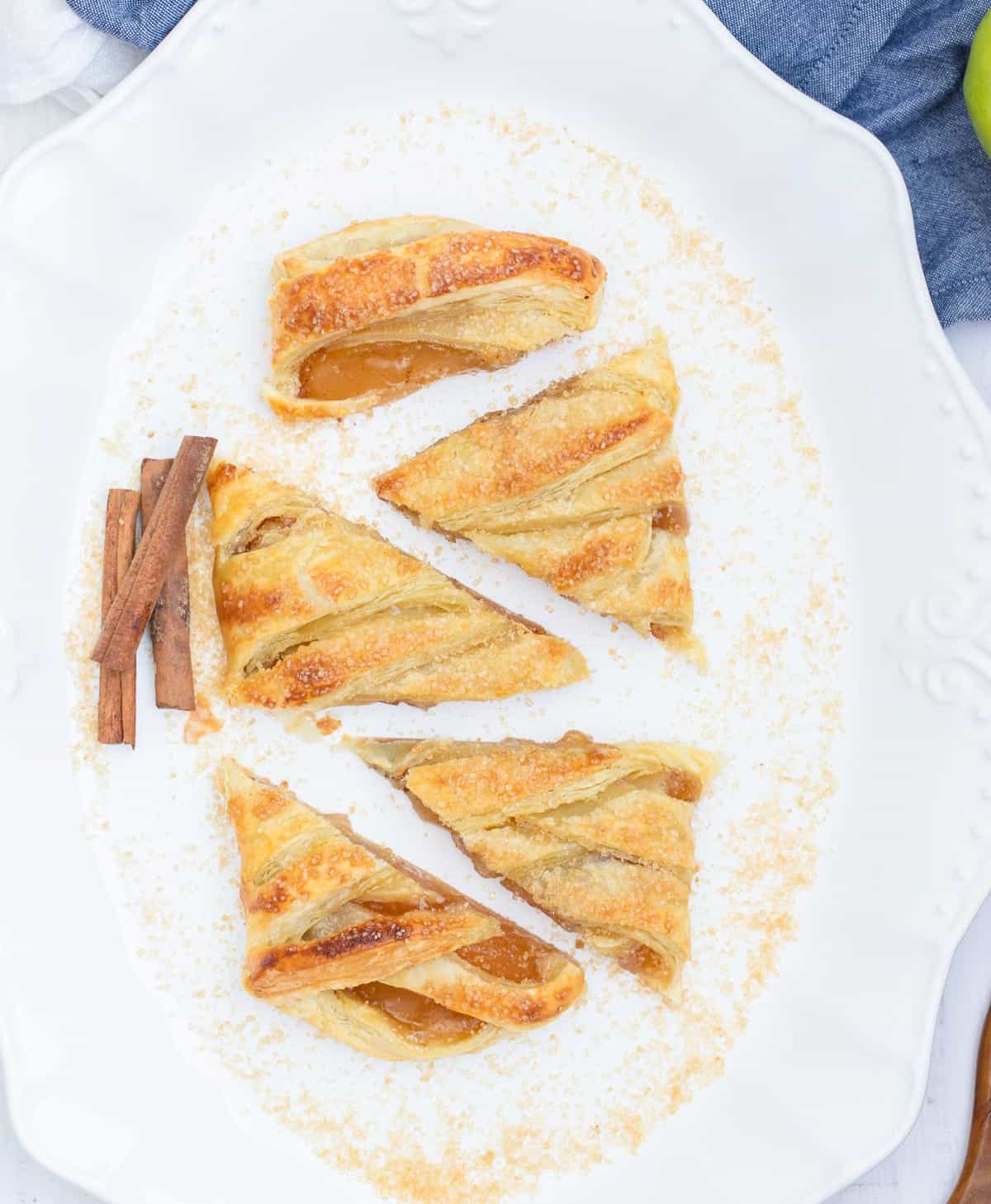 I love the browning that this Apple Puff Pastry creates, I just love puff pastry in general! You can actually defrost puff pasty and let it sit in the refrigerator for 1-2 days before use.
So if you aren't planning on making this recipe the first day you can let the puff pasty stay refrigerated for that long.
TIPS AND TRICKS:
Make sure your puff pasty is defrosted, this usually takes about 40 minutes at room temperature.
You can easily double this recipe as puff pastry sheets usually come in two packs!
You can fill with other various pie fillings, see my notes above on options.
This is best eaten the first day as cooked puff pastry does not store well for long periods of time.
Defrosted Puff Pastry can be left in the refrigerator for 1-2 days before using.
You can make your own filling for this recipe if you like instead of using canned like we do.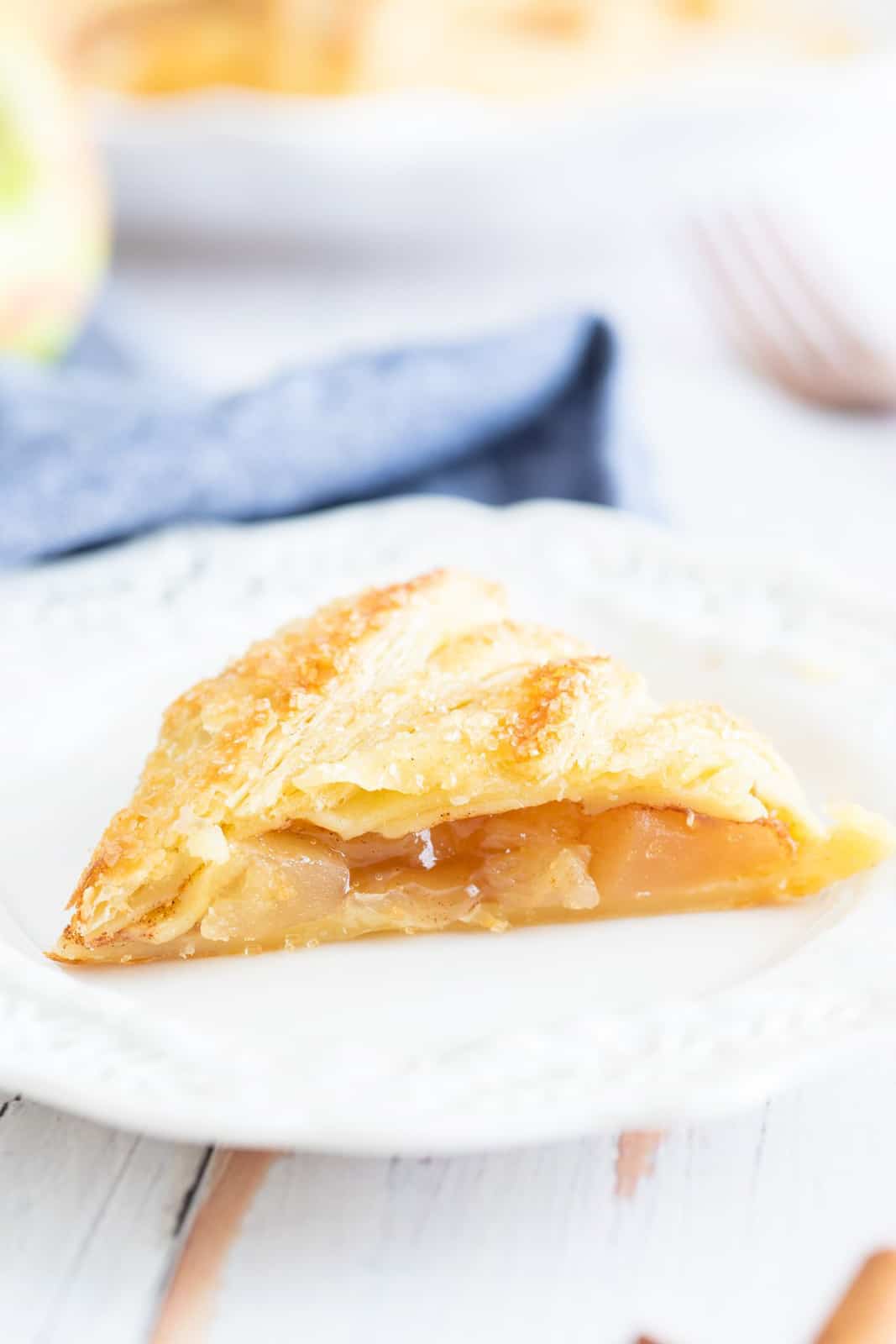 If you're looking for the perfect easy breakfast or dessert recipe you have to whip up this Braided Apple Puff Pastry!
If you like this recipe you might also like:
If you've tried this BRAIDED APPLE PUFF PASTRY or any other recipe on my site, let me know in the comment section how it turned out, we love hearing from our readers! You can also follow along with me on PINTEREST, FACEBOOK and INSTAGRAM to see more amazing recipes and what shenanigans I'm getting into!
Braided Apple Puff Pastry
If you want a simple breakfast or dessert recipe that has 6 ingredients and is done in 25 minutes then this Braided Apple Puff Pastry is for you!
Print
Pin
Rate
Ingredients
1

sheet puff pastry

thawed per directions on the box

8

oz

apple pie filling

1/4

teaspoon

ground cinnamon

1

egg

Splash of water

2

tsp

coarse sugar
Instructions
Preheat the oven to 400°F. On a parchment lined sheet tray, unfold the puff pastry sheet.

Spread the apple pie filling down the center of the pastry, between the two lines. Sprinkle the ground cinnamon on top.

Make 8 diagonal cuts facing the bottom of the pastry on each side of the filling. Cut off the bottom part of the pastry flaps and the top part of the pastry flaps, leaving the center pieces intact. Fold the top over the filling, then alternating sides, lay the pieces of pastry on top of each other to mimic a braid. When you get to the bottom, before the last two braid sections on each side, fold the bottom part of the pastry over the filling, continue with the last two braided sections.

In a small bowl, whisk the egg with a splash of water to make an egg wash. Brush the egg wash all over the pastry. Sprinkle the coarse sugar on top. Bake for 18-20 minutes until golden brown. Let cool for 10 minutes, slice and serve
Nutrition
Calories:
280
kcal
|
Carbohydrates:
30
g
|
Protein:
4
g
|
Fat:
16
g
|
Saturated Fat:
4
g
|
Cholesterol:
27
mg
|
Sodium:
130
mg
|
Potassium:
52
mg
|
Fiber:
1
g
|
Sugar:
7
g
|
Vitamin A:
49
IU
|
Vitamin C:
1
mg
|
Calcium:
8
mg
|
Iron:
1
mg
Nutrition Disclaimer