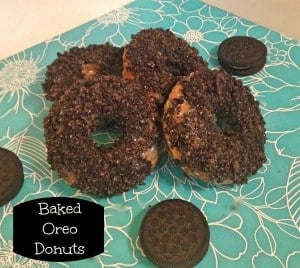 Good morning and happy hump day to all you midweekers. I am going to make this post short and sweet today. I had a child up throwing up until 3:00 am this morning so this mama has had little to no sleep. Waiting for him to wake up to see how he is, then it's off to go get some much-needed medication, hydration and oh A NEW CAMERA!
So since I'm in the midst of taking care of something not to appealing, I'll leave you this morning with something to go along with your cup of coffee! I love baked donuts. I have Baked Butterfinger Donuts on the blog as well! They are so easy, so delicious that they are my go to way to make donuts these days, especially if you're in a crunch for time. So to much ado:
Serving Size – 6 Donuts
Ingredients:
Donuts:
1 cup all-purpose flour
1 tsp baking powder
1/4 tsp salt
1/4 cup granulated sugar
1 egg
1/4 cup sour cream
3 Tbs milk
1 Tbs butter, melted
1 tsp vanilla
3 crushed Oreos
Glaze:
1 cup powdered sugar
1-2 Tbs milk
4-5 crushed Oreos
Pre-heat oven to 400. In bowl, add all dry ingredients and stir to combine. Add egg, sour cream, milk, vanilla, butter and crushed Butterfingers. Stir everything until just combined.
Spray your donut pan with non-stick cooking spray. In a plastic bag or piping bag add your dough. Push out any air and seal. Cut a hole in tip and start piping into wells. Bake for 8-10 minutes, when done remove to cooling rack.
Meanwhile to make your glaze,in bowl add the powdered sugar and milk adding a little at a time for desired consistency, combine, In a separate bowl place your extra crushed Oreos.
When donuts are cooled, dip the tops of each donut in the glaze then set aside to set, do this a few more times to get a thicker glaze on top, once thick dip into your crushed Oreos. Place back onto cooling rack to set. Serve and enjoy!
To see where I'm linked at visit my Link Parties page and join the fun! Remember to stop by every Thursday night and link up to our very own Throwback Thursday's!