This Pink Velvet Cake with Purple Vanilla Buttercream is the perfect cake for a birthday celebration where bright colors and fun are a focal point!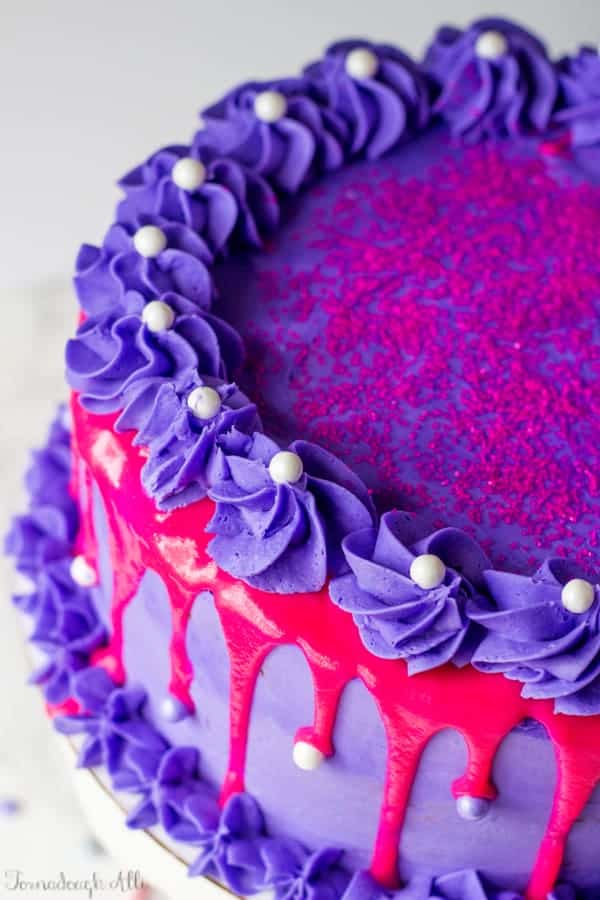 So we had a Birthday recently around here. My daughter turned 3 on the 18th. Boy was she ever excited for cake. Seriously, I asked this girl for weeks what she wanted for her birthday and all she would ever tell me was "purple cake". Ok, well that doesn't quite tell me child what kind of gifts you want, but at least I know what kind of cake you want!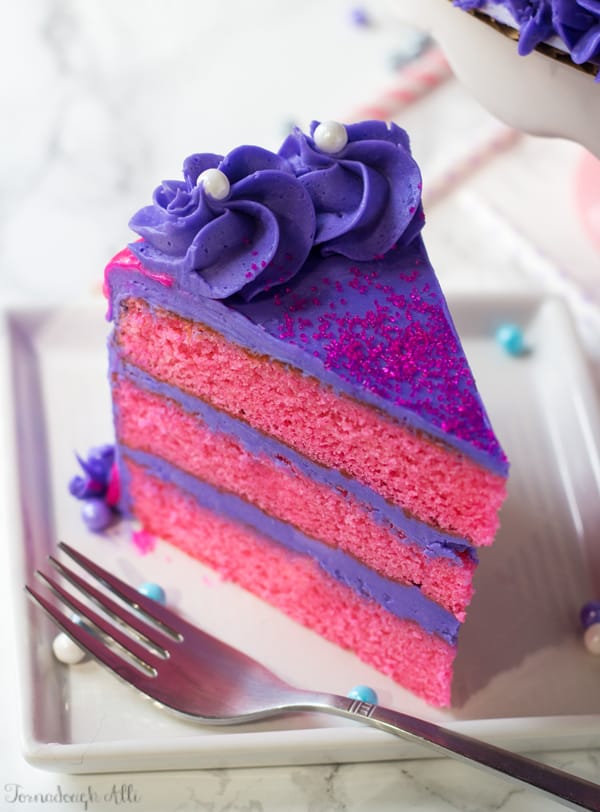 My daughter is a very colorful little diva. She switches her loves between pink and purple so often that I think in reality she just says the first one that comes in her mind. So obviously I needed to incorporate some pink into this cake as well. So low and behold this Pink Velvet Cake with Purple Vanilla Buttercream came to be.
This cake was trouble….well more or less I was trouble. If you've ever tried to decorate a cake when you have all 4 of your kids home with you and one of them being a toddler who literally is stuck to your side, it doesn't always go as planned.
What should have taken me maybe 2 hours ended up taking me 6 hours. Goodbye that Saturday went. But honestly, it was all worth it just to be able to see my daughters face when she got the purple cake of her dreams.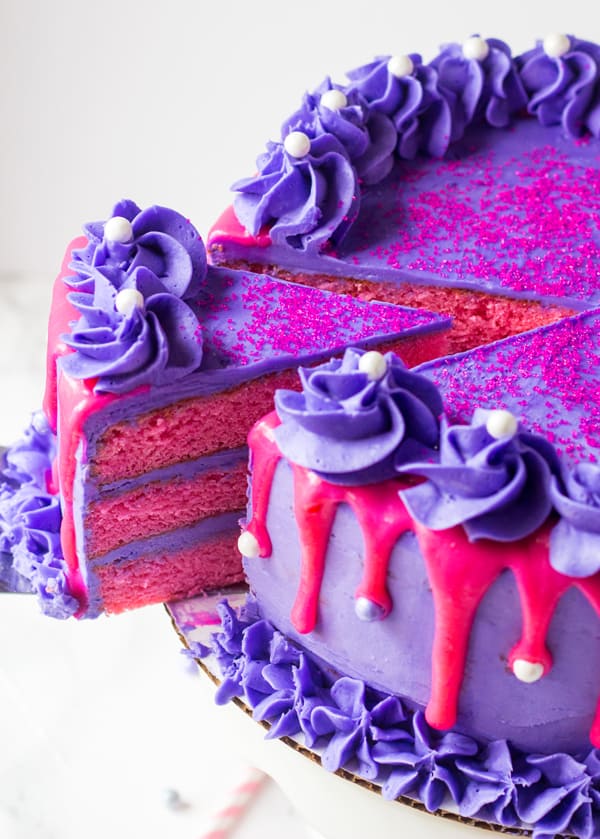 If you know me and have been reading my blog, you know that I've become quite addicted to cake baking and decorating. I absolutely am in love with this Banana Peanut Butter Cake and don't even get me started on this Pumpkin Spice Cake.
But I am no means an expert at all!! Trust me, a lot of youtubing and googling have been involved over the past year to learn new techniques and styles on it.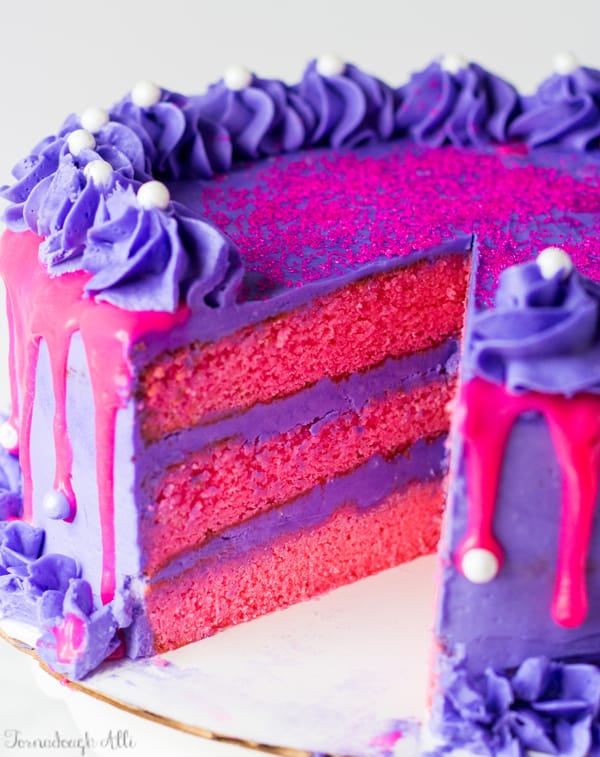 But cake is absolutely one of my all time favorite desserts and I think that's why I keep making it. All the flavor combinations that you can create between the frosting and the cake itself is absolutely endless.
For this Pink Velvet Cake I decided to keep it sweet and simple, so we have a plain vanilla cake and vanilla buttercream. I didn't want to overwhelm my daughter with all these flavors and sometimes just sticking to original flavors is best!
The difference between this cake and all my others is that I didn't tort (cut in half) my cake layers to create the layers in the cake. This time I actually baked all my cakes in individual 9″ cake pans and just layered them on top of one another. Honestly, it's so much simpler! But I still love torting, so I'm sure I'll continue to do it in the future, it's just what I do.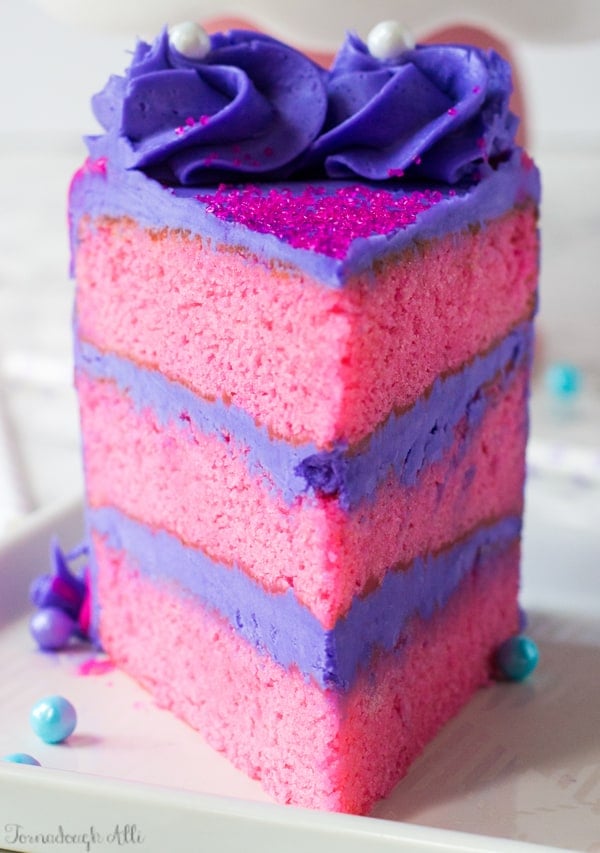 My son's birthday was actually the previous week on 9/11 and we did a baseball cake for his choice. I would have loved to of put that up here on the blog, but I am human, I am not perfect and that cake didn't turn out as good as I hoped.
Tasted great, looked decent, but sometimes you just have to throw in the towel and admit defeat and that's what I did.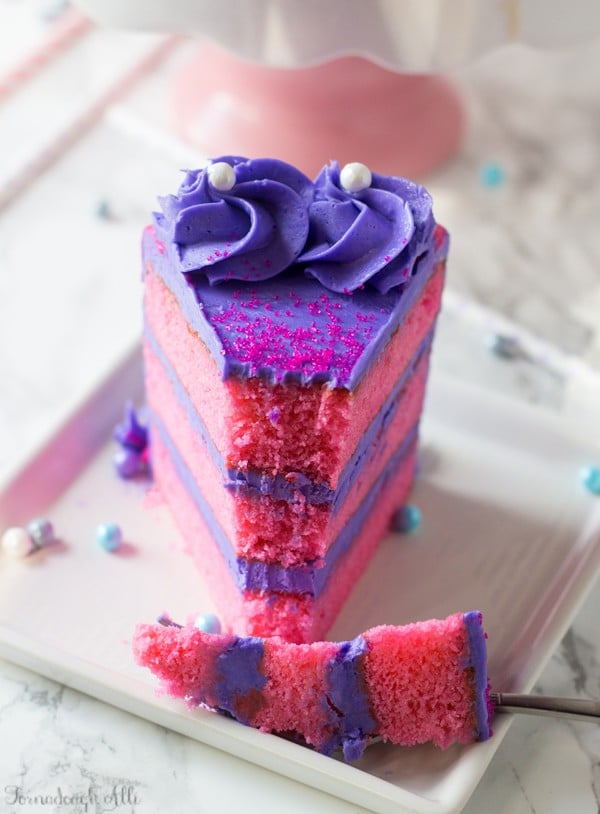 I have learned through this cake decorating process that I am not an intricate piper, I do not have a steady hand, so anything that requires straight lines, designs…not gonna happen from me. I tried to salvage the baseball cake and freeze it to set up the frosting laces in hopes that I could fix my shaky design, alas it didn't work!
But that's ok! My kids really aren't about the look of the cakes so much as they are about the taste and the reasoning behind them, which I appreciate.
But in all honesty, it's just really fun to do so if you enjoy making cakes, let me tell you, practicing is all that you can do. I would adore to take a cake decorating class at some point to learn some new things and try new designs. But youtube and google and practice is what is getting me by these days.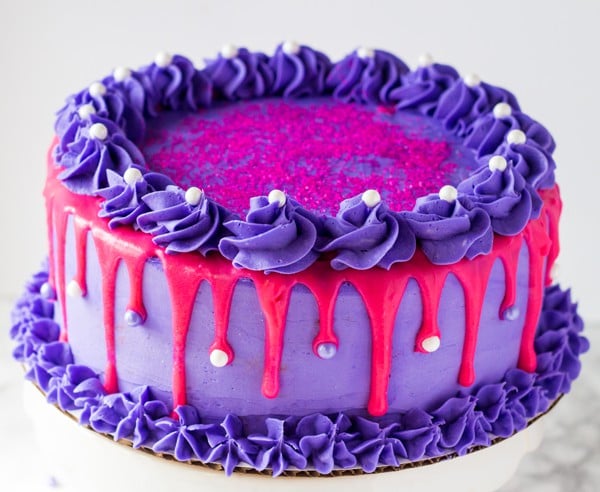 So in ending this longish talk about cakes, I hope you enjoy this Pink Velvet Cake with Purple Vanilla Buttercream as much as my family did! It's a fun bright cake that makes a statement and my daughter enjoyed! Happy Caking everyone!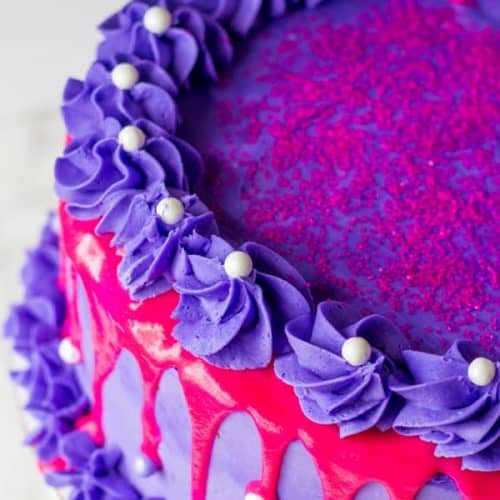 Pink Velvet Cake with Purple Vanilla Buttercream
A bright vibrant pink vanilla cake is baked and filled and frosted with purple buttercream, glazed in a pink ganache and decorated

Print
Pin
Rate
Ingredients
1 1/2

cup

butter

softened

2 1/4

cup

sugar

4

egg whites

3

tsp

vanilla

3

cups

flour

3

tsp

baking powder

1 1/2

cup

milk

Wilton Pink Gel food coloring
BUTTERCREAM
1 1/2

cup

butter

softened

1 1/2

cup

shortening

3

tsp

vanilla extract

6-7

cups

powdered sugar

Wilton Purple Gel food coloring
GANACHE
1

cup

white chocolate chips

1/2

cup

heavy whipping cream

Wilton Pink Gel food coloring

Candy pearls

Pink glitter sprinkles
Instructions
Preheat oven to 350.

Link 3 9" cake pans with parchment paper and spray pan with non-stick cooking spray, set aside.

In bowl beat together your butter and sugar until fluffy.

Add your egg whites and vanilla and continue beating until combined, about 1 minute (do not over mix, you do not want to beat your egg whites into peaks).

In another bowl, combine your flour, baking powder and whisk together.

In alternate additions add your 1/3 flour mixture and your milk to the butter/sugar mixing after each addition.

Add in enough food coloring and mix on low until you get your desired color.

Divide your batter equally between your prepared pans.

Bake for about 30 minutes or until center is set and toothpick inserted comes out clean.

Remove from oven and allow to cool in pans for about 5 minutes before transferring to cooling racks.

Meanwhile to make your buttercream in large bowl mix together your butter and shortening until light and fluffy .

Add in your vanilla and mix to incorporate.

Adding 1 cup at a time, add your powdered sugar until you reach your desired consistency.

Lastly stir in enough food coloring to get your desired color.

Once cakes are cool add your bottom layer of cake to a turn table and top with about 3/4 cup of your buttercream and smooth to edges. Repeat with remaining layers.

Spread a thin layer of frosting over top and sides of cake to seal in the crumbs, place cake in freezer for about 15-30 minutes.

Once chilled pipe remaining frosting onto sides with a long flat ribbon tip and smooth out over sides and top of cake. Place back into freezer.

Meanwhile to make your ganache, place your chocolate in a heat proof bowl.

On stove top add your heavy cream to pan and heat until it just beings to boil, then remove and pour over your chocolate. Cover for about 5 minutes.

Remove top and stir your cream and chocolate together until its all melted and blended. Place in refrigerator until thickened slightly 15-20 minutes.

Remove cake from refrigerator and spoon a little of your ganache over the edges of your cake so it drips down the sides, add your candy pearls to your shorter drips if desired.

Using an open star tip, pipe swirls on top of cake and around bottom with your remaining buttercream.

Sprinkle top of cake with pink glitter sprinkles and add more of your pearls to the top swirls if desired.

Refrigerate until ready to serve.
Notes
If your ganache doesn't set right after drizzling onto cake place in fridge or freezer to harden it before decorating.
Nutrition
Calories:
953
kcal
|
Carbohydrates:
99
g
|
Protein:
5
g
|
Fat:
61
g
|
Saturated Fat:
31
g
|
Cholesterol:
106
mg
|
Sodium:
342
mg
|
Potassium:
210
mg
|
Fiber:
0
g
|
Sugar:
80
g
|
Vitamin A:
1215
IU
|
Vitamin C:
0.1
mg
|
Calcium:
107
mg
|
Iron:
1.2
mg
Tornadough Alli is not a nutritionist or dietitian, and any nutritional information shared is an estimate. If calorie count and nutritional value is important to you, we recommend running the ingredients through whichever online nutritional calculator you prefer. Calories and values can vary depending on which brands were used.
Nutrition Disclaimer