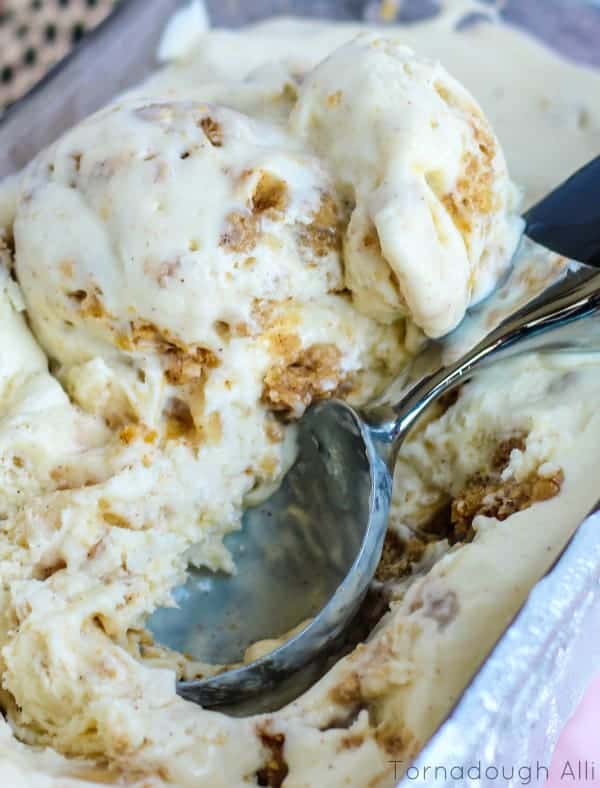 Tomorrow is the official start to Spring Break in our school district! I love having my boys home with me during the day, so the 6 days they have off are going to be great. I decided that I was going to make them a special treat to enjoy their time off! My boys are huge ice cream lovers, as well as my husband so I whipped up a batch of this super easy Apple Crisp Ice Cream.
OK, I'm going to give it to you straight. This ice cream is absolute heaven. Honestly, I am not the biggest ice cream fan in the world…weird I know. This stuff though, OMG amazing!! Apple Crisp alone is a dream, add it to ice cream and you take it to a whole nother level for sure. Vanilla ice cream, spiced with a little bit of cinnamon and laden with gooey and crunch chunks of Apple Crisp. Yup, that is my dream description right there. Sold!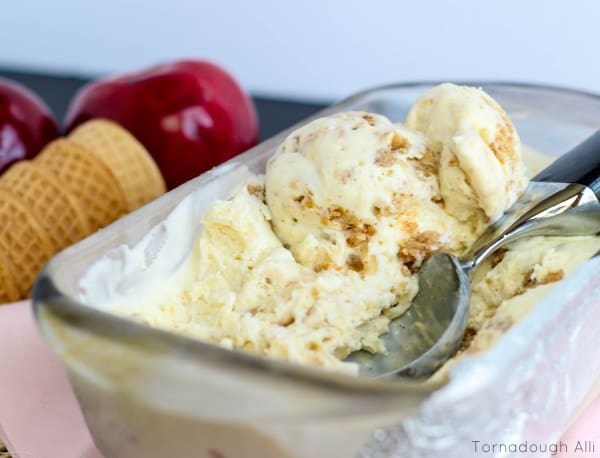 This recipe is so easy and doesn't require and special ice cream maker! 3 ingredients plus mix is and you're set. Possibilities are endless with this recipe, probably why I made a few kinds! Stay tuned for another delicious, kid approved ice cream recipe in the very, very near future!! I think I might have gotten myself into some trouble with these. I have a new addiction, an ice cream making one. My kid and husband will surely love it…my hips on the other hand, not so much!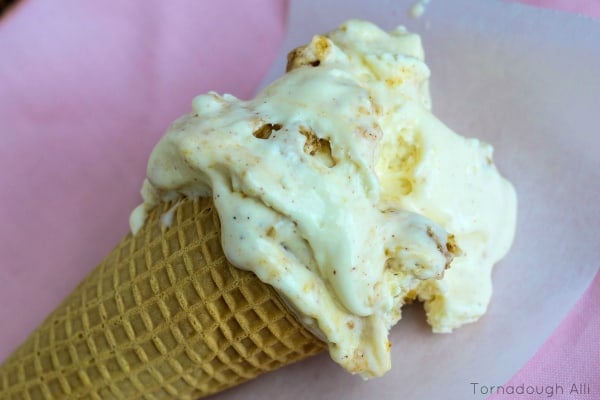 Apple Crisp Ice Cream
2016-03-23 05:31:29
Creamy delicious cinnamon vanilla ice cream studded with chuncks of Apple Crisp pieces and blended to perfection!
Apple Crisp
1 can Apple Pie filling
1 box yellow cake mix
1/2 cup quick oats
1/2 cup brown sugar
1 Tbs cinnamon
1 stick butter, melted
Ice Cream
2 cups heavy whipping cream
1 can sweetned condensed milk
1 tsp vanilla
1 tsp cinnamon
Instructions
Preheat oven to 350.
To make apple crisp, in bowl combine your cake mix, oats, brown sugar and cinnamon and stir to combine.
Add your melted butter and stir until crumbs form.
In a 9 inch pie plate spread your apple pie filling on bottom, top with your filling with the crumbs.
Place in oven and bake for about 30-40 minutes or until golden.
Remove from oven to cool completely.
Once cooled to make ice cream start by beating your heavy cream, vanilla and cinnamon on high until stiff peaks form.
Gently fold in the sweetened condensed milk.
Chop up about half the apple crisp (yay more for you to eat later) into cunks and sprinkle into the ice cream mixture and stir.
Pour mixture into a 9" x 5" bread loaf pan and cover with tin foil and freeze for at least 6 hours or until frozen.
Notes
You'll have leftover apple crisp, woo-hoo! So just enjoy as is, or for more apple crisp flavor serve with the ice cream!
Tornadough Alli https://tornadoughalli.com/
To see where I'm linked at visit my Link Parties page and join the fun! Dont forget to link up with me every Tuesday and Thursday nights at 6pm CST for Wonderful Wednesday and Throwback Thursday!