Love salty sweet treats? Then you'll absolutely adore these Salty Sweet Ruffles Treats. Ruffles chips, Snickers, marshallows and salted caramel make up these delicious bars!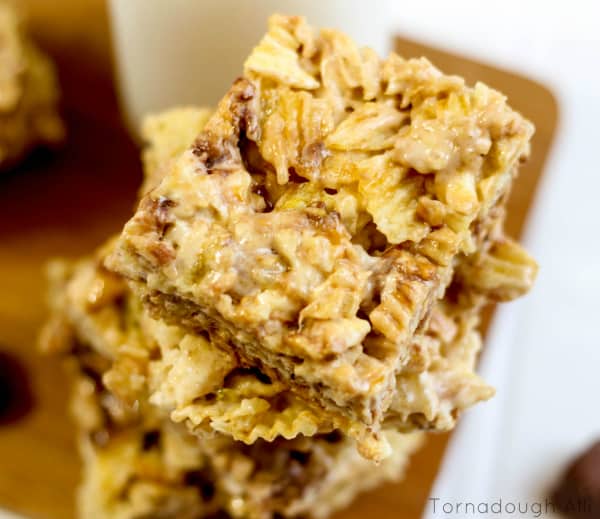 So check it, I joined this group called the Leftovers Club last month. What is the Leftovers Club you may ask? Well it's where a group of bloggers pair up each month with a theme and we whip up a recipe using that theme and ship them to our partners. This months theme was salt, obviously I had to take it the sweet route, and go with these Salty Sweet Ruffles Treats.
I don't know about you but I love the mix of sweet and salty. Plus I have an addiction to salted caramel that trumps no other, I mean I have a whole week in the winter that I dedicate to Salted Caramel Week. What better way to add it all together than to add in some chopped up Snickers? It gives it the delicious chocolatey aspect in these treats. I had to add a little contrast in there. I would have loved them even if I just made them with straight Ruffles and marshmallows.
I was paired with Faye who blogs over at Live…Bake…Love and OMG I received the most delicious cookies from her. Make sure you head on over there and check out those bad boys! But anywho, these bars…make now! For real, if you are looking for an amazing treat and a great conversation starter, look no further!
Salty Sweet Ruffles Treats
2016-04-06 17:51:48
Salty Ruffles chips are combined with melted marshmallow, salted caramel and chopped up Snickers.
Ingredients
1 (9oz) bag Ruffles Potato Chips, crushed
3 Tbs butter
1 (10 oz) pkg mini marshmallows
1/2 cup caramel ice cream topping
2 Snickers bars, chopped
Sea salt
Instructions
Spray a 9"x9" baking pan with cooking spray.
In large pan, melt your butter on medium heat, once melted add your marshmallows and stir until melted.
Remove from heat and stir in your Ruffles, caramel, salt and Snickers.
Press into your prepared pan.
Allow to cool, cut and serve.
Tornadough Alli https://tornadoughalli.com/
Check out the other awesome swaps at this months Leftovers Club!