Think you need all the time in the world to explore one of Americas most historic cities? Think again! Here is my guide to a long weekend in Washington, D.C.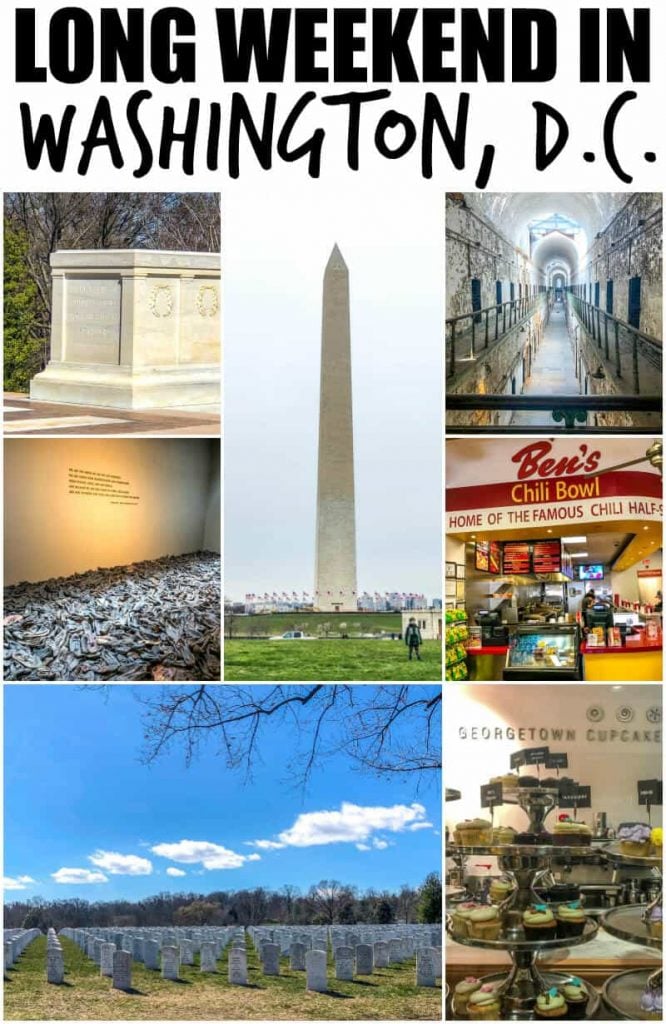 Washington DC, Americas capital…one of the most visited cities in the United States and one that should be on every tourists must see places
We decided to go on a spur of the moment trip to DC because we wanted a short flight, lots to see and good food! Washington DC hits all those spots for us and has been rated one of the most visited and highly recommended cities in America.
We live in Minnesota and our flight was just over 2 hours for us, very manageable as I'm not the biggest fan of flying in the first place. We flew into Baltimore to save some money on a direct flight into DC which is a great option as DC is only about a 45 minute drive from Baltimore.
We got to ride in style in this 2018 Mitsubishi Outlander which is a midsize vehicle that has an optional 3rd row seating for families or extra luggage space for those traveling with just one or two.
It was sleek, stylish and really fit well with our travel needs. It had a sun roof with let in a lot of extra light, touch screen stereo system and with 25/30 mpg it did really well with highway and city driving and we only needed to fuel up once with all the driving we did.
We love the dual climate control because my husband and myself are really different when it comes to temperatures and we were able to set it to our needs along with the heated seats we were able to both be comfortable at any given time.
We flew in on a Friday and were off to meet a few friends over at Arlington National Cemetery. This place was massive, you can take a tour trolley if you want to get around instead of walking but the people we were meeting had a family pass so we were able to drive right in and get around easier which was nice because it was still quite chilly during the day.
One thing that is amazing to see at Arlington National Cemetery was the Changing of the Guard at the Tomb of the Unknown Soldier. From October 1-March 31 the guards change every hour and the ceremony is quite a spectacle and honor to witness.
That night we decided to hit up some local cuisine that was recommended as a must try, we went to Ben's Chili Bowl which was conveniently only a few blocks from our hotel! The food was literally amazing! I had a chili dog and cheese fries and it was one of the best chili dogs I have ever had!
Day two we decided to explore the National Mall. Now people say that you should not drive in Washington DC as the traffic is crazy. Indeed it is crazy but that did not stop us from being able to drive and we didn't have to use the metro at all.
We were lucky enough to find a reasonable parking at the Ronald Regan Building for $15/day which was only a 2 block walk to the National Mall and all the museums. So I consider that a win, and we didn't have to try to navigate the metro and risk not being sure where to get off.
Now you will NOT be able to see all the museums in one day, we decided to split it up into two days. The first day we went to the American History Museum, it opened up at 10:00 am and we got there right at 10:00 before the lines got to be too long.
Now be warned, going into all these museums you will be required to go through security much like you would be at an airport. Jackets off, all things out of pockets and walking through metal detectors. It wasn't a problem for us, I usually tour lightly with just my phone/camera and have my husband carry my debit card and ID in his wallet so I can avoid carrying a purse.
The American History Museum was HUGE and there was so much you can see. Some of our highlights were Julia Childs Kitchen, Abraham Lincolns Hat and some fun propaganda from all the campaigns from past presidencies.
Next we moved onto the Natural History Museum. There were a bunch of different exhibits about you guessed it, natural history. Everything from sea animals, to animals from around the world, gems and rocks and insects.
It was a real sight to see but the best place was in the Gem exhibit where were were able to see some of the largest gems and pieces of jewelry in the world including the Hope diamond.
Lastly we finished the day off at the National Holocaust Museum. If you get the time, this is a museum you must see. It is free to get into but buying tickets ahead of time to see the full exhibit are encouraged and they cost $1/person online and there you get to experience the full museum which if you don't reserve tickets you will not get to see.
Be warned this place is packed and moves very very slowly because there is a lot of reading involved as it goes into detail on every aspect of the holocaust from the beginning til the end. It was a very eye opening and a great learning experience and one that I would love to go back to.
We ended our day waiting in line at Georgetown Cupcakes. It was made famous on TLC with a show titled the same as it's name. Now you want to get their earlier the better, the lines are LONG and you will have to wait outside as the line reaches up the block, but I promise it is worth the wait!
I got 6 cupcakes and none of them disappointed. My favorite hands down had to be the Salted Caramel flavor. Seriously, the frosting is so so so good. And being a foodie/baker I hold high standards to my cupcakes and these really did live up to those standards.
So if you want to try a regional dessert place then you'll want to hit this up, but like I said, be prepared to wait in line. Unfortunately it was a little chilly out but luckily we didn't have to wait in line for more than 30 minutes before we were able to get in the door.
Day 3 we went back to the National Mall to finish up our museum tours for the day. Take note that mostly all the museums were free! We parked in the same parking ramp as before and started walking over to the National Air and Space Museum.
This was my husbands favorite museum of all. He's really into the rockets and airplanes and such. This was more or less for him as I'm more of the history artifact buff and he's the gadget and engine person and this museum really shows that.
I did however love seeing all the space memorabilia such as Buzz Aldren's space suit, all the items that the astronauts carry with them on the shuttle and I also loved seeing Amelia Earhart's flying googles and flight coat.
After the Air and Space Museum we walked over to the National Archives. Unfortunately they don't allow photos in that building. But we were able to see the nations Declaration of Independence, Bill of Rights and the Constitution.
Those right there were really big moments and I am so happy that I got to see these! They were some of the things most high on my list to view and like I said I'm more of the artifact kinda gal so this was seriously amazing!
Once done there were were able to take a walk through the National Mall and see the US Capitol and the Washington Monument. Unfortunately during this trip we didn't get to visit the other monuments because we simply didn't have enough time and with all the walking we just wanted to get back and relax most evenings.
Day 4 was our out of town trip day! We decided to leave DC behind and head on up to Philedelphia! Philly has been on my bucket list for quite awhile and I'm so happy that it was only a 2 1/2 hour drive for us to get there.
First stop in Philly was the Eastern State Penitentiary, we are real big "haunted" site buffs so this was a must for us. Now we didn't catch any ghosts on this tour, but it was really amazing to see.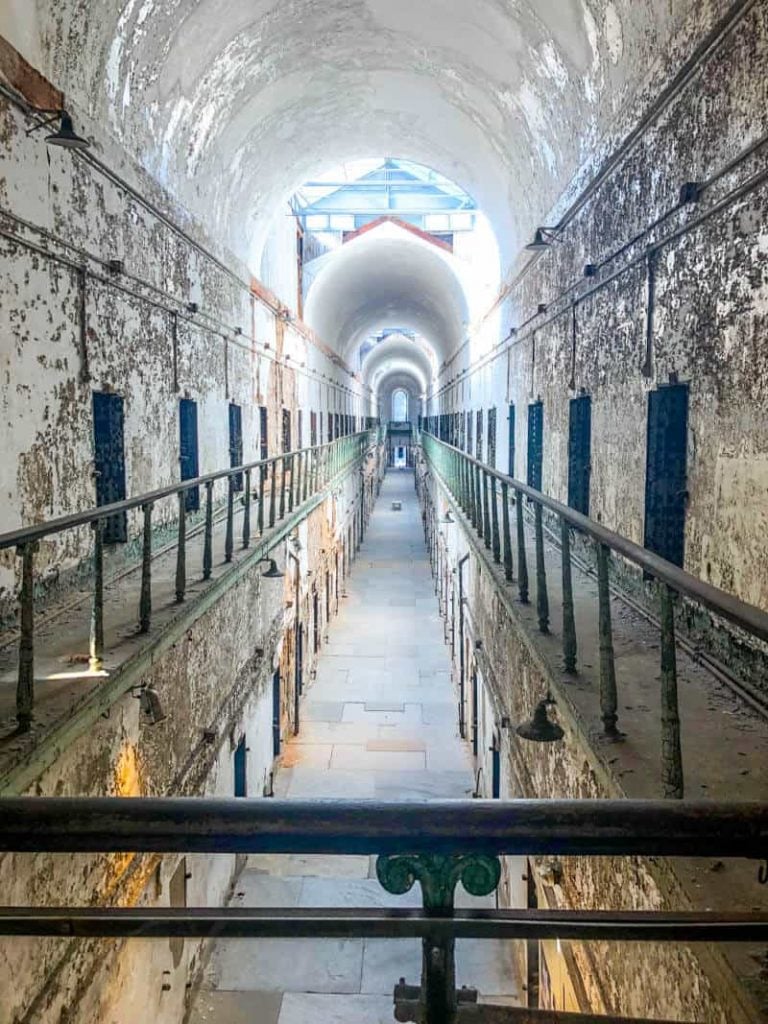 As one of the worlds first true penitentiary's it has vaulted cell blocks, crumbling cells and long hallways. This complex is all pretty much outside and unheated, it would have been must more enjoyable had we been there during the warmer months but nonetheless it was massive and amazing.
We are able to see Al Capones cell which was decked to the nines of course. And see what prison was really like before the more "modern" ones of our current times. This prison was known for it's architecture which was outstanding and it's strict discipline.
After the prison tour we headed on over to the Muetter Museum which is a museum of physicians and holds a lot of interesting medical oddities and information. Unfortunately again here, there were no photos allowed. Although interesting, it was also disgusting, in a good way though if you like that stuff.
Ok so finally we are onto one of my favorite parts of our trip, Philly Cheesesteak's! This is a MUST do when you are in Philly and we are huge cheesesteak lovers. Now I did some research before we went on where we wanted to stop. We didn't want to go to any of the "big" name ones because they didn't get as good as reviews.
So we decided to try Sonny's and Campos! They literally are a block away from one another so the location couldn't be any more perfect.
We decided to try two to do a real taste test to see which one was better, I got Sonny's with whiz and my husband got Camps with provolone. Everything else besides the two different cheese were the same with the sandwiches.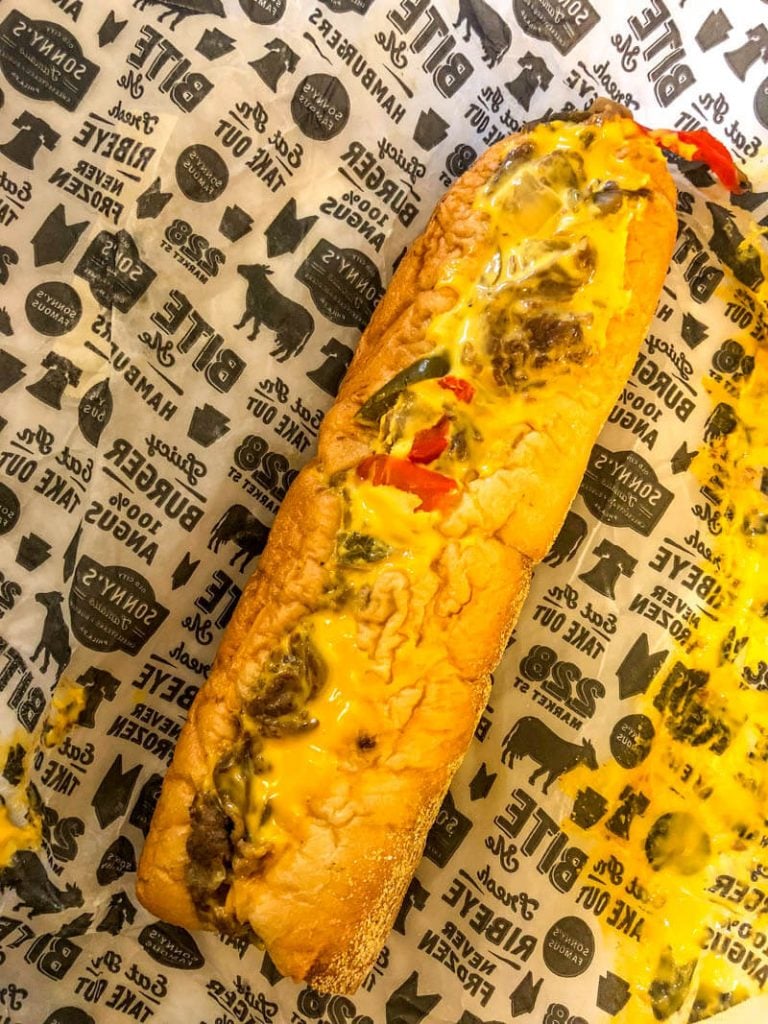 After a taste test it was clear that Sonny's was the winner. That whiz seriously set that cheesesteak apart from the other. Not that they weren't both great, but Sonny's just was so much better! The bread was soft and it was full of tender meat and loaded with peppers and onions and covered in whiz! This sandwich was outstanding!
We couldn't of loved visiting Washington, D.C. more! There wasn't a lack of things to do and it was all very reasonably priced or cheap. We had so much fun and would definitely go back in a heartbeat since there is so much let to be seen!
So if you want to plan a quick and cheap trip this is the one to go do!