Want some fun this summer? Then you love these Watermelon Jello Jigglers! A tasty, delicious, kid-friendly treat!
Ok you guys, confession time. I've never been the biggest fan of jello. I know shame on me. It's always been a texture thing to me. Same goes for tapioca pudding, I don't like the texture of that either. Say what?!? I'm sure a few of you can relate.
For my husband it's tomatoes, he doesn't like the texture of tomato in his mouth. Which I honestly find weird, but we all have our quirks. It took me having kids to really become accustom to liking the jiggly stuff! Thank you kids, if I don't already tell you that enough 😂😂😂.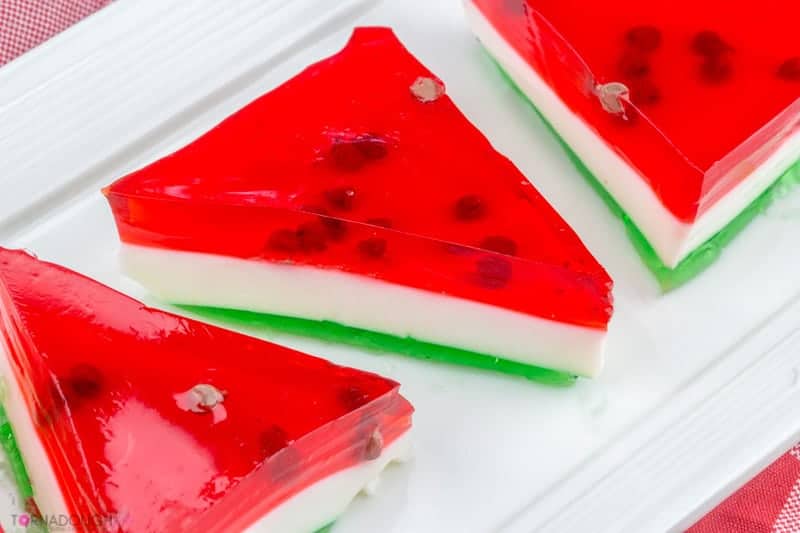 Anywho, with summertime fast approaching I figured it would be fun to have one of our favorite summertime treats turned into a jello jiggler! Say hello to these fun Watermelon Jello Jigglers!
Now I'm going to be straight up with you guys here, this isn't one of those recipes that is just super easy to throw together. It takes a little while for the jello layers to set up, there are 3…the skin, the rind and the actual watermelon person. So if you want a simple kid friendly recipe, this one is simple BUT a little time consuming and delicate.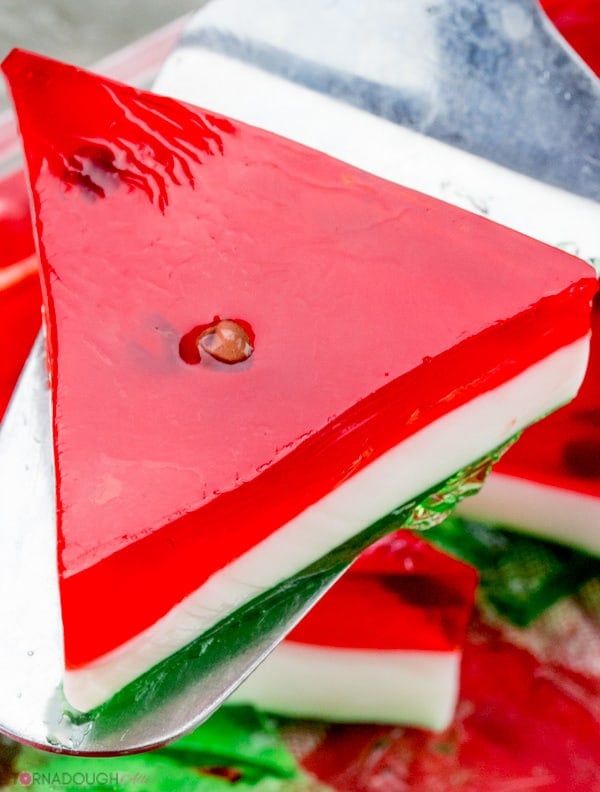 But if your looking for a fun replica and tasty treat, you've come to the right place my friends. My kids thought this was sooooo fun. Jello jigglers have been a pastime for ages, and kids and adults of all ages can enjoy these Watermelon Jello Jigglers!
The addition of the chocolate chips I felt like gave this a fun added touch, but by all means you can absolutely leave them out if you think it's a weird combo, we did not, but it is all personal preference for sure. Another thing I like to recommend is a cookie cutter to cut these bad boys.
I used a knife and cut them into diamonds which worked but next time I'll probably use a cookie cutter for a cleaner cut and uniform shapes. But all in all these Watermelon Jello Jigglers were a huge hit with kids, a fun festive treat and something that would entice people to try any day!
If you're looking for that delicious treat for your next get together, these will be a hit!
Ingredients
1

pkgs lime jello + 1 cup hot water +1 cup cold water

2

pkgs unflavored gelatin + 1 cup hot water + 1 cup cold water + 1

(14 oz) can sweetened condensed milk

2

pkgs cherry jello + 2 cups hot water + 2 cups cold water

1/2

cup

mini chocolate chips
Instructions
In bowl mix together your lime jello and hot water and stir until dissolved. Stir in your cold water and stir again.

Pour into bottom of a 9"x13" baking pan and chill for about 2 hour.

Once an hour has lapsed start making your middle layer by combining unflavored gelatin and hot water and stir until dissolved.

Add in your sweetened and condensed milk and let sit until it reaches room temperature.

Slowly pour the white layer over the green and return to fridge for about 2 hours.

Again after about 1 hour has passed in bowl mix together your cherry jello and hot water and stir to dissolve. Add in your cold water and stir again.

Let sit until it has reached room temp.

Once cool ladle your cherry mixture over your white mixture and return to refrigerator for about 30 minutes, then take out and sprinkle your chocolate chips over the top and refrigerate preferably overnight.

Using a triangle cookie or a knife cut out your jello into watermelon shapes or just cut into squares or serve with a spoon.
Notes
This can be very dainty so take your time when cutting and even maybe freeze beforehand to make it easier to cut! If you want the to be more stable you can always add a half a pack of unflavored gelatin to each fruit layer if desired.