With a moist cake crust this Pumpkin Spice No Bake Cheesecake is a fun fall recipe that is light airy and full of flavor!
I can't believe that it's already Thursday! I'm so excited for this week to be done! My husband and myself are going away on a little mini vacation this weekend across the state and over into Wisconsin and I am so excited. With all the craziness going on and not seeing my husband too often these days because he's been so busy at work, this is well deserved but even more well needed. PLUS it's supposed to be in the upper 70's! Who could ask for a better outcome!
So if you haven't heard already I'm a stone cold cake addict! Yup, completely and utterly addicted to cake. Any type really. Sheet, poke, layered, snack (which I may or may not buy and eat all to myself even know it serves like 4). Really I'm not biased on how my cake is served, as long as it is served to me, with a fork. Heck I'd probably find a way to devour a cake if I didn't have a fork….*shameful side eye*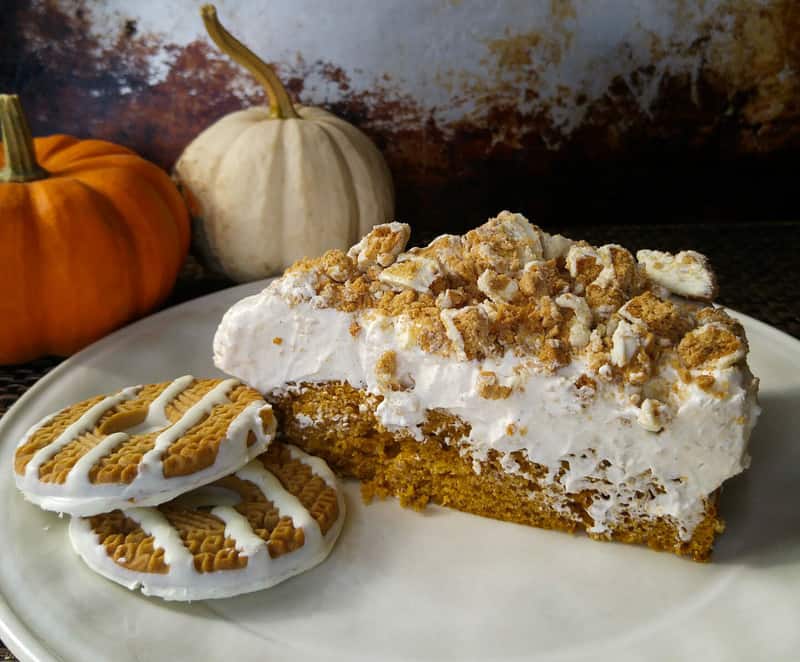 Since its Fall I've been loving up on all things pumpkin! Is it overwhelming yet? No? Good, because I don't think so either. So many years ago my sister-in-law made these amazing pumpkin spice cupcakes using just a can of pumpkin and a spice cake mix. Since then I've been in love and have made them over and over and over again. I wasn't quite in the mood for cupcakes this time around so I figured I'd turn those lumps of love into a larger piece of heaven. Um, cake anyone? To top it all of, and literally top the cake off how about we add a delicious no bake cheesecake!! Do I have your attention yet?
No bake cheesecake is awesome especially when you don't want to wait around for a regular cheesecake to bake and you are out of desserts like I was so I was feigning hard-core. And are you guys ready for another one of my "perusing the aisles" finds? Yup, I found these Pumpkin Spice cookies! They are a version of the Keebler Fudge Stripe ones but in pumpkin! HECK YES! These thing are freaking amazing, for real! GO FIND THEM NOW! I found mine at Wal-Mart, and I need to go back and see if there are more. I don't understand why these are limited time. I mean I totally get the seasonal thing, but people crave the pumpkin spice flavor all year-long! Come on, get it together already!
So if you're in the Fall spirit like I have been since the beginning of September, go whip yourself up this awesome cheesecake cake! You can seriously never get enough of the pumpkin flavor this time of year so now that it's acceptable, go wild with that spicy goodness that we all have grown to love!
Pumpkin Spice No Bake Cheesecake
Print
Pin
Rate
Prep Time:
2
hours
10
minutes
Total Time:
2
hours
25
minutes
Ingredients
Pumpkin Spice Cake:

1

box Spice cake mix

1

15 oz can pumpkin (not pumpkin pie filling)

2

eggs

No Bake Cheesecake:

1

8 oz pkg cream cheese, room temp

1/3

cup

sugar

1-2

Tbs

lemon juice

depending on flavor preference

1/2

tsp

cinnamon

1/2

tsp

ginger

1/4

tsp

nutmeg

1

8 oz tub cool whip

1/2

package Keebler Fudge Stripe Pumpkin Spice cookies
Instructions
Preheat oven to 350.

Spray a 9" spring-form pan with cooking spray.

In medium bowl combine your cake mix, canned pumpkin and eggs and mix until combined.

Spread half the mixture into your cake pan and bake for about 15 minutes or until a toothpick comes out clean.

Remove from oven and let cool.

In another bowl, mix together your cream cheese, sugar, lemon juice and spices until creamy.

Fold in your cool whip until combined.

Spoon cheesecake filling over the top of cooled cake (still in spring-form pan) and refrigerate until set, about 1-2 hours.

Crumble your cookies and sprinkle over the top of the cheesecake.

Serve and enjoy!