Want a fun and easy quick Vegas vacation? Then you'll have to check out my list on How to Spend 2 Days in Vegas for some quick and fun ideas to have fun and eat!
So we arrived in Vegas early on a Monday evening. Now there are many ways that you can get to your hotel from McCarran airport and we choose to take Super Shuttle which is a reasonable price (cheaper than a cab). We paid $11 per person or it would have been $20 round trip if we wanted them to bring us back to the airport from the hotel.
We stayed at Treasure Island which was a nice and decent priced hotel. We were on the penthouse floor which was only accessed with a certain key. We didn't upgrade or anything and the room was standard but just happened to be on that floor which was kind of nice (I mean that view though!!).
We were meeting up with my friend Nichole from The Salty Marshmallow that night and we decided that we wanted to try out The Peppermill restaurant which was just a short walk from both of our hotels!
Now I didn't bring my camera with me this trip because we didn't have the room in our bag and we didn't want to have to check another bag or pay for a carry on to cut down on cost and baggage for our travel needs so we just shot all our photos with my iPhone X.
The Peppermill Restaurant and Lounge was a fun restaurant that we really enjoyed! The decor was wild and kind of straight out of the 70's with classic cocktail waitresses and also had a dinner feel.
One thing that was amazing about this restaurant was that they had a 12 page menu. They served breakfast all day which we love but it was dinnertime and I was craving something I loved so I ordered the Swiss and Mushroom Burger and my husband ordered the Primal Burger which was a double burger, double applewood-smoked bacon and smoked gouda cheese and was smothered with sautéed mushrooms and red onions, topped with an over-medium egg and finished with a housemade chipotle aioli.
Both were really good and fresh and thats always something we look for when we are going out. Some restaurants don't make their food fresh and these you could taste were freshman and we really appreciated that.
By that time it was getting late and we decided to hit the sack for the night and get started on some things in the morning, which included more food obviously and walking which in Vegas is a must because just walking down the strip is a trip when you're in Vegas.
Tuesday my husband and I woke up and looked around our hotel for a bit and walked outside before we decided that we wanted to a brunch at the Cravings Buffet located at the Mirage.
So there is this app on our phones that we use every time we go to Vegas called MyVegas and you can play slots or black jack and it earns you points that you can use towards discounts in Vegas.
We love this app because we were able to use it towards this buffet which we got a BOGO offer which was super reasonable. The buffet for the "lunch" only came to $25 for the both of us and that is super reasonable in Vegas.
We love buffets and whenever they are offered we always go because we try to get our bang for our buck and we like the options that you get to choose from when eating at them.
So the food here was really decent for the price. They had a bunch of different stations including Italian, Carving, Fishmonger, Latin, American, Sushi, Asian, Salad and Desserts.
Some of our absolute favorite food at this buffet was their Bratwurst that they had which tasted like it was cooked in beer and was topped in sautéed onions and peppers, so good! Their Mac and cheese was super creamy and baked and topped with buttered bread crumbs.
Another one of our favorites was there dessert bar. There was endless amounts of little single serving bite sized desserts, perfect for the people who just want a bite of each which was me because I took like 8 of them and by far their Edelweiss Cake was ah-mazing.
After we filled up on the buffet we walked around for a little bit and decided we wanted to do something low key yet fun so we went to Madame Tussauds Wax Museum which was located at the Venetian which was conveniently pretty much right across the street from where we were eating so we didn't have to walk too far to get to our destination.
The museum is $29.99 if you purchase right at the box office, or $19.99 if you buy the tickets online. There was actually a guy handing out $10 off coupons at the door so we were able to get the $19.99 price right at the box office so it was nice.
If you've never been to a wax museum before they are a trip! Madame Tussauds does a good job at capturing the real life of the figures that they really do look like the actual people. It was creepy in some sorts, but there are so many different figures in there that you are bound to see your favorite ones.
This ticket also included admission to their Marvel 4D theater which was a short 10 minute film that had marvel characters battling it out. It was an interesting experience, I think that if we had our kids with they would probably enjoy it more than the adults.
All in all, we have been to wax museums before in LA but Madame Tussauds was by far my favorite of the ones that we visited!
Since we were at the Venetian we couldn't pass up the opportunity to walk around and visit some of the stores at the Grand Canal Shoppes and watch people take rides on gondolas at their indoor canal. They really try to recreate Venice with this place and it is beautiful.
One place I always stop when I am in Vegas and make my way over to the Venetian is at Carlo's Bakery! I mean their selection is amazing and the flavors are awesome.
I got a little much this time, but we were on vacation so I couldn't not get the things I wanted. We decided to do some New York Cheesecake, Chocolate Mousse Cake, Fudge Brownie, Hazelnut Lobster Tail, Carrot Cake and Rainbow Cake.
This is one place I really recommend stopping if you are in Las Vegas. We actually have one here in Minnesota at the Mall of America so we do get more opportunities to visit than just on vacation, but we love it so much that we always make a point of it.
By this time it was getting to me mid afternoon and we felt like we needed a break and went back to our hotel and just relaxed for a little bit.
We looked online to check out what shows were playing that night and we narrowed it down to seeing Anthony Cools who is a comedian and hypnotist over at the Paris hotel.
This guy was a trip! He was raw, uncensored and hilarious. Now this show requires 100% audience participation and this show is not for kids, so parents if you want to get away for the night if you are traveling with your kids and want to see a hilarious show that is pee your self funny and mesmerizing then this is the show to see!
Approaching almost midnight we realized we hadn't had supper yet! So we searched for something close and low and behold there was a Wahlburgers within walking distance.
Now I've always been a fan of all the Wahlburg brothers and have always wanted to try Wahlburgers so it was a no brainer and we walked on over there and got a table and relaxed for a bit and looked over their menu.
I wanted to try something different so I went with their Mom's Sloppy Joe, and I'm so so so happy I did! Their description of the item was "Mom's housemade sloppy joe smothered on thick-cut grilled bread finished with crispy onions, Paul's housemade signature wahl sauce & cheese sauce."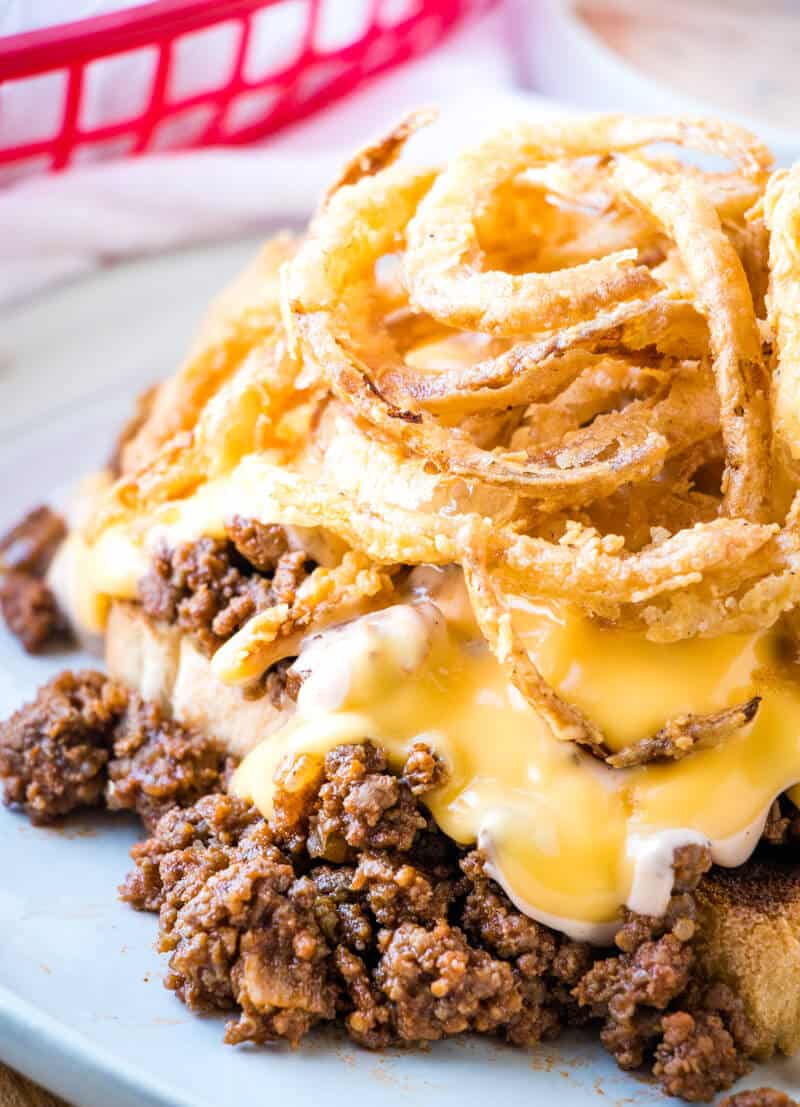 I mean how could you pass that up, pure comfort if you ask me and it was absolutely delicious. So delicious in fact that I made this Open Faced Sloppy Joe recipe for my site when I came home and we still cant stop making it.
After eating it was time for bed, so we just hopped in a taxi and went off to our hotels because at that time of night we really didn't want to walk back and just wanted to crash.
Our last full day in Vegas consisted of just a few things, kinda wanted to take it easy so we walked the strip for a little bit and I've always wanted to try Milk Bar.
So since we were walking I didn't want to load myself up on too many desserts so I tried an assortment of 6 cookies which consisted of their Compost cookie, Corn cookie, Blueberry Cream cookie, Cornflake Chocolate Chip cookie, Confetti cookie and their Chocolate Chocolate cookie.
They were nice and soft and there were some that I preferred more than the others such as the confetti and the blueberry cream. Those two were my favorite of them all.
We were able to bring them back home with us because I had some family who also had been interested in trying their cookies as well and they all loved them!
Even know we decided to load up on some cookies, right after that it was about time for lunch so we decided we wanted to do another buffet so we headed over to the Bellagio and hit up "The Buffet".
Now in all honesty the buffet was good, but I preferred the buffet at the Mirage more because of the assortment of food and the one at the Bellagio was a little upscale for our taste, but nonetheless still good.
The last time we visited last Vegas we went to The Buffet at the Aria and we love that one, but decided to skip it this trip since we tried it before, but very much recommend that one for sure if you are looking for some dining options.
We grabbed an Uber and headed back to our hotel for a little mid afternoon snooze before we decided what we were going to do with the remainder of our night.
It's nice to be able to take some time to just reset when we are on vacation and Las Vegas really offers that because things are happening 24/7 in this city so you won't feel like you are missing out on anything.
Around dinnertime we decided that we wanted to hit up Fremont Street for a little bit and grabbed another Uber, which happened to be a Tesla may I add, I mean how lucky could we get!
When you are in Vegas you absolutely have to visit Fremont Street, the atmosphere is absolutely amazing and lots of things to do and sites to see especially when it comes to their Viva Vision light show.
If you don't know what that is or are new to Vegas it is the worlds largest video screen that covers Fremont street and plays light shows and music and it really is a site to see.
You can also see people ziplining underneath it in the SlotZilla Zipline which is a neat experience, one that we skipped because wait times were so long.
We decided to pop in to different casinos and just try our luck at some slots and gambling since when in Vegas….
We ended our night back at Treasure Island and just ate from one of their restaurants in the hotel because we were STILL full from the buffet earlier in the day.
If you think that you want to plan a trip to Vegas there are so many different and uniquely fun things to do even when its just a short trip.
We want to make this a yearly event, and even going yearly there is so much to explore and see that you will always find something new each time and you won't feel like it's just repetitive.
Some other ideas to do in Vegas: