Easy, delicious and quick these Crescent Roll Apple Dumplings are a fun, simple tasty dessert that is perfect for absolutely any night of the week.
So theres these things called Crescent Roll Apple Dumplings and they're simply amazing. I've been making these for awhile now and it's been forever since the last time I made them that I figured I was due for a batch and I had to share them with you because these puppies are ADDICTING!
So I recently started doing Facebook LIVE videos! Can you believe that, my own cooking show on Facebook!! I'm doing them over at my friend Allyson's page Domestic Superhero every other Monday night at 7pm CST. The Monday's that I'm not live on her page I will be live on mine, so you can count on a cooking show every week if you so happen to want to tune in and watch me make a fool out of myself!
Or say maybe just get to know the face behind the photos and text! I can put a real person behind these words and you can see the crazy thing that I call life around here. I'll show you my little kitchen, my self taught cooking and baking skills and heck, I'm sure you see a little slip up or two. But it's all learning my friends, all learning!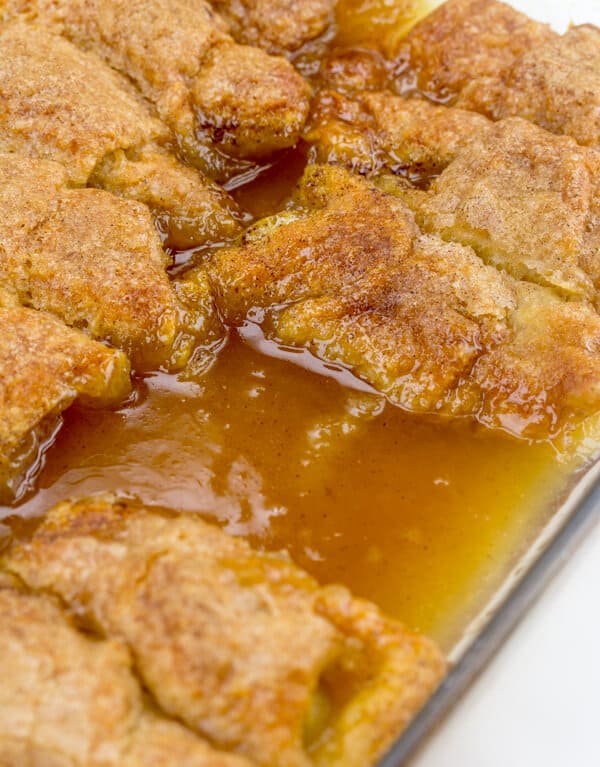 Anyways, what I was going to say was that I was planning on making these delicious Crescent Roll Apple Dumplings live next week! I can't wait to show you how simple they are, but for now I have a delicious video on Facebook that you can check out on how exactly these pillows of heaven are created.
It all starts with crescent rolls, simple enough right? Well then I sprinkle some cinnamon sugar over the top of the rolled out rolls then top with apple slices and roll up! Then they are placed in a baking dish and covered with a butter, sugar, vanilla mixture that is heaven in and of itself. But it doesn't stop there, they are they soaked in a lemon lime pop mixture and sprinkled with some more cinnamon sugar and baked.
You would never believe how baking something in liquid could turn out so glorious. But we just can't put the spoon down in this house! My daughter goes nuts for these and she is such a super picky eater. It's like hot dogs and cheese is the only thing that makes that 3 year old happy, yuck I say! But when I can get her to eat anything even if it is sweets, this is one happy mama!
Oh and let me tell you, the sauce that these Crescent Roll Apple Dumplings create is magnificent. I could just eat that with a spoon. It's like a caramel, tart, sweet gooey mixture that you just want to lap up with these dumplings, it's pretty much the best part of the dish hands down for sure.
So take some advice from this gal, GO…MAKE…NOW. You won't regret it!
Crescent Roll Apple Dumplings
Easy, delicious and quick these Crescent Roll Apple Dumplings are a fun, simple tasty dessert that is perfect for absolutely any night of the week.
Ingredients
2

(8 ct) crescent rolls

1/4

cup

sugar

1 1/2

tsp

cinnamon

2

apples

, peeled, cored and sliced into 8 pieces each

1

cup

butter

1

cup

sugar

1/2

cup

brown sugar

1

tsp

vanilla paste

12

oz

lemon lime pop
Instructions
Preheat oven to 350.

Roll your crescent rolls out and mix together your 1/4 cup sugar and cinnamon.

Sprinkle about 1-2 Tbs of cinnamon sugar over crescent rolls.

Place one apple piece on the long end and roll up.

Place in 2 rows of 8 in a 9"x13" baking dish, set aside.

In a sauce pan over medium high heat, melt your butter.

Once butter is melted add in your sugars and vanilla and just stir until it combines, you want it to be grainy.

Remove from heat and pour over your crescent rolls.

Pour your lemon lime pop around the sides of the rolls and then sprinkle with remaining cinnamon sugar.

Bake for about 40 minutes or until golden.

Remove from oven and let cool slightly so sauce thickens.

Serve with whipped cream or ice cream if desired.