Delicious and utterly soft cookies these Melting Moments literally melt in your mouth with each and every bite.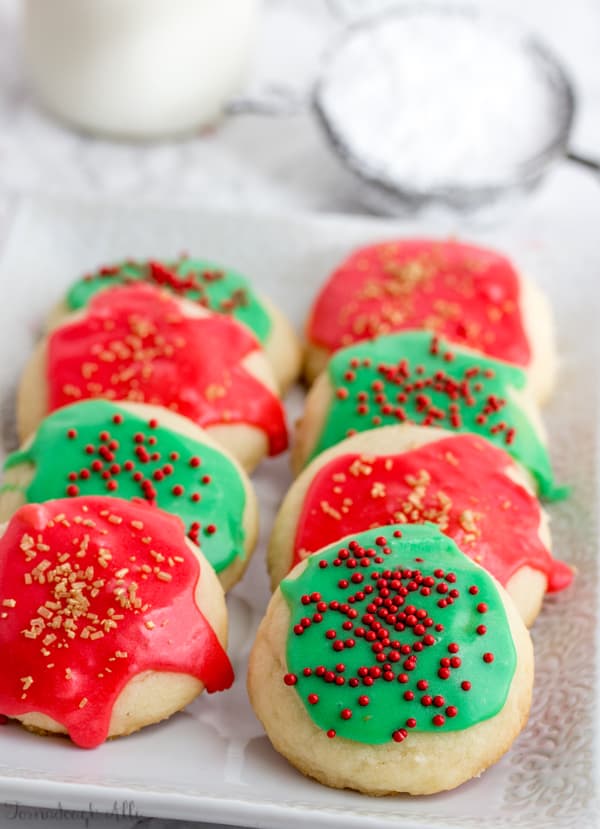 Is it entirely too early to be starting on Christmas posts? I'm totally not sorry though. I think once Halloween is over and done with that Thanksgiving and Christmas is a free for all! In reality cookies are good any time of the year. Especially when they are these amazing Melting Moments.
I can't tell you how addictingly delicious these are. They have and always will be my absolute favorite cookie ever. Nothing ever compares to them. They are the simplest of cookie, but that's what makes them so extremely good. Like 5 ingredients total make the cookie itself. And did I mention they are super quick?
Do you guy's have any Christmas traditions? I would love to hear about them. We always do Christmas Eve at my moms, and that's when Santa comes to visit as well. He usually leaves the presents in the closet or in the basement somewhere so he eludes the children in not being able to see him bring the gifts.
We always make a ruckus or say that we saw something leaving the roof or heard sleigh bells. The kids absolutely love it. Unfortunately my boys are getting older, they are 8, 10 and 12 so I'm not sure if they still truly do believe or just play along for their 3-year-old sister. Whichever it is, I still like to preserve their youth and I like to think that they still believe.
My mom and I do a lot of holiday baking. Usually I'll give gift baskets of holiday goodies away as gifts around Christmas. I'm one of those people who make entirely way too many goodies so I love to share. And that I do, or freeze them because I can't let a good cookie or treat go to waste, ever.
These Melting Moments are the perfect cookie to bring to a get together or leave out for Santa. They are a dainty little cookie that like I said, literally melts in your mouth alongside the melting effect of the frosting the name really suits these cookies to a T.
Melting Moments
2016-11-07 18:26:26
Soft and flaky these cookies literally give you a burst of flavor as they melt in your mouth with each bite!
Ingredients
1 cup butter
3/4 cup cornstarch
1 tsp almond extract
1/3 cup powdered sugar
1 cup self-rising flour
Icing
1 cup powdered sugar
2 Tbs milk
2 Tbs butter, melted
1 tsp almond extract
Food coloring
Instructions
Preheat oven to 350.
In bowl cream together your butter, powdered sugar and almond until combined.
Sift together your flour and cornstarch and add to your butter mixture and mix well.
Roll into a little larger than 1" balls and place on ungreased baking sheet and bake for about 12 minutes or until bottoms are just starting to brown.
Remove from oven and gently place on cooling rack.
Meanwhile to make your glaze, mix together your powdered sugar, milk, butter and almond extract. Stir in enough food coloring to reach desired color.
Drizzle a little bit of icing over tops of each cookie and sprinkle with sprinkles if desired.
Let icing harden a few minute before serving.
Tornadough Alli https://tornadoughalli.com/